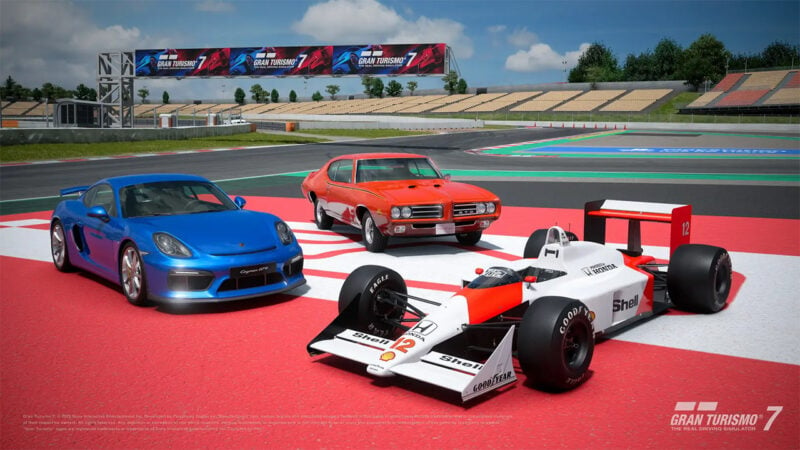 The contents of Gran Turismo 7's 1.20 update have been revealed ahead of it becoming available on Thursday August 25, with a total of four new cars and three additional layouts to one of the game's real-world circuit.
You'll be able to download the 1.20 update one a server maintenance period kicks off on August 25, at 0600-0800 UTC, although you'll only be able to play the game in full once the servers are back up and you have installed the update.
Fans already knew what to expect from the vehicle content following Kazunori Yamauchi's teaser over the weekend, though there were still one or two details to confirm.
One of these related to a pretty surprising new car: the McLaren MP4/4. This legendary F1 car was the most successful ever raced, winning 15 of 16 World Championship rounds that year as well as securing 15 of 16 pole positions.
Of course part of that success was down to one of the most incredible driver pairings ever assembled, with Alain Prost and Ayrton Senna winning seven championships between them (and sometimes at the expense of one another).
While the silhouette teaser revealed the car through its shape alone, the waters of F1 licensing are pretty murky and it remained to be seen whether it would be the real thing or a close-enough clone with more generic coloring and branding — like the F1500T-A which substitutes for Senna's Lotus 97T from Gran Turismo 6.
The new video and screenshots have put those questions to bed, showing the car as the #12 McLaren from the 1988 championship as driven by Senna. It's unknown if an alternate #11 Prost livery will also be available.
There's technically three other new cars coming too, the identities of which were already known but — for two of the three — not officially confirmed.
They consist of the 2016 Porsche Cayman (981) GT4, and the 1969 Pontiac GTO "The Judge". The former is the road car upon which the existing Cayman GT4 ClubSport Gr.4 car is based, and a much-lauded drivers' car, while the latter is a 6.6-liter V8 muscle car designed to take on the Plymouth Superbird. It's likely we'll see the Pontiac added to the Legends Cars dealer.
This month's fourth vehicle is an unusual one, coming out of a collaboration between Gran Turismo and Dior. It looks to be a livery for the De Tomaso Mangusta, designed by Dior Couture's artistic director Kim Jones, but it's set to be a unique vehicle. There's also a custom race suit available with a matching design.
De Tomaso Mangusta Christian Dior
McLaren MP4/4 1988
Pontiac GTO The Judge 1969
Porsche Cayman GT4 2016
The existing Circuit de Barcelona-Catalunya course is getting a makeover too, with three new layouts — one of which brings in a circuit type not seen in the GT series since Gran Turismo 6.
That's a mixed-surface Rallycross course, which occupies some of the regular circuit in sector three and a dirt section of the infield to create a short, but challenging, 0.7-mile loop. The official announcement suggests that there's a crucial jump in the middle of the dirt part of the track, although we're yet to see it.
In addition there's a layout that fans have been calling for since the course was first revealed for Gran Turismo Sport. Officially called the "No Chicane" course, this layout is the one used in Moto GP, deleting the sharp right at turn 13 and the RACC chicane in favor of a sweeping right onto the main straight.
Finally there's a short "National" layout, which shortens the main straight and turns the first corner from a quasi-chicane into a tight right hairpin. This cuts through back onto the main circuit just after turn six, and continues through the rest of sectors two and three as normal.
Circuit de Barcelona-Catalunya GP (No Chicane) – 2.939mi/4.370km
Circuit de Barcelona-Catalunya National – 1.850mi/2.977km
Circuit de Barcelona-Catalunya Rallycross – 0.704mi/1.133km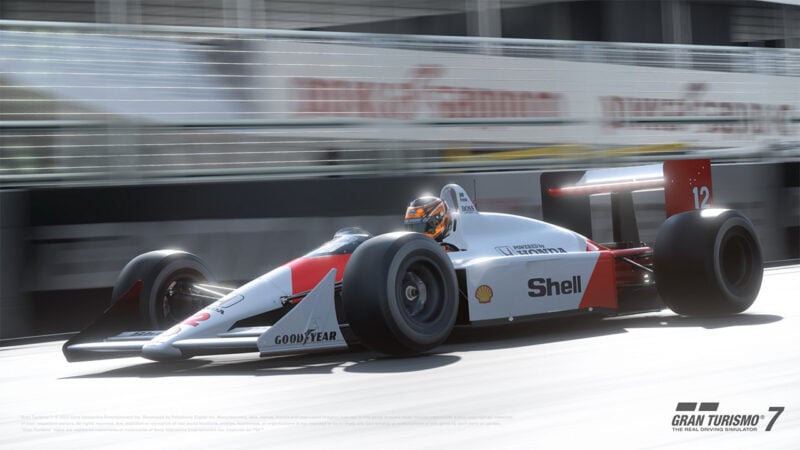 Two additional Menu Books have also been announced, encompassing Abarth and Gr.2 cars. These are labeled as "Extra Menu Books" and are thus likely to be car collection tasks rather than additional races and events, however we're expecting new races to accompany the new track layouts.
There's also a new collection of Scapes, centered on the Rocky Mountains in Canada. However when it comes to other new features, changes, and bug fixes, we'll have to wait until the update is available and the official patch notes are out.
You'll be able to download v1.20 first during the server maintenance period, from 0600-0800 UTC on Thursday August 25.
See more articles on Gran Turismo 7 Game Update.