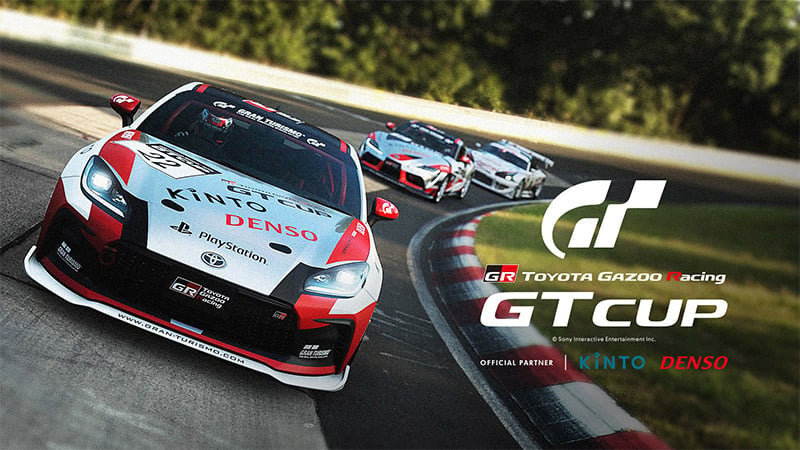 The Toyota Gazoo Racing GT Cup will return for a fourth season in Gran Turismo, starting on May 15.
Initially launched as an event for the GR Supra only, the competition expanded in 2021 to include individual rounds for vehicles across the Toyota stable in Gran Turismo Sport.
This will continue for 2022, with seven rounds of online competition each featuring a different model from the marque. Interestingly there's also a series debut for a non-Toyota vehicle, as the Subaru BRZ — a largely identical vehicle to Toyota's "86" model — will be eligible for one round.
The full schedule for the 2022 event is as follows:
Round 1 – May 15 – Super Formula/Toyota – Circuit de Spa-Francorchamps
Round 2 – May 22 – Toyota Supra GT500 – Suzuka Circuit
Round 3 – June 5 – Toyota GR010 Hybrid – 24 Hours of Le Mans Circuit
Round 4 – July 3 – Super Formula/Toyota – Nurburgring GP
Round 5 – July 24 – Toyota GR86/Subaru BRZ – Autopolis
Round 6 – August 14 – Toyota GR Supra – Fuji International Speedway
Round 7 – August 28 – Toyota GR Yaris – Circuit TBD
As we've already reported, the presence of the GR010 Le Mans Hypercar in Round 3 will mean that an update in the next few weeks will add this car to Gran Turismo 7, making it one of the first vehicles to arrive as post-launch content.
Similarly, Round 5 rather firmly suggests another new vehicle addition. While GT7 already has two Subaru BRZ models (not including the drift car), both are first-generation models and related to the Toyota 86GT. In order to ensure parity with the newer GR86, PD will need to add a second-generation BRZ.
There's also one curious omission: the venue for Round 7. This also hints at new content, by way of an entirely new circuit location that will be revealed in due course.
Players will have three chances to race in each round, although only your last-entered race will count, with hourly slots in the late afternoon and evening of each scheduled Sunday. The timings for these are as follows:
Asia: 2100, 2200, 2300 (JST)
Oceania: 1900, 2000, 2100 (AEST)
Europe, Middle East & Africa: 1700, 1800, 1900 (UTC)
North America: 2000, 2100, 2200 (EDT)
Central & South America: 1900, 2000, 2100 (BRT)
A total of 21 players will qualify from the five regions, based on the best four points scores from the seven rounds. The top nine eligible EMEA players will be joined by the best four from Asia, the top three from each of the two Americas regions, and the best two in Oceania. In addition, three players will qualify from Toyota GR regional live events held in South East Asia.
They'll advance to a live final scheduled to be held alongside the Gran Turismo World Series final, in an as-yet unannounced location some time in November.
See more articles on Gazoo Racing and Toyota.