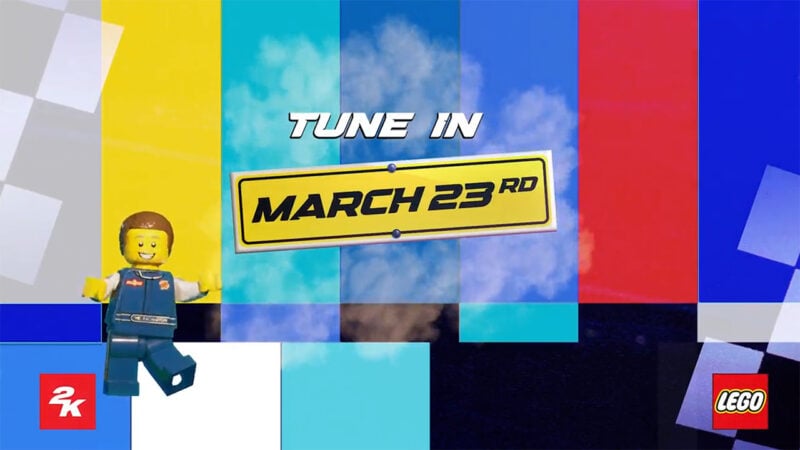 LEGO has announced via social media that a new racing game based on the popular Danish building block will be revealed this week, on Thursday March 23.
It comes after some rumors and insider hints about the title earlier in the day, with LEGO seemingly moving quickly to get in front of what purported to be a leak from a beta test phase.
Along with some screenshots — now removed, lending credence to their validity — the name "LEGO 2K Drive" was suggested as the game's title, which appears to be pitched as a Mario Kart/Crash Team Racing-type game.
LEGO's own teaser isn't quite as detailed as that, with a short video from "Awesome News Network" (one for the LEGO Movie fans there) riffing off the fact that the game isn't actually ready to be revealed just yet:
However the clip does confirm that it's a racing game, and the set background features in-universe petrochemical brand Octan, often seen on racing car sets, and soft drink brand and extreme sports set sponsor Vita Rush as racing teams.
Overall we're not quite sure what to expect from the title, except maybe LEGO. We'd imagine there's at least semi-destructible environments — as with the LEGO Speed Champions expansion for Forza Horizon 4 — and traditional karting game tropes with boosts, weapon power-ups, and environment-themed circuits.
Highly customizable characters and vehicles, in the same vein as 1999's LEGO Racers, are also likely to be part of the game, and we'd anticipate some of the higher-profile Speed Champions vehicles being in the mix (and probably as pre-order bonuses or paid DLC).
We'll find out more, including which platforms the game will be coming to, when 2K and LEGO make the big announcement on March 23.
See more articles on Lego.