Welcome to Mirror Mode, GTPlanet's new series that shines a spotlight on retro racing games. For our second installment, we're revisiting one of the most unique sixth-generation driving titles: Auto Modellista.
UPDATE: an earlier version of this article incorrectly stated Tsukuba was in Auto Modellista.
Auto Modellista was a breath of fresh air when it debuted at the Tokyo Game Show in 2001. Blending the scope of Gran Turismo with the visual style of cult classic Jet Set Radio, Capcom's first racing game since 1989's F-1 Dream in the arcades resembled nothing anyone had ever seen before. It was the perfect reentry to the genre for the company that brought the world Street Fighter and Mega Man.
The game came with a respectable selection of cars, and loads of aftermarket parts with which to customize them. It also featured a diverse, albeit short, track roster featuring Japanese racing mainstay Suzuka, as well as fictional city and touge courses. Combining these features, Auto Modellista more or less filled the script for an early 2000s GT clone. But it was the cel shading that really put it over the top, instantly embedding it into the consciousness of gearheads who longed for a game that could emulate the art style of Initial D.
Unfortunately, it didn't quite play as well as it looked. Auto Modellista straddled the line between arcade and sim, and failed to satisfy fans of either camp. It never got the second chance it deserved, although Capcom did take another stab at racing with the far less enticing Xbox-exclusive Group S Challenge a year later.
What it Got Right
The graphics, of course. But it would be a crime to dismiss Auto Modellista as simple eye candy. It was forward thinking not only in its presentation, but also its car roster and customization suite.
While Capcom did lean heavily toward domestic manufacturers, the models chosen prove there must have been at least a few enthusiasts lurking around the studio's offices about a decade and a half ago. In 2002, Auto Modellista was well ahead of the world's reignited love affair with '70s and '80s Japanese classics like the TE27 Corolla Levin and R30 Skyline. Combined with the art direction, it felt like a love letter to the country's heritage of motorsport.
Equally impressive is the customization suite. Most games today still can't match Auto Modellista's myriad of cosmetic options, spanning tasteful body kits, rims, skirts and the like from respected aftermarket companies and tuning houses. It even allowed engine swaps years before anyone had ever heard of Forza.
Capcom took the typical GT clone and spun it into something self-aware, light-hearted, and most importantly, fun.
In spite of all that nerdy fan service though, the best thing about Auto Modellista is that it never completely encloses itself in the car culture bubble. We all enjoy talking about turbochargers and downforce and tire compounds. Even the most pedantic among us appreciate it when Polyphony Digital spends 20 man hours to accurately model a headlight. But far too often developers lean on that seriousness to an agonizing degree — and if you've been playing these games for a while, it gets pretty grating and predictable.
Not here. Capcom took the typical GT clone and spun it into something self-aware, light-hearted, and most importantly, fun. Auto Modellista talks to enthusiasts like regular people, while simultaneously showing outsiders how supremely entertaining the world of cars and motorsport can be.
There should be enough room in this big hobby of ours to accommodate a racing game with an over-the-top announcer and bombastic soundtrack, saturated colors and heavy black outlines, and even an unlockable remote-controlled car track (with full-on Tamiya sponsorship!). Kudos to Capcom for not only recognizing that gap, but nailing the quirky aesthetic so expertly. Nobody since has ever done it better.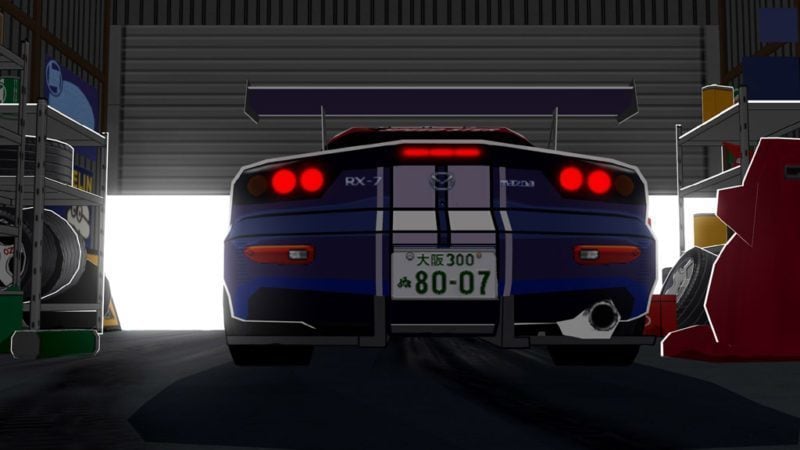 What it Got Wrong
On one hand, Auto Modellista is an unmistakably beautiful, timeless expression of car culture. the likes of which the medium doesn't often see. On the other, perhaps Capcom should have been a little less concerned with nailing the aesthetic and paid more attention to getting the fundamentals down pat.
Auto Modellista's gameplay is divisive, to say the least, and the unpredictable handling is mostly to blame. Steering is super-light and precise, which would traditionally convey grip. However, the cars tend to sway a bit after your inputs cease, making for a slippery sensation between the tires and the road where you never feel completely in control. Through this, cars don't lose momentum or speed, so they feel light as a feather. But turn the wheel too abruptly, and it'll suddenly gain mass, skid, and spin.
If you cut your teeth on Need For Speed Underground and Project Gotham Racing back in the day, Auto Modellista's handling may not bother you. It's odd, no doubt — but for a game modeled after cartoons, the lively arcade physics feel somewhat appropriate. The bigger issues, truthfully, are down to the artificial intelligence and collision detection.
Auto Modellista will never truly challenge you, and there are several reasons why. First, the computer is just that slow. Second, the events in the career mode are never restricted based on performance. This means you can turn up to any event in any car and destroy the competition, GT2 Pikes Peak Escudo-style.
And it really can be any car, because there is no such thing as cash in Auto Modellista. Once vehicles and parts are unlocked, you can use them at will. It's nice for convenience, but terrible for a career mode that struggles to put up a fight.
Furthermore, the game never forces or even encourages you to be a better driver. Striking a wall will merely bounce you back onto the track in your intended direction with little speed loss. Simply put, opponents are slow enough to be rolling chicanes. However, as they lack the characteristics of solid objects, you don't need to avoid them at any point. It's like the developers never wanted the action to slow down, so they eschewed any punishment for bad driving.
Where it Stands
Auto Modellista isn't terrible by any means, but it should have been so much better. Capcom seemingly had everything going for its first racer in well over a decade: the curiosity of an entire industry, the opportunity to establish an instantly-recognizable franchise, and the power of state-of-the-art hardware to realize a long-held vision. However, it never panned out, and Capcom hasn't made another racing game since 2003.
The problems were easily identifiable — the type of issues you'd expect from a studio working outside of its comfort zone. Capcom could've resolved these issues in a sequel, with a little more development experience.
It's a shame we never got that game. But, truthfully, those very same quirks were part of the larger reason why Auto Modellista was so exciting. It was fun in spite of its imperfections. It felt different because it came from a different place. And all these years later, there's still absolutely nothing like it.
See more articles on Mirror Mode and retro gaming.