It was 2002 when Ted and Sue Richardson decided to take an ordinary 1962 Buick Special and convert it from top to bottom into a spectacular 550 bhp machine. Today we recall what we love about this car as it appears on sale for $150,000 at the Barrett-Jackson Collection Showroom.
This one-of-a-kind custom car was mated to a heavily-tuned 7.5 litre "Buick 455" V8 engine, squeezing out more than 550 horsepower through a 6-speed gearbox. The body was reinforced with a roll cage, and the suspension received a complete overhaul. To keep the car rolling, the owners fitted 17-inch Budnik Arrowhead wheels and wrapped them up with Michelin Pilot tires. The beast was officially known as Buick Special "Bu'Wicked" and was capable of reaching speeds over 186 mph (300 kph).
In keeping with the classic charms of the original Buick Special from the 60's, several parts in the interior were carefully crafted out of modern materials, which blessed the car's interior with the special mix of old and new, something that's proven popular in the decade since with companies like Singer and Eagle.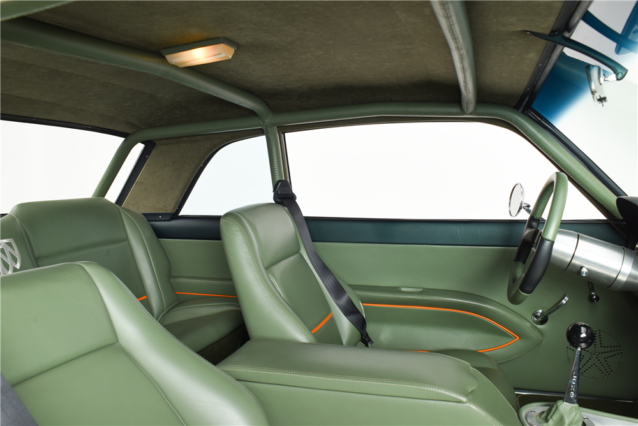 When the project had finished, the Buick was ready to enter the 2003 SEMA Show in Las Vegas and compete for the "Best in Show" GT Award. Since 2003, the Gran Turismo Awards have been annually awarded to various peculiarities in the automotive market. Polyphony Digital CEO Kazunori Yamauchi traditionally has the honour of picking the winner by himself.
Not only did the car win the 2003 Gran Turismo Award — which was a ticket to including it in next Gran Turismo game — but it got covered by numerous automotive magazines, including Popular Hot Rodding and Custom Rodder.
The car soon appeared exclusively in GT4 where it became distinctive for its fast pace and menacing growl. Since then, it has been a regular guest in the GT series and a reminder of what kind of unique creations the automotive scene is capable of presenting.
https://www.youtube.com/watch?v=hPDREs6bA80
Barrett-Jackson Collection Showroom is currently offering the car for $150,000. If you're in the fortunate position of wanting to buy the car, or simply inspect what other amazing automotive icons lie on offer, please visit the Barrett-Jackson Collection Showroom's official website.
Special thanks to mc959 for alerting us to the news.
See more articles on Gran Turismo 4, Gran Turismo Awards, Kazunori Yamauchi, and SEMA.