PlayStation 4 owners may have been pre-occupied with the announcement of the Gran Turismo Sport beta yesterday, but there was more good news out of the Sony camp: the 4.50 software update has been rolled out across the network for all players.
Codenamed Sasuke, version 4.50 of the PS4 system software has left the beta stage. It brings with it a range of both large and small updates to the console (which we previously detailed here). The headline additions are the support of external hard drives, and — for PS4 Pro players — Boost Mode.
To some, external hard drive support may be long overdue, but it arrives with a pleasing level of simplicity. The only requirements are that the HDD be USB 3.0 compatible, and between 250 GB and 8 TB in size. Simply plug the external in, format it, and you can move or save applications to it as you see fit.
Boost Mode should be a boon to sim racers on the PS4 Pro. Sony warns that the feature may not work at all times, but our man Scaff tried the beta version out with numerous racers last month and came away impressed. Boost Mode won't bump up a game's frame rate if it was capped by the developer (Driveclub will remain at 30 fps for example), but it will ensure a smoother refresh rate for games like Project CARS and Assetto Corsa.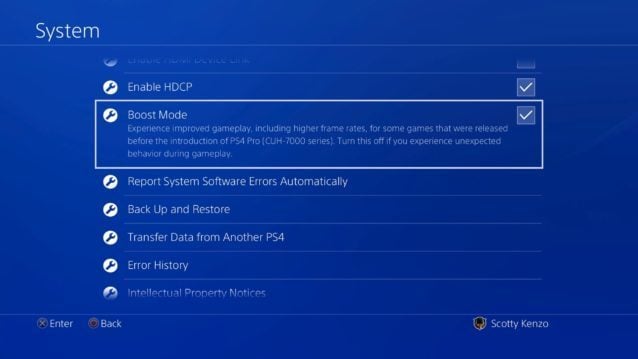 There are various other tweaks, which we've covered briefly below:
Users now have the opportunity to set custom screenshots as their background images on the home screen.
Microphone support has been added to Remote Play.
PSVR benefits from improved 2D images.
Parties can be changed from public to private (and vice-versa) after creation.
Numerous changes have been made to accompanying mobile apps for better integration.
The PlayStation 4 4.50 update is now available to all users as a 339 MB update.
See more articles on PlayStation 4, PlayStation 4 Pro, PS4, and PS4 Updates.