When we look at greatness and success in sport, we often make comparisons. In F1, this usually consists of comparing a currently successful driver to one of past success. Lewis Hamilton and Ayrton Senna are two that come to mind.
Another pairing is Sebastian Vettel and Michael Schumacher. Both are German, both have multiple world titles. However, both have a reputation of being naughty boys.
Michael Schumacher was win-at-all-costs. He infamously tried to win a couple of championships by simply driving into his nearest challenger — eerily similar to what Sebastian Vettel tried on his title rival in Azerbaijan this past June. It's not the first time in his career that he's shown unsportsmanlike behaviour.
At the 2013 Malaysian Grand Prix we witnessed the infamous "Multi 21" incident. Vettel —driving for Red Bull at the time — was in second place behind his team mate Mark Webber. In the closing laps, the team instructed the drivers to remain in formation. Webber ran with car #2, Vettel #1. Hence the instruction on the radio to both drivers was "multi 21" — driver #2 stays in front of driver #1 until the checkered flag. But Seb had had other ideas.
Vettel forced his his way past Webber to take the victory. Win at all costs — no holds barred. It's what you have to do as a champion. But it was clear that Vettel had decided he was bigger than the team — the very one that had provided him with machinery to win multiple World Titles. To say there was sour grapes in the aftermath would be an understatement.
That was four years ago, but little has changed with Seb's demeanour. He's been in the stewards' bad books on multiple occasions this past year. But he's not driving for Red Bull anymore; he's driving for the prestigious Ferrari team. Ferrari expects a lot from its drivers. Either you perform well or you're replaced. It's as simple as that. Ferrari doesn't hire young drivers, it doesn't try out new talent. Ferrari only wants the best of the best and its goal is to win as many titles as possible.
To first understand why Vettel putting himself under pressure is such a bad thing, let's take a look at the FIA Super Licence Penalty Points system. If a driver gets in trouble with the stewards during a race, one of the punishment options is penalty points on that driver's Super License. If the driver reaches 12 points, they receive a one race ban.
However, the points added at that particular race get deleted after 12 months. The driver with the most penalty points so far in 2017 is Toro Rosso's Daniil Kvyat: he sits on 10. Next comes Kevin Magnussen of Renault with seven. And the final place on the penalty points podium goes to: Sebastian Vettel, also with seven.
Vettel picked up six points last season. At the British Grand Prix last July, he forced Felipe Massa off the track. Two penalty points. At the 2016 Malaysian Grand Prix — the next race on the 2017 calendar — Vettel caused a collision with Nico Rosberg. That's two more points.
But the biggest outrage of last year has to be what happened at last year's Mexican Grand Prix. After have driving dangerously in a battle with Daniel Ricciardo, Vettel went on a foul-mouthed tirade about how the stewards were being unfair to him. He even called out FIA Race Director Charlie Whiting, calling him an expletive we're not allowed to publish. Sebastian was very lucky to escape with just two penalty points.
But the hot-headed Vettel hasn't learned his lesson just yet. At this year's Azerbaijan Grand Prix, the Ferrari driver drove into the side of his title rival Lewis Hamilton after complaining Hamilton had brake-checked him under the Safety Car. The data showed that Hamilton did nothing wrong, yet Vettel refused to hear it. He later apologized but received three more penalty points.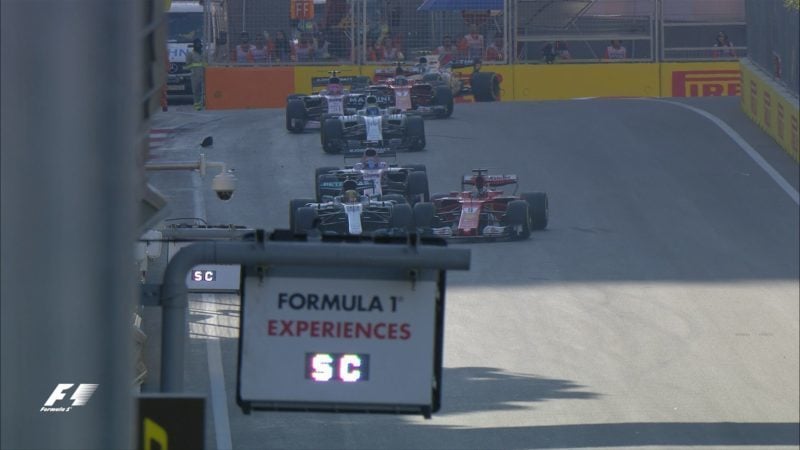 It didn't stop there, though. At last weekend's Singapore Grand Prix, Vettel had a bad start off pole position. Max Verstappen and Kimi Raikkonen both got much better starts and were alongside Vettel almost instantly. Realizing this, Vettel veered all the way across the track, pinching Verstappen in between both Ferraris. This caused a massive collision, ending the race for all three drivers.
Sebastian got away with it, too. The stewards deemed it a racing incident. But the bigger picture here is he might have just thrown his 2017 World Title away. He was only three points behind his rival Lewis Hamilton before Singapore. He's now a massive 28 points adrift. At a race where Ferrari was set to dominate, in a season where it had a chance at its first Driver's Championship in 10 years.
Scuderia Ferrari has lofty expectations. It's the most successful team in the history of the sport. It's also been in it the longest. The team has such a strong pull that it can veto rules decisions and has the final say against the wishes of the other teams. Ferrari is part of the F1 furniture.
So is Vettel finding it too much at the Scuderia? Is he trying too hard? The team has gone on record to say it adores him. He just signed a new three year deal. The team likes Vettel so much that there was a clause in his old contract that prevented Fernando Alonso from becoming Vettel's team mate. Alonso is arguably the best driver on the current F1 grid.
This is very reminiscent of what made Michael Schumacher special. Schumacher built the team around him. Everybody was there to make sure he won. His team mate was simply there as support. In Schumi's day, this role went to Rubens Barrichello. This has been recast in 2017 as Kimi Raikkonen, with Vettel the leading man.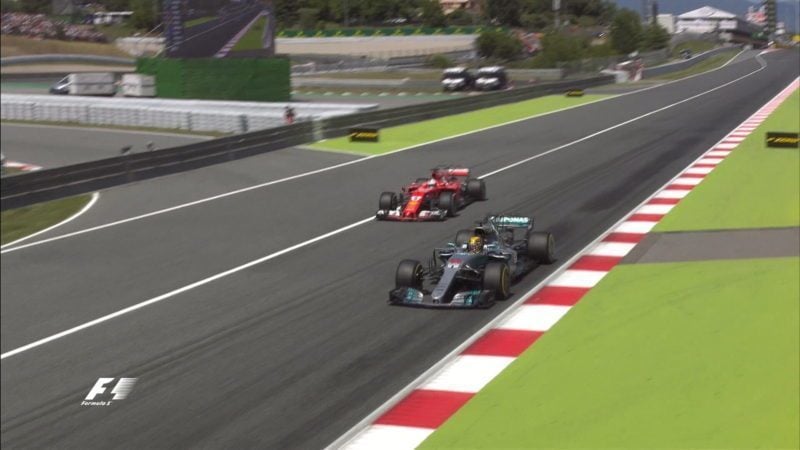 Sebastian did this somewhat at Red Bull, where he won four consecutive World Championships. The team revolved around him. But Ferrari is a different kind of beast. If Vettel can temper his emotions and tame this beast, he might just become one of the true Ferrari greats. His titanic title battle this year with Lewis Hamilton of Mercedes has been one for the ages. But has the pressure from driving for Ferrari got the better of Seb?
Vettel seems so eager to mimic what his hero Schumacher did at the red team that he can't stop himself from seeing red. Vettel is certainly replicating one thing from Michael; getting hot under the collar, moaning and somehow getting by with a slap on the wrist.
More Posts On...