It only takes a few miles for the doubt to kick in.
It's early in the morning on a perfectly normal Wednesday. I'm trundling along at regular highway speeds as I make my way out of the city center. The brown Hyundai is the sort of default car shape I'd scribble if asked to draw a small hatchback. The kind I'd almost certainly lose the moment I parked it at a Costco. It's all so very normal.
So why am I questioning my decision? Because I haven't just left Toronto — I'm leaving Hamburg. Over the next 36 hours I'm going to drive over 700 miles across Germany, largely on the autobahn, on my first real visit to the country, to cross off a bucket list item.
I'm going to drive the Nürburgring. Not for the ten-thousandth time in a sim racer, but for real.
The First Autobahn Blast
It starts innocuously enough. Before the plane even touches down in Hamburg I've furiously worked out the man-maths. I'll rent two cars: one for the drive to the track, and one there for the deed itself. I'll stay… well, wherever I find. Okay, so "furiously" actually means glorified spitballing. But there's, like, 12 percent of a plan.
I already feel out of my depth when I call the rental company. I stumble through "ich spreche kein Deutsch" only for the man on the other side to launch into warp-speed German. When I sheepishly ask for English he tells me he thought I was kidding with the first line. Is this German humor?
Whatever it is, it's refreshingly easy to rent a car in Germany, and I'm quickly out on the roads in what will become a true companion: the afore-mentioned, very brown Hyundai i20. It puts down a powerful 84 ponies, and I'm going to put every single one to the test. Eventually.
The thing that nobody really tells you about the autobahn is that the derestricted sections are only a small portion of a huge network. The first half hour is little different from back home. The speeds are the same, the sheer number of gigantic trucks is the same, and the very real need to keep yourself engaged is the same. The giddy enthusiasm that had me awake at 4:30 in the morning is all gone. Just as soon as traffic clears I peel off the highway for snacks and caffeine.
When the magical white circle with five diagonal black lines appears, it's only slightly anti-climactic. Sure, it'd be easy for me to blame the Hyundai, which I've already started calling "Little Turd" — at least in German, which I won't repeat here — but it's also down to the quality of the driving of my fellow road users. The Germans understand lane discipline in the way Canadians understand saying sorry for literally everything.
My first exploratory blat puts me just above 170km/h (105mph), and I end up settling into a comfortable 160km/h cruise every time the sign returns. It's faster than anything I've ever driven on a road, and the Hyundai's also the weakest and tiniest-tired of my driving history. None of that matters: the autobahn is so well-sighted and other drivers are so clear in their intentions that this feels so much safer than half the speed back home.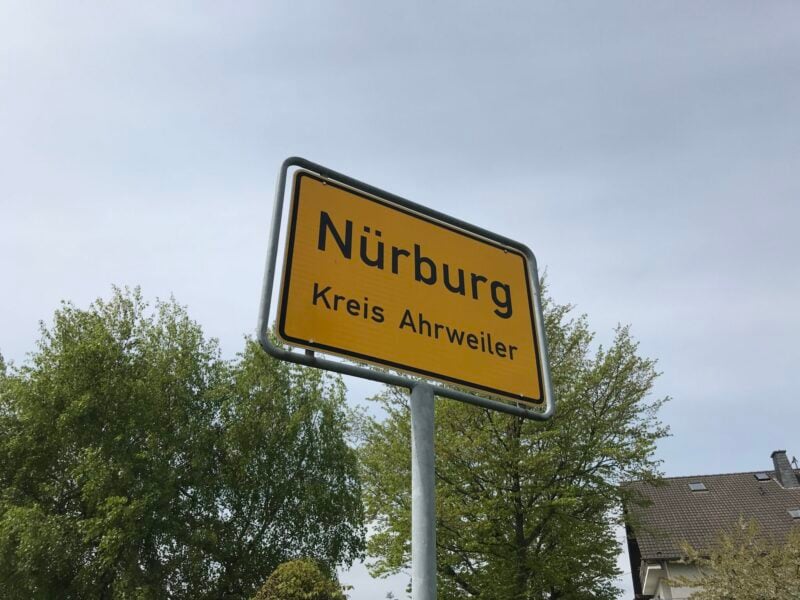 Approaching Green Hell
I want to tell you the drive is consistently stunning, but it all blurs by. Only once I'm crossing a bridge and notice a familiar castle up on the hill does it register: I'm nearly there.
The clock is just shy of 5PM when the signs start showing up. The sun has begun its descent, bathing all the newly-leafed trees in a blanket of golden light. I keep following the path my phone has laid out as the names start coming thick and fast. Adenau. Quiddelbach. Nürburg. They're almost mythical in the minds of car fanatics, and as the remaining distance shrinks, the cars coming the other way get tastier and tastier.
Surprise number two of the trip: even the roads around the 'Ring are quite special. If the track weren't closing in a matter of hours I'd be stopping to take it all in.
I arrive at the track car rental shop and have to give myself a few minutes to stop grinning like an idiot. It doesn't take long, as I'm dealt a huge blow: it's too late to rent a car. In my whirlwind of deciding if I'd really take on the trip earlier in the morning, I hadn't actually bothered to confirm whether the most crucial part would be possible. The track is closed tomorrow for a private event, so this is my only shot. Way to go, Kyle.
The guys at the shop don't want me leaving Nürburg empty-handed. They've got a friend that runs another, smaller shop that could help, but can't get him on the phone. "Head past the track gate into town," they tell me, "look for EVN Rentals, and ask for Frank."
Frank Thind smiles a lot. You can't blame the guy: he's doing what he so very clearly loves. Frank welcomes me to Nürburg and asks me what I want in my first experience of the Nordschleife. He imparts his knowledge without ever seeming judgmental: he's a guide. I tell him about my 15-year fascination with the track through sim racing, but that I don't want to pretend I truly know it because of muscle memory. I want a car I can push if I feel comfortable, but that features a wide enough safety net for someone with very limited track experience. Frank suggests Rudolf.
EVN's garage is full of cars with famous racing driver names. In this case, Rudolf is a Seat Ibiza Cupra. Not just a box stock Ibiza either, but one with an engine upgrade, stickier tires, and a partially stripped interior complete with rollcage. Rudolf sticks to a six-speed manual too. I clamber in and aim myself towards the gate. Touristenfahrten, here I come.
The First Lap
It seems gratuitous to say it: I'm in luck. Not only is the sun casting dramatic shadows, but the sky is nearly cloud free and the track is low on traffic. Frank told me there were a lot of accidents earlier today, so this is the clearest the track's been all day. I beeline for the gate and hand the gate lady my ticket. Just like that, I'm driving on the Nürburgring.
I'm suddenly intently aware of the fact I've just spent five hours driving in largely a straight line in a car with less than half the horsepower and comparative toy tires. I think about whether I should've spent more time at least getting to know the Ibiza before jumping in the deep end. At least buying it some flowers. Up under the bridge of Antoniusbuche and the thought vanishes. The Ibiza is light and stiff, and those front tires sniff out the apex like it's the main course. Not even the fact I've knocked my phone off the passenger window after mistakenly lowering it can dampen my enthusiasm now.
There's that creeping sense of familiarity, but it doesn't prepare me for the forces the 'Ring is about to exert on my soft, squishy body. I dive into the first left-hander of Hatzenbach, which pushes me up and off my seat as much as it pushes the Ibiza wide. Barreling downhill towards the fast right after, I lift early to shed speed. There's no point being greedy 30 seconds into my first lap. The Ibiza takes the corner easily, and I make a mental note for the next time around…
Flugplatz arrives like a wall. The Ibiza gamely scales it, and then it's flat out all the way to Schwedenkreuz. I'm proud to report it's just as sphincter-tightening in the real world as it is in games. I brake early, again, and go for a late apex to get a solid run down Fuchsröhre. Traffic comes up behind, so I stay right and watch Porsches fly by. The flat-six soundtrack is epic, or at least it is for the short time before my ears pop. No game prepares you for the nearly 1,000ft of elevation changes a lap of the Nordschleife contains. It really is a rollercoaster you happen to be in control of. My ears will pop three more times by the end of my first lap.
The turns go by in what seems like a highlight reel, but in reality is slow enough to not trouble a van-driving frau Schmitz. Miss-Hit-Miss and Ex-Mühle are standouts. The former is one of my absolute favorite corners of any circuit, so it's a special feeling to go through. Meanwhile Ex-Mühle is one of those corners I've never gelled with in games, but the added information in the real world makes it more enjoyable.
I ease off on the back straight. Partially to give the car a break, and partially to just drink in the atmosphere. More cars pass, and I follow them up that iconic climb. The road crests before depositing the Ibiza and I right into the bowl of the Karussell. It's smoother than games would have you believe, and feels oddly natural to navigate. After that it's the run up to the second-highest point of the track, before my favorite portion begin. The "twisty bit", with its near-constant zig-zagging from Hohe Acht to the Bellof Ess, is pretty much perfect.
The Ibiza has gravity on its side most of the time, giving it that extra bit of speed as it leaves corners. I see — and very faintly, over the noise of the interior, hear — the crowd at Brunnchen, where thousands of videos have documented those that get too confident around the Green Hell. I promise myself I won't join the ranks, though I do get on the power nice and early heading up and out. The Ibiza exhibits zero torque steer, gracefully tracing a line out to the left of the track, just kissing the wide rumble strip without putting a tire in the dirt. I barely use the brakes for the last two minutes, where lifts and maybe a downshift are enough to slow the car down.
First lap down, I pull in and park in the tiny little section directly beside the gates. Everything that's lead to this — the five hour highway schlep, the near-miss of getting a car, the combo of general exhaustion and jetlag I'm still recovering from — sinks away. I'm wired, giddy that I've completed my first lap without issue. Rudolf is gently pinging away as I wander the lot looking at everything else here: a radioactive yellow Alpine A110, gaggles of E36s and 911s, a low-key i30N in an eye-catching shade of green, and 'Ring taxis galore. This is what heaven looks like, right?
Lap Two: Applying the Lessons Learned
There's less than an hour left of track time. I've got one more go, so I make it count. I push slightly harder this time: still well within Rudolf's limits, but not as purely exploratory as lap one. Sim racing gives me the general knowledge of the layout, but I'm not looking at the speedo like I would in a game. Rudolf and I are having a conversation: he's telling me how much grip he has left in reserves, which is almost always "a lot". The little turbo four isn't a singer, but I've realized it has more left in the rev range than I was allowing it last lap. It probably isn't strictly necessary to run it so close to redline, as it puts in its best work lower down, but I do it on principle. Who knows when I'll be back?
I shift a lot more this lap. The Ibiza says hello to the curbing at a handful of corners, starting with the crest after Fox Hole. I get a quick reminder I'm still a slow-moving chicane as a Mini GP materializes behind me. I didn't see it in the rear view at the compression ten second earlier, and I'm already holding it up by the first right of Adenauer Forst. Did it just lift a rear tire as it passed? Awesome.
A damaged car being loaded onto a trailer before the back straight is a sobering reminder to stay within my own limits. Once past I find myself behind an E36 convertible. The driver signals for me to pass… right before that wicked, high-speed left kink (Mutkurve). Needless to say, we're both going quite normal speeds through it.
"Twisty bit" is a mostly-third, sometimes-fourth affair. What keeps catching me out, in the best way possible, are the brakes. They're so much more powerful and consistent than I give them credit for. Sure, I end up entering a corner a good deal slower than I intend to, but it's better than the alternative…
It's when I power out of Brunchen that the bug first bites: I want more power. A race track has a way of making nearly 200hp feel half that, especially with the elevation changes here. The Ibiza can feel bogged down out of corners. But is that genuinely an issue, or am I jealous of how quickly the umpteenth car has whizzed by me?
Moving downhill before the Bellof S, the Green Hell puts my ego in check. The Ibiza's back end squidges ever so slightly outward as we crest the hill. It's maybe five degrees, over almost as soon as it happens, but it's enough to remind me: hey dummy, this is your second lap here. Ever.
One last high-speed run on the Dottinger Hohe and I'm back on regular roads. I drop Rudolf back with Frank. He asks me how it was, but we both know from the grin on my face. He warns me that this is only the beginning. I tell him I hope it is.
Small Town Hospitality
The subject of where I'm staying comes up. "I didn't plan that far," I tell Frank, figuring I'd search the nearby towns. He has a better idea, taking me next door to the Lindenhof. The family-owned restaurant has a handful of rooms available. Frank introduces me to the Grübers and next thing I know I've got a key. Young Marco is tending the bar when I come down for dinner. As he brings me my schnitzel and beer — uh, of course — I ask how living next to the most famous race track impacts his life. "It's an important part of the town," he tells me. "In the winter, the first sounds of a car doing laps at the Nordschleife is the sign that spring is truly coming." Phew!
Meal polished and racing memorabilia all poured over — it's literally hanging from the rafters here — I retire early. My head barely hits the pillow before I'm out.
The next morning I meet Serge from Belgium. He's also staying at the Lindenhof, but is a seasoned veteran with over 20 years experience at the 'Ring. He's seen it change, from the tiny groups of enthusiasts he was a part of as a biker in the '90s to the massive operation it is now in his modified Lotus Elise. He comes multiple times a year, doing just as many track days at his local circuit. You may have heard of it: Spa-Francorchamps. As he's leaving Serge invites me to check out the Elise, and it's a beauty. With an exhaust note that shames the Ibiza, nevermind the Little Turd I'd almost forgotten about, Serge is Belgium-bound.
I spend the morning walking around Nürburg. I visit the GP circuit and its enormous sign. It's spookily deserted, this being a Thursday in May, a solid six weeks before the N24 gets underway. It'd be criminal to come here and not buy some souvenirs, so I do just that before hopping back in the Hyundai and exploring the surrounding area.
Epic Drives Off Track Too
If you ever find yourself at the Nürburgring, seek out the L10. There's a small parking area right outside Adenau with a path that leads under the track itself. It's an excellent spot to hear the supercars letting loose on this private event day.
The boring name does the L10 a disservice, as it's a belter of a driving road. It makes the little Hyundai dance — or at least, as close as it can manage. The local topography means a flat road just doesn't exist, and there's a hairpin that almost forces me to snatch first gear. I loop back around towards the track to fill the tank from that gas station. It's 3:00 in the afternoon before I pull myself away from Nürburg. It's time to head back to Hamburg.
Naturally, the drive back is less exciting. I take a different route, first north-west to Blankenheim and yet more pretty vistas before rejoining the 1. Barely an hour in, an accident forces me off the autobahn and into Ronsdorf. This detour adds precious time, especially because my German is so terrible I regularly miss directions. I find myself in a handful of small towns, one so hilly I could only describe it as a German San Francisco, before getting back on the autobahn. It's a fascinating drive, showing me the parts of Germany I'd otherwise miss. If only Google had saved the route…
The estimated arrival time is now within five minutes of the rental shop closing. I press the i20's throttle pedal ever closer to the floor, right as the skies open up. It's the sort of rain that even the highest wiper setting can't win against, and I'm forced to move to the right and assume a (slightly) slower speed.
The weather clears and Little Turd is back up to a steady 100mph cruise when possible. She's drinking pretty heavily though, and I'll need to make another splash and dash. I cave around Luhden: I've pre-paid so I can return the car as close to empty as I dare. I shudder at the local price of gas, put in what I think is enough, and head off again. Google's estimates still have me on the right side of closing time.
Hamburg's ring roads show up ahead of schedule, but the low fuel warning light is now staring back at me. Navigating German road signs in the inky blackness of night is not my forte — damnit, missed a turn — but I make it to the airport. Damnit, missed another. Finally I find the right spot for the i20 and drop it off. The final tally is slightly over 1100km in 36 hours, with a remaining range of 16km, and that number of minutes until closing. Success, if only just.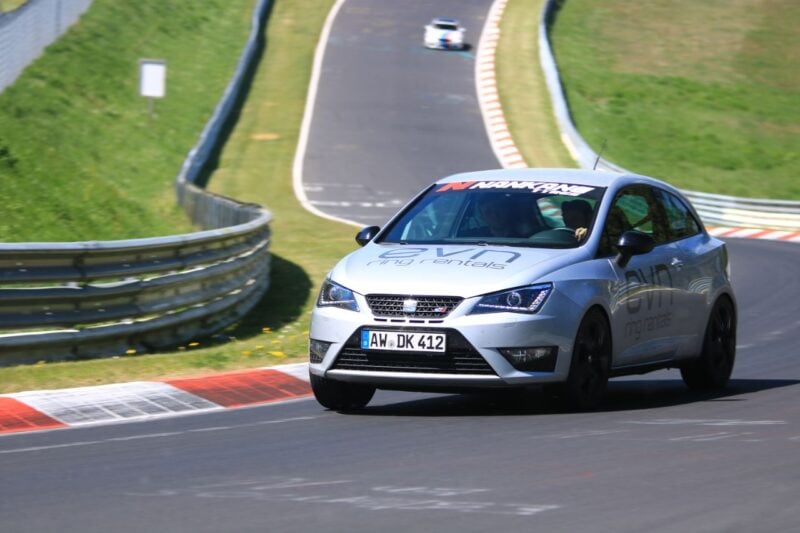 A Goal Achieved
Some five months later, I still can't quite believe I did it. It was a shoestring effort, utterly unglamorous. The pictures should drive that point home. To be honest, I didn't take many because I just didn't want to: I wanted to experience the trip in the moment. On more than a few occasions I'd simply laugh to myself, floored that this was all really happening. It's a memory I'll never forget.
Had you told me at the start of 2019 I'd drive the Nordschleife for real I wouldn't have believed you. I've had some tremendous luck to do what I've done the last few years, and this certainly has a fighting chance for top billing. One overriding lesson was this: no matter the strides sims make, none will ever truly prepare you for the real deal. Anybody who tells you otherwise is lying. There's information to be gleaned from driving the Green Hell in digital form, sure. I knew which way the track was going to turn next, and at roughly what speed (or at least gear) I should take it. But that's it.
The Nürburgring is a glorious, brutal, beautiful, terrifying monster of tarmac, a living being built for horsepower and g forces. Every lap is different from start to finish; every corner's character subtly altered. In today's society it's a small miracle the whole 12.9-mile circuit still exists. Long may it continue.
Oh yeah, and about that title…
It's here that I leave you, dear readers. This is my final article at GTPlanet. It's been an amazing few years, and I want to thank each and every one of you for making it that way. I'd like to also thank the writing crew, past and present — it genuinely wouldn't have been possible without you. I'm grateful Jordan gave me this opportunity, and trusted me with an expansion that saw us cover myriad more racing titles, plus the automotive realm. Thank you, boss.
I'm off to another post at AutoGuide, where I'll continue writing about what I love: cars. I'm glad to be a part of a community where that love is shared, and I urge everyone who finds themselves on the edge of an epic road trip: do it. Make the jump. Go out there, explore, challenge your own limits, and continue sharing that passion. This is Kyle, signing out.
More Posts On...