Five years from now, Volkswagen will be launching a modern iteration of the legendary Microbus. Currently nicknamed I.D.Buzz, the eye-catching bus will draw its power solely from electric motors.
A major highlight of the bus is the appearance itself. The designers clearly wanted to keep the iconic outline of the Type 2 model intact, while still feeling modern. We'd call the Buzz a success on that front: its sleek body asks for nothing but affection, much like the original almost 70 years ago. A special two-tone color really cements the connection too.
With a wheelbase approaching 11 feet in length — longer than an Audi A8L, the Buzz is anything but micro. On the plus side, this makes for a very spacious interior. More room is liberated thanks to VW storing all the the electric gubbins within the floor.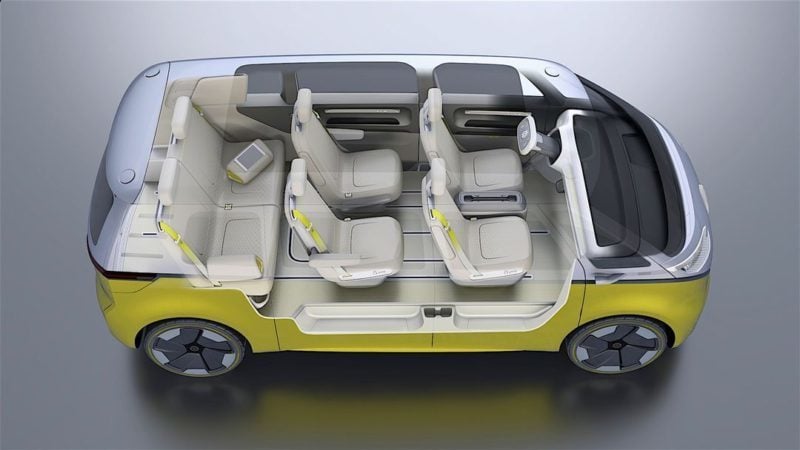 When it comes to capacity of these engines, the reborn 'Bus will be a far cry from the original. The I.D.Buzz is powered by four electric engines, together pushing out a staggering 369 hp. The Buzz will hum along to 60 mph in less than six seconds — not to shabby for a camper.
Volkswagen promises it will offer models with lower outputs, as well as commercial models for entrepreneurs. In addition, it will offer an an all-wheel drive option. Hopefully the prices of all these models will remain within reach of average customers.
The idea of reintroducing the Microbus has been in circulation for more than a decade now. It was only recently that Volkswagen decided to push the project into production, presumably due to very high interest for the bus.
Volkswagen CEO Herbert Diess stated that after the presentation of the bus at this year's Geneva and Detroit motor shows, VW received a high number of letters and e-mails with messages of support for the project.
It's no wonder. The minibus really looks fantastic and will surely blend in nicely on the roads of the future. If everything goes as planned, we'll be seeing the Minibus on streets in 2022.
See more articles on Electric Vehicles and Volkswagen.