UK sim racers looking to get behind the wheel of a real-world open-wheeler, take note. A seat in the 2018 National Formula Ford Championship is up for grabs via a sim-racing competition.
The JMR Scholarship promises full support for all eight weekends on the 2018 calendar. Not only that, the winner will receive a test day before each race, with all consumables and wear and tear covered as well. The lucky sim racer will take to the grid in a championship-winning car with the support of professional engineers.
Basically, the winner will get a fully paid-for ride in a prestigious British feeder series. That's a heady proposition, following previous Formula Ford racers like Ayrton Senna and Jenson Button.
To ensure fair play, the competition takes place on identical racing rigs. The game of choice is Project CARS, with the Formula Rookie around Brands Hatch Indy. Players will have to tackle the car sans aids, with a Thrustmaster T300 GT RS and TH8A shifter.
The good news is you'll get a fair amount of time to dial in the combo. Competitors get 30 minutes with the rig, which should result in quite a lot of laps around the short course at Brands.
Naturally, the Indy layout has resulted in incredibly close lap times so far. With established kart racers and sim players alike vying for the prize, the lap times have dropped at each event.
There are 20 events left to set a time, ten of which take place this month alone. Here's the lineup for the rest of August:
August 8: Herefordshire Raceway, Weobley, 1000–1800 local time
August 10: York Motorsport Village, York, 1100–2000 local time
August 12: Great British Sports Cars, Boughton, 0900–1700 local time
August 16: Formula Fast, Milton Keynes, 1100–2100 local time
August 19: Clay Pigeon Raceway, Dorchester, 0900–2300 local time
August 20: Whilton Mill, Whilton, 0900–1900 local time
August 23: M4 Karting, Hullavington, 0900–2100 local time
August 26: Camberley Kart Club, Camberley, 0900–1800 local time
August 27: Cumbria Kart Racing Club, Rowrah, 1100–1900 local time
August 28: Cumbria Kart Racing Club, Rowrah, 0900–1900 local time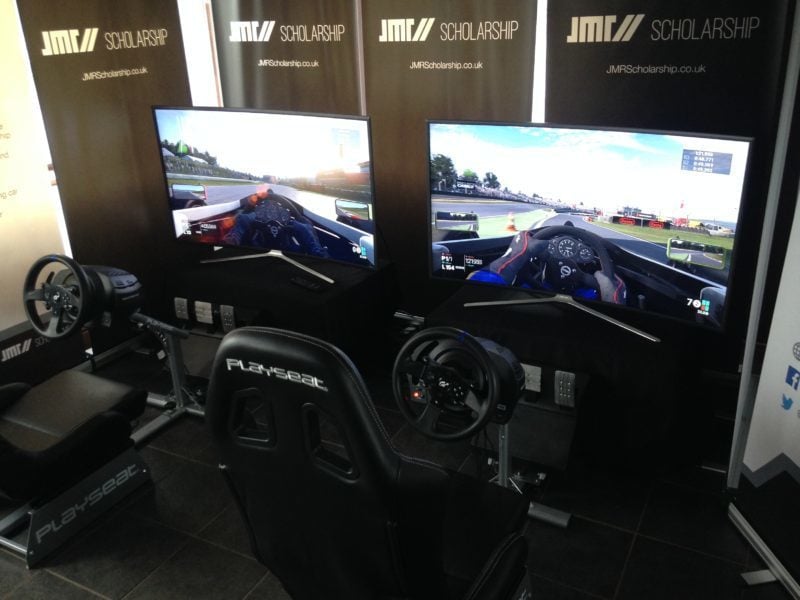 If you're looking for the full schedule, check it out here. You'll need to book your 30-minute slot to ensure you get some seat time. The only real limitation is that you need to be 16 years old by next March — the minimum for Formula Ford.
The JMR Scholarship sounds like an excellent alternative to GT Academy for sim racers to break into the world of motorsports. We'll be keeping an eye on the competition as it runs from now until the end of October. With any luck, we'll see a GTPlanet member claim that grand prize…