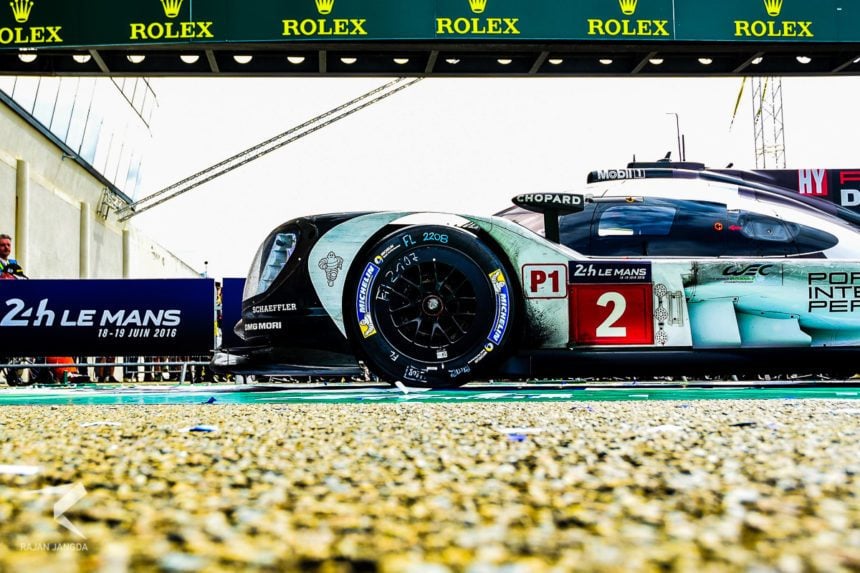 With both grief and tears, supporters of the largest Japanese car manufacturer will remember this last weekend at the prestigious Le Mans festival. Toyota lost the race which was seemingly destined to be a sure victory, the first one for the 'Land of the Rising Sun' after a long 25 years of hovering around the podium's top spot.
Strenuous preparations for the 2016 Le Mans 24 Hours event preceded a very exciting run during which Toyota Racing's TS050 Hybrid (#5) was slowly, albeit confidently, closing the distance between the pole-setting Porsche 919 Hybrid (#2) owing to less-frequent pit stops. If we recall qualification results, the #5 car secured 4th position with a lap of 3'21.903, around 2 seconds below the Porsche's fastest lap of 3'19.733. Roughly 20 hours into the race it managed to take the lead and was on its way to score a triumphant achievement for Japan 25 years after the legendary Mazda 787B did it in 1991.
Unfortunately, upon entering the very last lap, the #5 car had to pull over permanently due to sudden mechanical failure, dramatically ending Toyota's conquest in front of thousands of fans. To make matters worse, the car was eventually disqualified for not competing the last lap within the 6-minute time limit. With no other opponents running away in its windshield, the #2 car easily took over the leading baton and completed the final lap, providing Porsche with its 18th Le Mans victory, and the second consecutive title for the German marque after returning to the top class back in 2014. Neel Jani, the man behind the wheel on that last lap, had this to say:
'I was told over the radio that the Toyota had stopped and that I was in with a chance of catching it if I stepped up the pace. As I went past, I saw it wasn't moving. The last lap was surreal. I felt numb because I couldn't believe it.'

Another driver operating for this year's Porsche team, Romain Dumais, said:
'It hasn't sunk in yet and we feel sorry for Toyota. But after a while only the result will count. We were offered a victory; we weren't going to say no.'
This sudden turn of events surprised even Porsche itself. Hugues de Chaunac, team manager of the French team Oreca, who was cooperating with Toyota, recalls:
'We've dreamed about winning this race. We also had a nightmare, breaking down an hour from the finish. But not in the last lap. It's completely cruel. It hasn't sunk in yet. We were right there. This race is so hard to win. Even Porsche's boss came to see us and admitted he didn't deserve this victory.'
On a brighter note, Ford succeeded in securing the victory in their own class 50 years after the famous GT40 did it for the first time back in 1966. Car #68 won the LMGTE Pro class a minute ahead of the Ferrari 488 GTE (#82). Third place was taken by another Ford GT (#69).
The results weren't without their own cast of controversies, though. With accusations of sandbagging on behalf of Ford running rampant, the cars were hit with a last-minute weight penalty before the race start in an effort to balance the odds. The Ferrari 488 GTE also received a slight bump on the scales, but it proved too little during the race, as the two teams ran away from the rest of the competition in the class.
At race end, the #68 car received 70-seconds worth of penalties, while the #82 received 20 of its own. This wasn't enough to change the final results however: it only made the final, adjusted podium times that much closer.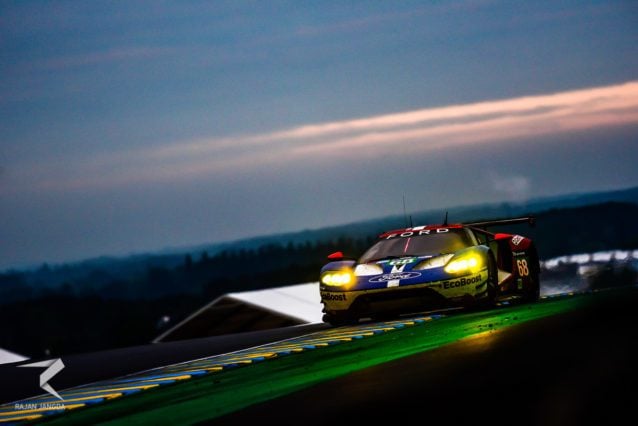 British Olympic cyclist Sir Chris Hoy participated at this year's 84th Le Mans 24 Hours event with team Algarve Pro Racing. Their Ligier JS P2 (#25) finished the race 12th in LMP2 class and 17th overall. For BBC Hoy stated:
'It's been the most exhilarating experience. I knew it would be tough, but I didn't underestimate Le Mans. I did three stints; a quadruple and two triples. Getting into the car for my final stint was tough. I'd had a massage and an hour-and-a-quarter's sleep and I think I slept too much.'
Speaking of how the famous circuit should be tackled, Hoy explained:
'You need to be aggressive and fast, but you also need to treat it with respect. If you don't attack it, you won't get the performance. But, if you take liberties, you'll be in the wall. And it's a high-speed circuit, so you're likely to get hurt, or, yes, killed.'
Hoy also mentioned that this year's participation at Le Mans will currently put a full stop on his career in motorsports. However, Hoy stressed he would like to return to Le Mans once more and improve his driving.
And that is all we have to share regarding this year's Le Mans event! It was exciting, wasn't it? Make sure you check the complete race results and official website for more details on the race.
Photos by Rajan Jangda of British Marque Car Club.
More Posts On...
The original comments for this post are no longer available.