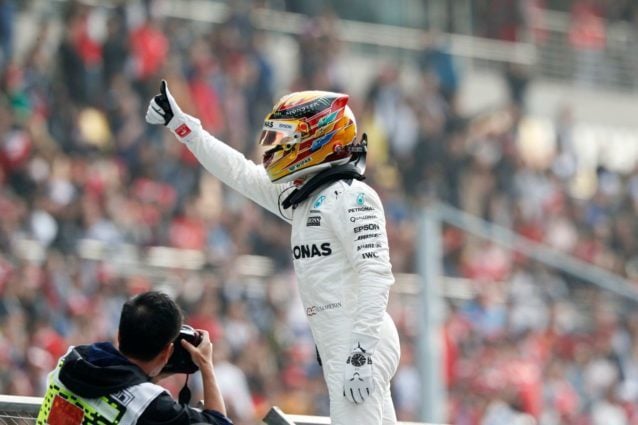 Fans tuning into the qualifying for the second round of the 2017 Formula One season may have had a sense of deja vu earlier today, as a familiar pecking order began to shake out at China's Shanghai International Circuit.
Lewis Hamilton drove a near-perfect lap around the circuit to secure his 63rd career pole position of 1:31.678, nearly four seconds faster than last year's qualifying time by then-teammate Nico Rosberg. The narrative of Mercedes' domination continues unabated.
Not only was this the quickest ever lap around the Shanghai International Circuit — an impressive feat by all measures — it now places the Mercedes driver in the elite presence of Michael Schumacher and Ayrton Senna as the only men with six consecutive poles at two circuits in the history of the sport.
The grid order for tomorrow's race is a familiar one for the top three: Sebastian Vettel has once again come between the Mercedes duo of Lewis Hamilton and Valtteri Bottas, asserting that the Ferrari's performance at Albert Park two weeks removed was no one-off. Ferrari is a serious contender for this year's title and is — so far — the only threat to Mercedes.
The margin between Mercedes and Ferrari continues to narrow: while Hamilton first led the second-place Ferrari by almost three-tenths of a second, the gap has come down to just under two. Mercedes continues to find an advantage in pace, but ultimately the last word will be had at the start of tomorrow's race. Should the narrative continue as it has since the season's opener, this may become one of the more interesting seasons for the sport in recent memory.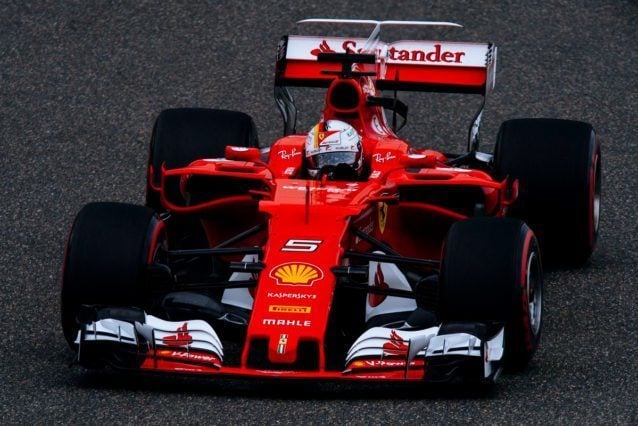 Though Valtteri Bottas may have missed a one-two Mercedes pole by only one-thousandth of a second, he continues to get a taste of the life behind the wheel of a top-tier machine, which will only strengthen his position with the Brackley-based team. That isn't to sell him short, but Bottas is in the interesting position where strategy will play an important role in the finishing positions of the Mercedes team. Should he ever have the opportunity to close in on Lewis and strike, it will cement his position as a serious contender and not just the team's "second best."
Kimi Raikkonen fell away in Q3, claiming fourth behind Bottas after struggling with the car and complaining of understeer in his Ferrari. Daniel Ricciardo put in the usual effort to bring his Red Bull home with a comfortable fifth place finish, almost half a second clear of the sixth-place Williams of Felipe Massa.
While Nico Hulkenberg may have been the sixth fastest in Q2, the German chose to complete his one and only run at the start of Q3 which was still good enough to secure the seventh spot on the grid for the Renault team. The Force India of Sergio Perez was driven to the eighth spot, just ahead of Daniil Kvyat, and while Lance Stroll drove the second Williams to 10th in his first Q3 appearance, it was no easy feat.
Perhaps the unluckiest drivers on the grid were Romain Grosjean, Antonio Giovinazzi (standing in for Sauber's Pascal Wehrlein), and Max Verstappen. Grosjean spun his Haas while exiting the final corner during Q1, ruining his tires with a puncture as a result. While he was fortunate enough to continue, his efforts would only reward a finish of 17th behind the McLaren of Stoffel Vandoorne.
Antonio Giovinazzi would also run into issues at Turn 16, spinning and heavily damaging the Sauber against the wall. Despite being unable to limp to a higher place finish, 15th was secured as a result of the circumstances. Verstappen struggled with an engine software problem in the Red Bull that kept him from finishing close to or ahead of teammate Daniel Ricciardo, leaving him to 19th behind the Renault of Jolyon Palmer but just ahead of Esteban Ocon in the Force India.
Though if anyone can shake up the field and take those positions back with daring moves, Max is just that person. The provisional grid for tomorrow's Grand Prix will line up as: Hamilton, Vettel; Bottas, Raikkonen; Ricciardo, Massa; Hulkenberg, Perez; Kvyat, Stroll; Sainz, Magnussen; Alonso, Ericsson; Giovinazzi, Vandoorne; Grosjean, Palmer; Verstappen, Ocon.
Here are the final times for Qualifying for the Formula 1 2017 Heineken Chinese Grand Prix. Please note that any grid drops due to penalties sustained have not been taken into account.
POS
DRIVER
Q1
Q2
Q3
1
44
MERCEDES
1:33.333
1:32.406
1:31.678
13
2
5
FERRARI
1:33.078
1:32.391
1:31.864
15
3
77
MERCEDES
1:33.684
1:32.552
1:31.865
14
4
7
FERRARI
1:33.341
1:32.181
1:32.140
15
5
3
RED BULL RACING TAG HEUER
1:34.041
1:33.546
1:33.033
12
6
19
WILLIAMS MERCEDES
1:34.205
1:33.759
1:33.507
14
7
27
RENAULT
1:34.453
1:33.636
1:33.580
16
8
11
FORCE INDIA MERCEDES
1:34.657
1:33.920
1:33.706
15
9
26
TORO ROSSO
1:34.440
1:34.034
1:33.719
17
10
18
WILLIAMS MERCEDES
1:33.986
1:34.090
1:34.220
18
11
55
TORO ROSSO
1:34.567
1:34.150
11
12
20
HAAS FERRARI
1:34.942
1:34.164
12
13
14
MCLAREN HONDA
1:34.499
1:34.372
11
14
9
SAUBER FERRARI
1:34.892
1:35.046
15
15
36
SAUBER FERRARI
1:34.963
8
16
2
MCLAREN HONDA
1:35.023
6
17
8
HAAS FERRARI
1:35.223
6
18
30
RENAULT
1:35.279
6
19
33
RED BULL RACING TAG HEUER
1:35.433
7
20
31
FORCE INDIA MERCEDES
1:35.496
8
If you fancy giving it a go yourself, F1 2016 includes all of the cars, tracks, drivers and teams from the 2016 Formula 1 season. It's available now on PC, PlayStation 4 and Xbox One.
See more articles on Chinese Grand Prix and F1 2017 Season.