Canada once again threw up an enthralling F1 race, with the Circuit Gilles Villeneuve proving a worthy home.
Although the winner of the race will probably come as a surprise to few, the Ile Notre-Dame's ability to bring excitement and shake up the pack was in evidence again.
A familiar winner
Lewis Hamilton, the commander of Canada, won for the sixth time overall, and his third victory in a row at the circuit. After his superb performance in qualifying yesterday, the Brit led every lap to take his 56th career win. Today's victory comes ten years after Hamilton's first ever F1 win, also in Montreal.
The day ended with a Mercedes one-two, a familiar sight in this current hybrid era of Formula One. Valtteri Bottas took the second podium position after making it through turn one unscathed. Bottas now has three podiums in five attempts at this track and scored some important points for the Mercedes team as it retakes the lead in the Constructor's Championship.
Vettel versus Verstappen
One man who didn't get through turn one unscathed was championship leader Sebastian Vettel. It was three-wide into the turn one chicane with Max Verstappen swooping around Vettel's outside, clipping the German's front wing in the process. Bottas was on his inside so there was nowhere for Vettel to go. Verstappen was up to second place.
Karma later struck Verstappen as he retired from the race on lap 11 with a battery problem. Heartbreak for the Dutch wonder kid as he was running in second at the time. As the saying goes, "That's racing."
First lap safety car
There was a huge crash on the first lap into the turn three chicane. Carlos Sainz was clipped by Romain Grosjean, causing Sainz to enter the corner gearbox-first. Felipe Massa was the unlucky party and was taken out by Sainz's out of control Toro Rosso.
Both drivers escaped without injury in the high speed collision, though the incident caused a four lap safety car period.
Ferrari waited until the safety car came in to bring the German in. He came out a lowly 18th with a lot of work to do, but with a new wing and super-soft tires.
By lap 23, the German ace had made up ten places. With only a handful of laps to go, and after pitting again for more fresh boots, Vettel had made it onto the tail of the dueling Force Indias. They themselves were looking to get past Daniel Ricciardo in third.
Fighting Force Indias
The Force India team had been debating with its drivers on strategy or, as many would simply call it, team orders. The dilemma the team faced was Sergio Perez in fourth on old tires, with his team mate Esteban Ocon behind with fresher tires. Ocon on fresh rubber had a real shot at Ricciardo's podium spot.
The team asked Perez to let Ocon through. Perez refused. The team then proceeded to have a discussion with its drivers on how best to deal with the situation, all the while the drivers are in a heated battle on the track. A strategy meeting at 200mph; only in Formula One.
Sebastian Vettel wasn't going to wait around. Coming up behind Ocon, Vettel's overtaking skills were on display for all to see. He passed the Frenchman into turn one at close to 200mph, narrowly avoiding hitting the side of Ocon's car in the process.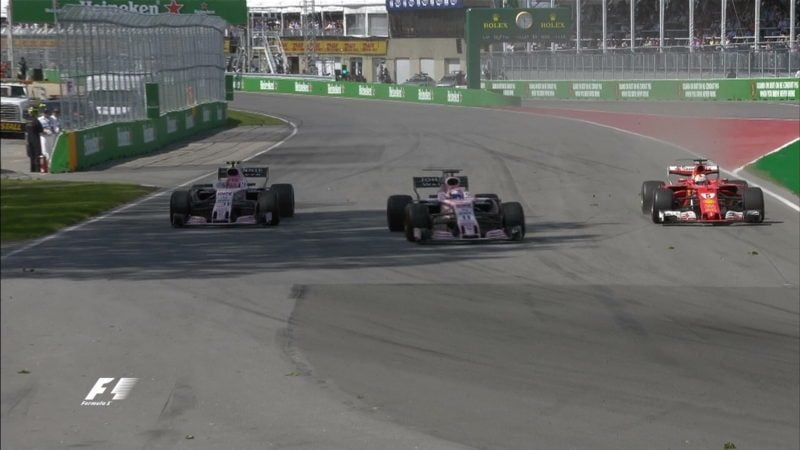 Despite passing both Force Indias with little delay, Vettel wasn't able to catch up to the Red Bull of Daniel Ricciardo. The four-time champion eventually missed out on the podium by half a second – and amazing effort considering his lap 1 woes.
McLaren misses out again
McLaren-Honda actually looked pretty handy during the race and was on for some points with Fernando Alonso running in ninth. But this is Honda in Formula One so good results aren't allowed. Predictably, Alonso retired from the race with an engine problem two laps from home; another weekend, another retirement. The rumors of the team rekindling its Mercedes engine partnership for 2018 are ever-growing.
Lance Stroll had a solid performance for Williams. He finished ninth and took home the first F1 points of his career at his home Grand Prix. There's really no better place to get your first points than at your home race.
Picard's podium pranks
Daniel Ricciardo held onto his third position and took another podium. He of course proceeded to perform the "shoey", the ritual of drinking champagne out of his shoe. Sir Patrick Stewart – famous as Enterprise captain Jean-Luc Picard – who was conducting the podium interviews joined Ricciardo for a "shoey" of his own!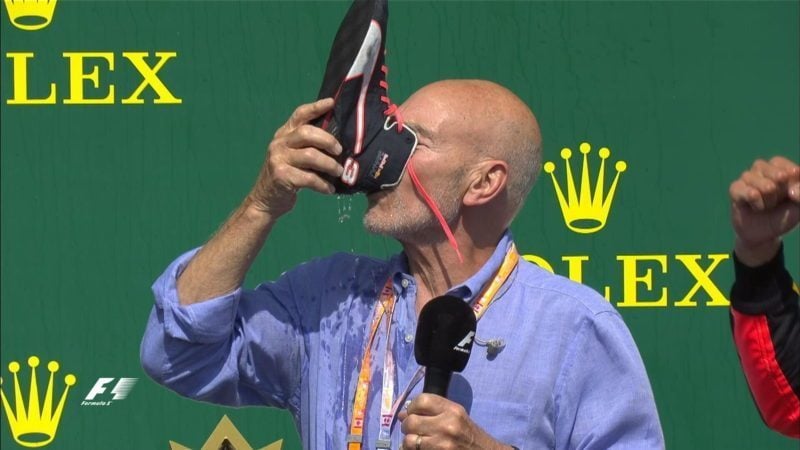 Vettel still leads Hamilton in the title race, albeit with his advantage cut down to just 12 points. Mercedes has retaken the constructor championship lead, with a perfect weekend translating to an 8 point gap over Ferrari.
We head to Azerbaijan in two weeks time as the titanic battle between the two great teams and drivers continues.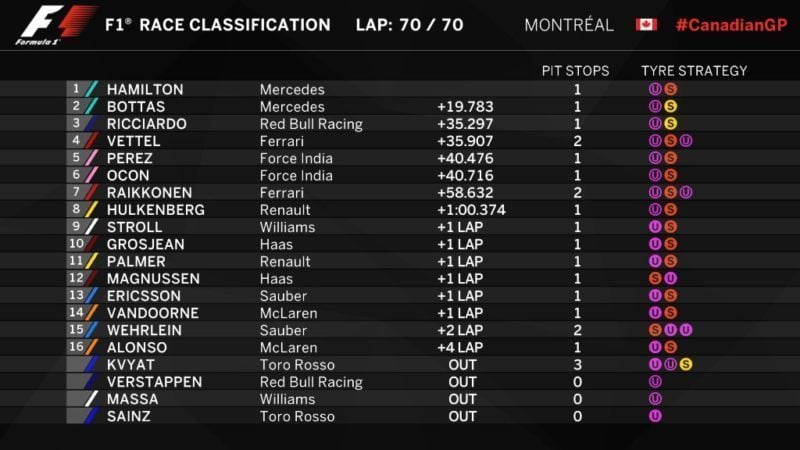 See more articles on Canadian Grand Prix, F1 2017 Season, and Lewis Hamilton.