Qualifying for tomorrow's Japanese Grand Prix was a surprising spectacle. Well, in some ways. If you've been following the current F1 season, some things were just as expected.
Mercedes' Lewis Hamilton claimed his first-ever pole at Suzuka with a dominant performance. As has become the season norm, Hamilton smashed Michael Schumacher's 2006 lap record with a time of 1:27.219.
Hamilton was untouchable today and was the fastest in all sessions of qualifying. The Briton had already set a blistering lap time more than four-tenths clear of Ferrari's Sebastian Vettel in Q1 alone. Hamilton would go on to eclipse his own benchmark to confirm pole.
Tucking in behind Hamilton is the sister car of Valtteri Bottas for the one-two result. The Finnish driver had a close call heading into the second Degner during Q1. Turn 9 proved a hassle for many but luckily the results went no further than off-track exploration. Bottas was able to secure second on the grid, albeit more than three-tenths behind his teammate.
Sebastian Vettel was third-fastest today, missing second place by just over one-tenth. The Ferrari's pace looked promising early on but wasn't enough to threaten Mercedes. Ferrari needs an impressive result tomorrow to keep Vettel's title hopes alive.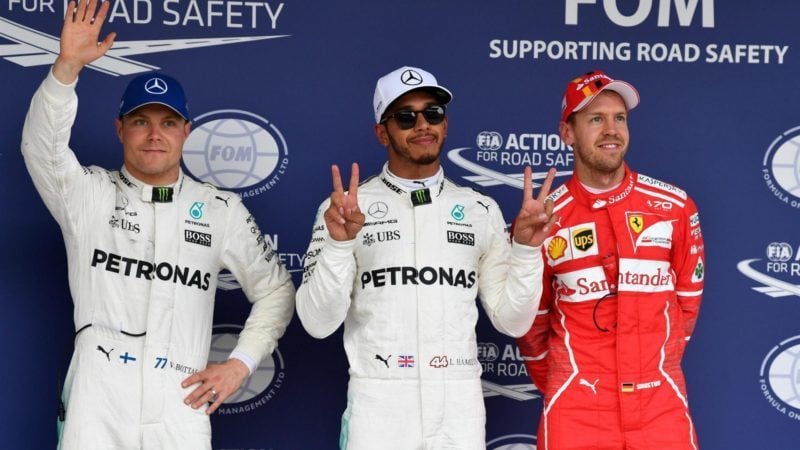 Despite Bottas' otherwise impressive performance, Mercedes isn't in the clear just yet. A five-place grid penalty for a gearbox change on Bottas' car promotes the German driver to second. With Vettel back on the front row he's in the best position to threaten Hamilton off the line.
Red Bull teammates Daniel Ricciardo and Max Verstappen secure fourth and fifth, respectively. Kimi Raikkonen takes sixth in the second Ferrari, who like Bottas has a five-place grid penalty. Esteban Ocon takes seventh ahead of Force India teammate Sergio Perez. Williams' Felipe Massa and McLaren's Fernando Alonso round out the top ten.
Various grid penalties will mix up the starting order for tomorrow's race. Fernando Alonso incurs a 35-place penalty for an illegal engine change. The penalty places teammate Stoffel Vandoorne into the top ten as a result. Jolyon Palmer and Carlos Sainz both face 20-place penalties for engine component changes.
A penalty is the least of Palmer's concerns, however. Renault confirmed Suzuka is to be the British driver's last race with the team. His replacement? Carlos Sainz, the very person alongside him with the same penalty — talk about irony.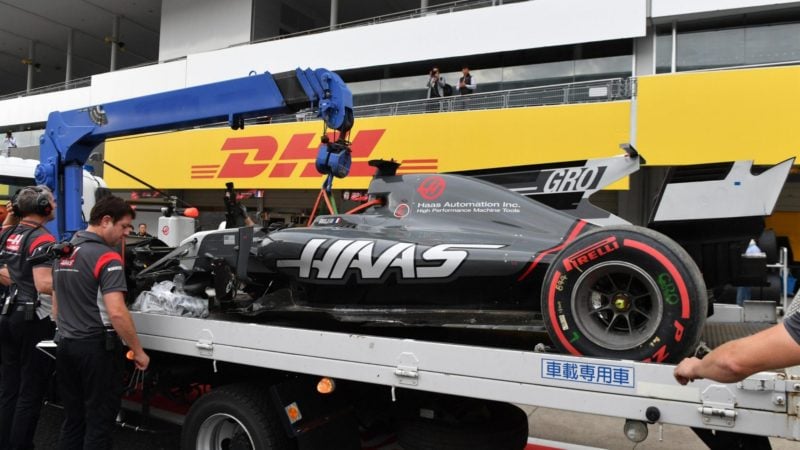 While Degner proved troublesome this weekend, Haas' Romain Grosjean suffered a different fate. A heavy crash at the top of the Esses in the final minute of Q1 brought the session to a halt. Grosjean lost control of the car after putting a wheel over the kerb heading into Turns 5 and 6.
His car collided with a tire wall on the following corner, removing its nose and left-front wheel. Luckily, Grosjean walked away from the scene with nary a scratch. Grosjean ended up in 16th ahead of Torro Rosso's Pierre Gasly and Williams' Lance Stroll.
You can find the full results from today's qualifying session right here.
More Posts On...