The 2017 F1 season returns from summer break for this weekend's Belgian Grand Prix in a familiar way. That is to say even in the sport's absence the pecking order continues unabated.
In qualifying earlier today, Lewis Hamilton secured his 68th career pole with a time of 1:42.553. The Mercedes driver not only set the fastest-ever lap at the circuit, but the achievement draws him parallel with Michael Schumacher's all-time record. Ferrari's Sebastian Vettel followed closely behind and is the only other driver breaking through the 1m43s barrier.
Valtteri Bottas rounds out the top three finishers for tomorrow's race, continuing to be a silent threat. Kimi Raikkonen fell into the grasps of the second row behind Bottas, complaining of vibrations on the sister Ferrari. Max Verstappen leads the Red Bull charge in fifth, finishing nearly half a second ahead of teammate Daniel Ricciardo. With plenty of fans cheering the hometown hero on, Verstappen will put his best foot forward.
Nico Hulkenberg drove the Renault to a comfortable seventh ahead of the Force India duo. Sergio Perez complained of a loss of grip in Q3 but was able to eke out a lead ahead of teammate Esteban Ocon by over one-tenth. Jolyon Palmer's round of bad luck continued after losing gearbox oil pressure during an out-lap. Luckily, Palmer set the seventh-quickest time during Q2 placing the second Renault in tenth.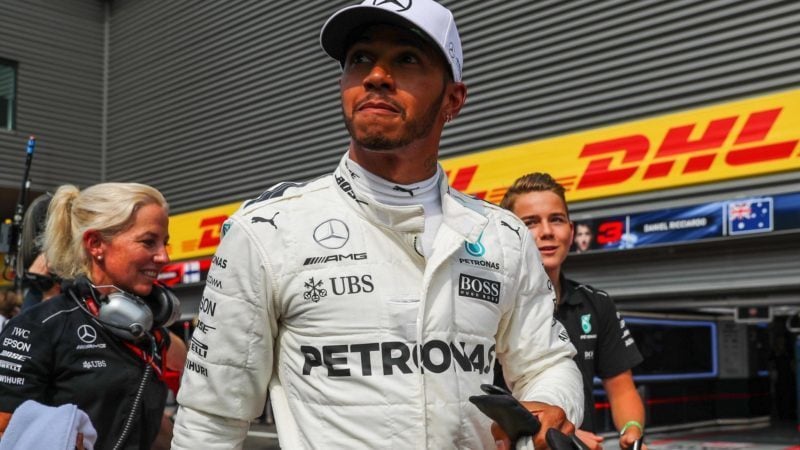 Fernando Alonso narrowly missed breaking into Q3 by less than one-tenth, despite the assistance of teammate Vandoorne. Ultimately, Alonso aborted the final attempt complaining of a lack of power — a familiar story in the McLaren garage this season. Despite familiar troubles Alonso placed ahead of Haas drivers Romain Grosjean and Kevin Magnussen.
Stoffel Vandoorne qualified 15th but didn't run a single lap during Q2. Why? The local driver dropped to the back with a 65-place grid penalty for engine changes earlier in the weekend. Williams suffered a disastrous showing this weekend with neither car making it through to Q2.
Felipe Massa finished ahead of Carlos Sainz's Torro Rosso as 16th quickest. He too will start further back on the grid after ignoring double waved yellow flags during FP3. Daniil Kvyat rolled the second Torro Rosso across the line for the 17th position on the grid, nearly seven-tenths behind Sainz. Breaking down with an engine problem earlier in FP3, Kvyat took a 20-place penalty for changing the engine, turbo and MGU-H.
Lance Stroll will sit two behind his Williams teammate in 18th tomorrow, despite not going out for a second run in Q1. Vandoorne, Massa and Kvyat aren't the only drivers having to deal with grid penalties for tomorrow's race. Joining them, Sauber teammates Ericsson and Wehrlein share five apiece for unscheduled gearbox changes.
More Posts On...