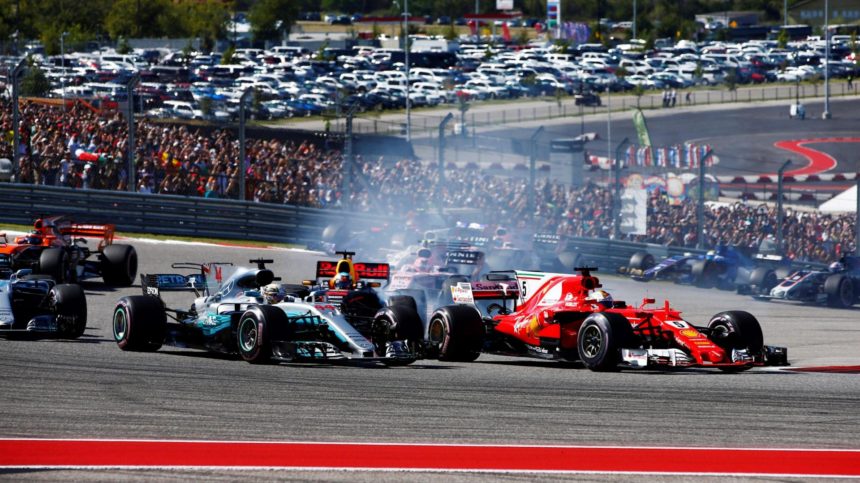 This year's United States Grand Prix was a spectacle, and rightfully so because it had it all. Nearing season's end, it was make or break for Ferrari and Sebastian Vettel delivered when it counted, keeping his title hopes alive and well.
The narrative remains as it has all season long: Mercedes dominated today's race. Lewis Hamilton drove to his 62nd career victory in Austin — a win that moves the Briton closer to his fourth championship, but it was not without difficulty.
At the beginning of the race it was Vettel who took the lead, getting off the line to a fantastic start. The early move on Mercedes set a tone for today's race, and while Ferrari did everything it needed to do, it wasn't enough. Hamilton regained the position, going on to secure his 62nd career victory and securing the Constructor's Championship for Mercedes.
Vettel finished a comfortable second for Ferrari, 10.1 seconds adrift of Hamilton. While his title hopes remain alive he has quite a trek to secure that title. The German driver trails the championship leader by 66 points with only three races left.
It's now or never for Vettel and Ferrari and they're well aware of that fact. If Hamilton finishes in the top five at next week's Grand Prix, it's over for Ferrari. Best case scenario? Vettel wins the Mexico GP and Hamilton either retires or finishes outside the top 10.
Max Verstappen snatched third place from Ferrari's Kimi Raikkonen on the final lap. A 15-place penalty following yesterday's qualifying didn't seem to affect the driver one bit. Max drove a superb race with the daring overtakes he's known for. Unfortunately for the Dutch driver, the move on Raikkonen netted him a five-second penalty for leaving the track and gaining an advantage.
The penalty demoted Verstappen back to fourth and Raikkonen to third. To make matters worse, the decision came to Verstappen's attention whilst celebrating. A controversial ruling, while fair, it places a spotlight on stewarding decisions lacking consistency between races or even on-track incidents.
It was an even worse day for teammate Daniel Ricciardo who retired earlier in the race. Ricciardo put on an impressive show, having heated battles with Bottas for third. It all came to a head on lap 16 when engine troubles forced him to retire.
Valterri Bottas finished fifth in the second Mercedes. What began as a promising season for the Finn has slowly degraded. Make no mistake, Bottas has already staked his claim within the team with two race wins. With Lewis continuing to lay down race wins, it goes without saying the team will expect more from Bottas.
Esteban Ocon brought his Force India home in sixth, a fantastic finish for the French driver. He held off teammate Sergio Perez, who eventually fell into the grasp of Carlos Sainz driving for Renault. Perez expressed frustration with his team as he felt Ocon was holding him up midway through the race. As Perez continued to push, thinking he had the necessary pace, it was this that led to his undoing.
Carlos drove an impressive debut race for Renault as we near season's end. To say he's made an immediate impact would be an understatement. While teammate Nico Hulkenberg retired with oil pressure troubles, Sainz pressed on for seventh place. It will be interesting to see what the duo can do in the final three rounds. As it stands, the Spaniard is one finishing position shy of Renault's best this year.
Williams' Felipe Massa and Toro Rosso driver Daniil Kvyat round out the top 10 drivers. It's expected today's U.S. Grand Prix is to be Felipe's last, but his replacement has yet to be announced.
The remaining three races are going to be exciting for all the right reasons. While Mercedes has fallen to mechanical troubles in the past, neither car appears to have a weakness in 2017. One thing is for sure: Ferrari will be scrounging for every thousandth of a second to make up for its troubles. Anything can happen in F1.
More Posts On...