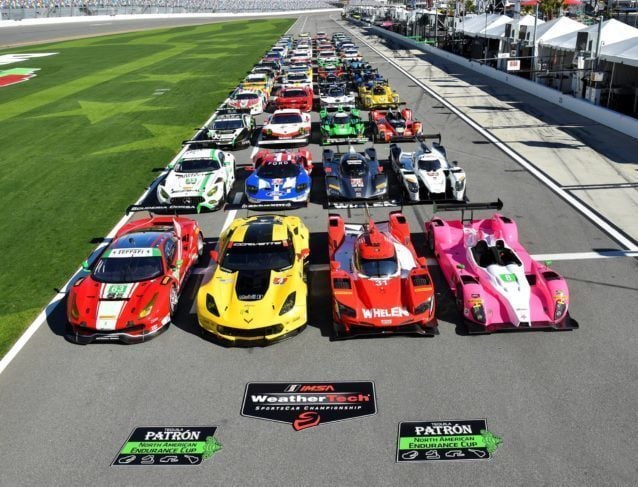 The 2017 IMSA WeatherTech SportsCar Championship season is about to get underway in Florida. With qualifying completed yesterday, this year's 55 competitors will be duking it out around Daytona for 24 hours, starting tomorrow.
At the pointy end of the grid are the brand-new Cadillac DPi machines. Joao Barbosa just clinched the top rung in the #5 Mustang Sampling prototype, with the #31 Whelen sister-car driven by Dane Cameron only 0.070 sec behind. In third place was Neel Jani—one-third of the 2016 Le Mans–winning Porsche team—in the #13 Rebellion ORECA.
The Prototype Challenge class will be making its final appearance at Daytona this weekend, before it's cancelled at the end of the season. Johnny Mowlem couldn't make it three consecutive pole-wins this year, having to settle his #26 BAR1 in second behind James French in the evergreen #38 ORECA FLM09. The starting top three in-class is rounded out by Buddy Rice in a second BAR1 vehicle.
Down in the tin-top ranks, there's more diversity than ever before, with Lexus and Acura fielding all-new GTD cars for 2017 in the RC F GT3 and NSX GT3, respectively. The Mercedes-AMG GT3 also joins them in the GT Daytona class, while Porsche has bucked tradition and turned its ubiquitous 911 RSR into a mid-engine machine for battle in the GT Le Mans class.
Switching the engine location wasn't enough to garner anything higher than fifth in qualifying for the Porsche team, going to the #911 car of Patrick Pilet. The Ford squad locked out the top three spots with its GT, with the lone Ferrari 488 GTE in (#62 Risi Competizione, driven by Toni Vilander) picking up fourth.
The prancing horse faired better in the GTD class, snatching the front row with the #51 car of Alessandro Pier Guidi and the #63 car of 2016 class winner Alessandro Balzan. Third place went to #98 Aston Martin, steered by Marco Sorensen.
The afore-mentioned new Acura and Lexus teams were a bit further down the time sheets, qualifying in seventh/ninth and 13th/20th, respectively.
Racing gets underway tomorrow, January 28, at 1430 EST. Stay tuned to GTPlanet for more on the 2017 Rolex 24 at Daytona over the course of the weekend!
See more articles on IMSA WeatherTech SportsCar Challenge 2017 Season and Rolex 24 At Daytona 2017.