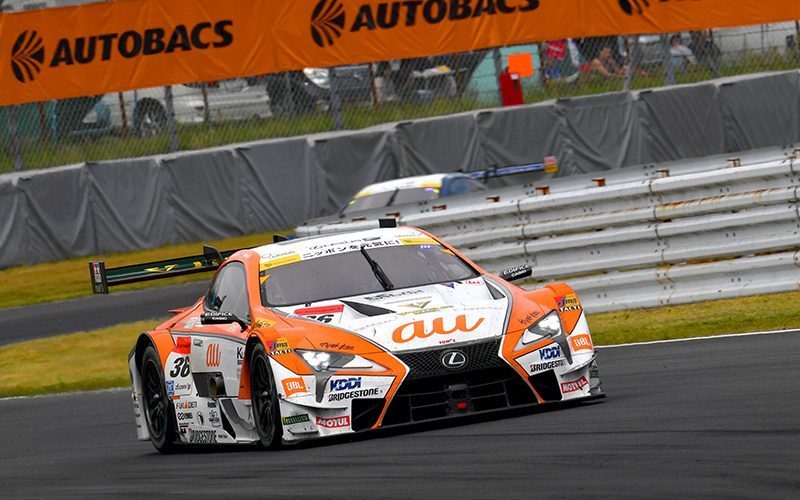 Another tense round of the 2017 Super GT series has recently concluded. After 65 laps, Kazuki Nakajima and James Rossiter took the No.36 au TOM'S Lexus LC500 to a decisive win in the top GT500 class at Autopolis.
Much like the last round at Fuji Speedway, weather conditions for the weekend race couldn't have been better. The drivers completed all three sessions without a single drop of rain in sight.
The GT500 class-winning LC500 kicked off Saturday's qualifying session courageously. It was one of only two cars that managed to complete the track under the 1:35 mark. Though its ranking dropped significantly during the second qualifying session — pushing the car to 7th place for the start of the race — it eventually rebounded with great success. The team completed the 65 lap race within two hours, a half-minute ahead of the following car.
This time Jann Mardenborough and Hironobu Yasuda from Team Impul Calsonic finished higher in the GT500 class. In spite of ranking 9th with a qualifying lap of 1:35.675, the team claimed 7th place upon crossing the chequered flag. This result is on track to the pace the team achieved during the season opener.
Undoubtedly the biggest surprise of the weekend at Autopolis circuit was Honda. Team Keihin (No. 17) and team Raybrig (No. 100) finished the race 2nd and 3rd, respectively. For the former team the feat was especially remarkable considering they started the race from the last position in-class. Meanwhile, the fastest qualifying lap of the weekend belongs to Team Raybrig.
The performance has significantly improved the manufacturer's rank and helped erase the disappointing results from the first round.
In the GT300 class the trophy was taken by Takamitsu Matsui and Kenta Yamashita from team VivaC (No. 25), the GT300 class winner of the 2016 Super GT season. As in the GT500 class, points have mixed up quite a lot, making the competition in the future events tense.
The next Super GT race will to take place at Sportsland Sugo on July 23. See you there!
See more articles on Jann Mardenborough and Nissan.