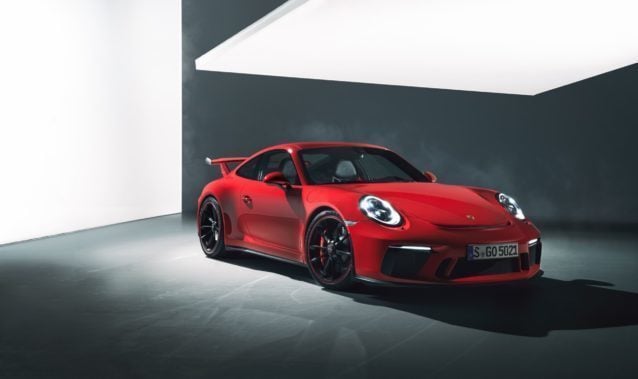 On the busy show floor of Palexpo in Geneva, Porsche has lifted the covers on the newest iteration of the oft-praised 911 GT3 — and it looks like the company has decided to stay true to the model's roots.
The Weissach-developed car will be built on the same assembly line as the current 911, and GT3 models will feature a new 4.0 liter flat-six engine rated for 500 horsepower and 339 foot-pounds of torque. The press release indicates that the new high-revving engine is based on the same unit being used in Porsche's race cars, notably the 911 RSR and GT3 R.
Tipping the scales at 3,153 lbs with the PDK transmission, the 2018 model boasts an impressive power-to-weight ratio of 6.4 pounds per horsepower. This all adds up to a blistering 0-60 time of 3.2 seconds, and the car will accelerate up to a top speed of 197 mph.
Arguably the biggest news with this latest 911 focuses on its third pedal: that's right, the GT3 can once again be had with a row-your-own gearbox. Nicked from the limited edition 911 R, the six-speed manual shaves 37 pounds from the PDK-equipped car's curb weight, adds 0.6 seconds to the dash to 60 mph, and bumps the top speed up to 198 mph.
Rear Axle Steering is once again included, after making its GT model debut on the previous 991.1 GT3. At low speeds, the rear wheels turn in the opposite direction of the fronts, increasing agility. This flips at higher speeds, with those huge 305/30 ZR20s adopting the same bearing as the pointy end for more stability. Drivers get to pilot the car via the same steering wheel as the 918 Spyder hypercar.
A mobile app is also being released alongside the GT3, appropriately named the Porsche Track Precision App. It comes standard with all upcoming GT3s and offers a means for Porsche drivers to record, analyze, and display detailed driving data from their track days.
Ever since the exclusivity deal with EA was lifted, we've been hearing about various Porsches making it into different titles, current and future. We're hoping this new GT3 makes it into an upcoming title soon!
See more articles on Geneva Motor Show 2017, Porsche, and Porsche 911 GT3.