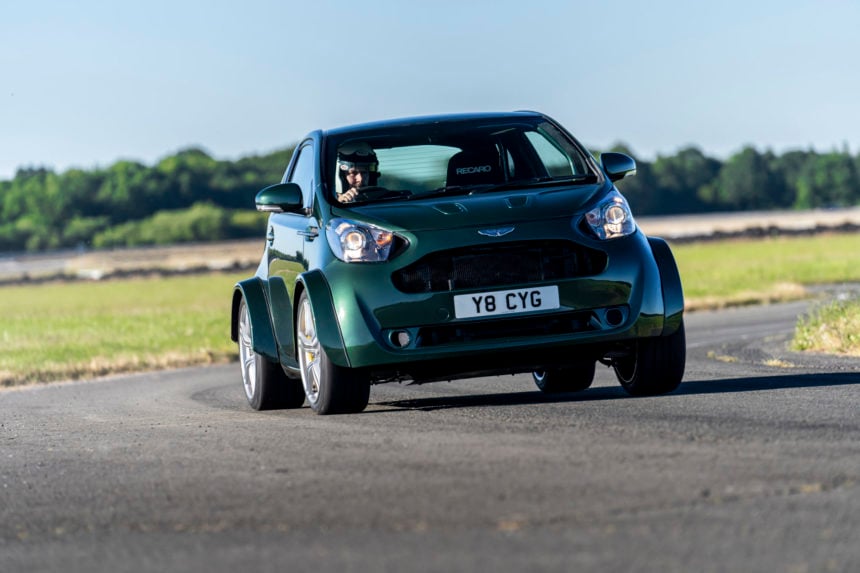 Aston Martin's Cygnet city car has polarized opinions since its launch in 2010. Now Aston has brought the Cygnet back into the spotlight at the Goodwood Festival of Speed by unveiling a new one-off model… with a V8.
Aston has somehow shoehorned the 4.7 liter V8 from the old Vantage into its smallest car to create a tiny monster. To accommodate the new powertrain, almost everything has had to be extensively modified.
A new front bulkhead and transmission tunnel allow for the V8 and 7-speed automatic to fit in the car. The Cygent also borrows the subframes and suspension from the Vantage.
Front and rear tracks are significantly wider, with custom built carbon flared wheelarch extensions.
Inside, the V8 Cygnet ditches the rear seats, and now has lightweight Recaro front seats, with race harnesses. The V8 also means a new bespoke dashboard, complete with Vantage instrument cluster.
Despite the extensive modifications, the V8 Cygnet produces 430hp and 361lbft of torque. That means the tiny pocket rocket will hit 62mph in 4.2 seconds before topping out at 170mph.
To ensure that power gets to the road, the V8 Cygnet is now rear wheel drive which, on a very short wheelbase, makes a recipe for quite a handful in the bends.
With no intentions of a limited production run, this Cygnet will remain as a one-off. It also joins a list of other insane small cars, such as the Clio V6 and one-off Toyota Aygo Crazy. As a way of turning heads, this unique Cygnet is bound to get a lot of attention.
More Posts On...