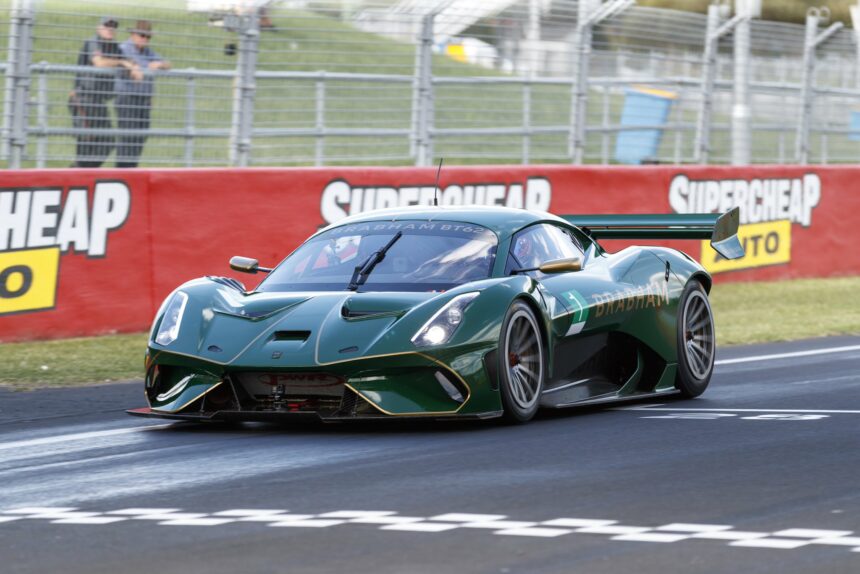 During this past weekend's 12-hour endurance event at Mount Panorama, a new lap record was set. And it wasn't by any of the cars taking part in the race.
No, the honor instead went to Brabham Automotive, which was there for exhibition laps prior to the main event. As such, it's an unofficial time, but nonetheless, in the capable hands of V8 Supercar driver Luke Youlden the BT62 set an independently-verified 1:58.670.
For perspective, that was nearly three seconds faster than the pole time of this year's Bathurst 12H, a GT3-class Aston Martin. Even more impressive, it's six-tenths clear of the record a derestricted GT3 Audi managed last year.
That makes the BT62 the fastest closed-top car to ever lap Bathurst. It's still some way off of the outright record, which is a 1:48 from Jenson Button in a McLaren F1 car.
The BT62 boasts some seriously impressive stats to make sub-120-second lap times at Bathurst possible. Weighing in under a ton thanks to liberal use of carbon fiber, it packs a 5.4-liter atmospheric V8 making 700hp. At track speeds, it produces over 2,600lb of downforce — around 25% more than its curb weight.
On his record-setting run, Youlden chimed in:
"I've driven a lot of GT cars round here, but the Brabham BT62 is on another level. It's a racecar and it feels like a racecar. The car feels planted and gives you great feedback through the steering wheel which gives you the confidence to keep pushing. It's light at only 972kg (dry weight) and it sounds amazing. To be the lap record holder around such an iconic circuit is a dream come true and I'd like to thank all the guys at Brabham Automotive for creating a car that made it possible."
Brabham will be producing 70 track-only BT62s at a cool £1M each. If you want one for the road, have no fear, there's a (pricey) road-going option. Brabham's end-goal with the BT62 is an eventual assault on Le Mans itself. If this is an example of what we can expect from the team, we can't wait.