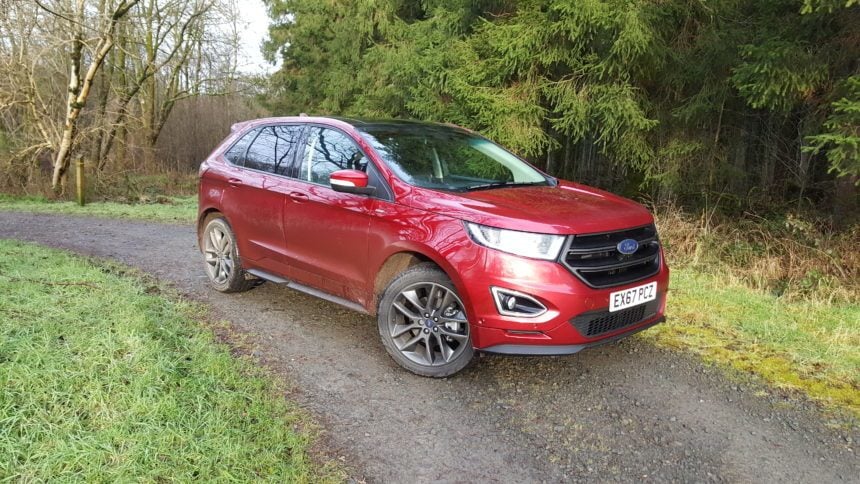 When it comes to bridging the Transatlantic motoring gap, one brand more than most ties us together. The Blue Oval of Ford is considered a home brand to Europeans just as much as Americans.
However, the cars it produces have often been different on the two continents. What's more, cars made by Ford Europe don't resonate with the US customers (see the Mondeo and Contour), and vice versa (Probe, Explorer).
There has been some unification of the brands though. Europe's Focus, for example, is a big hit Stateside. The Mustang from the US is getting good reviews in Europe. The gap, it seems, is closing.
With the Europe love affair with SUVs showing no sign of slowing, Ford has brought its large Edge to fill in a market gap. We've been trying it out for a week, to see if our two continents are getting closer.
Well, that's… imposing
For the Europeans reading this, the Americans consider this a "mid-size" SUV. For the Americans reading this, we hope the Edge doesn't prove a success because it simply doesn't fit our roads.
We're not kidding either. When driving the Edge in the UK it is exceptionally rare to encounter anything you're not looking down on. It's one of the longest, widest and highest cars you can buy here. Hard to believe it's essentially a Ford Mondeo underneath…
What's new about it?
It's an entirely new car for European markets as of 2015, and a brand-new second generation for the USA. As mentioned above, it's based on the Ford Mondeo, and uses the same engines and gearboxes – other than the large petrol V6s exclusive to the US market.
Four-wheel drive is standard worldwide on the Edge – there's no two-wheel drive versions outside North America. You can have auto or manual, but here in the UK the manual is exclusive to the 177hp diesel and the auto is exclusive to the 207hp diesel.
In fact there's no mistaking the Mondeo/Fusion in the cabin either. Aside from the giant, armchair seats and the massive distance between them, the layout is identical. Whether that's a good thing or not depends on your feelings about the Mondeo.
That doesn't sound like a recipe for dynamism…
Well, no, not really. If you were expecting a sports car drive, you're quite the optimist. The Edge isn't a big, floppy mess though. The steering is nicely weighted and rather user friendly, so it's easy to place on the road. There's a kind of pendulous loading of the suspension as you corner, but body roll is largely well contained and the car doesn't seem to teeter on the tires. The ST-Line does have standard sports suspension, which helps matters somewhat.
Where there's a wrinkle with the Edge is the braking. It's understandable to a point — the Edge weighs the best part of 4,300lb, so the brakes have a lot of work to do – but they don't inspire a lot of confidence on a hard stop. The body dives forward under determined braking too.
Ultimately, that's not what the Edge is about though. A quick look about some of the buttons in the cabin reveals that. Everything that can be powered or heated is powered or heated, or both. Every driver aid you can contemplate is ready to aid you. The spec sheet features "acoustic glass" and "active noise control"…
If anything is built for comfort rather than speed – other than myself – it's the Ford Edge. You climb up into what's essentially a first-class aeroplane seat, hit the starter button and aim it at a destination. You'll need to put some fuel in every 600 miles, but that's about it.
The biturbo diesel fitted here packs 331lbft, and that's basically enough to ensure that the Edge, heavy though it is, never worries about normal road conditions. The all-wheel drive system shuffles torque around, the six-speed auto occasionally thinks about using fifth, but it's never enough to really notice. There's an eerie lack of noise in the cabin too; SUVs like this usually chuck up a hum at high speeds from their barn-door mirrors, but the Edge is hushed. You can have a conversation with your rear-seat passengers without the typical raised car-voice.
For the most part, the Edge deals with lumps and bumps well. This ST-Line has larger, 20-inch wheels, but even a crunching divot makes more noise than fuss. It's no executive saloon for the international diplomat, but it's a well-insulated environment.
One slight blemish comes in the form of the active steering. This is a £475 option on this car and we'd not bother. It's far too fussy at motorway speeds.
And the cabin?
This is a bit of a wrinkle. As we mentioned earlier, the Edge's interior is lifted pretty much wholesale from the Mondeo. It's not exactly the most jaw-dropping environment.
Even though Ford has added some splashes of silver (plastic) and piano black – and some carbon-fiber-a-like pieces for the ST Line – there's no escaping the acres of black plastics. A lot of the upper materials are at least soft to the touch, but it's not as easy on the eye as some rivals.
However it's less about how it looks and more about what you get. The ST-Line has standard perforated suede seats, with 10-way power adjustment for the driver and 8-way for the passenger. And they are rather comfortable. The optional ST-Line Lux Pack (£1,275) adds heating and cooling for the front seats, and heating for the similarly comfortable rear seats. It also includes the panoramic roof.
Other standard kit for this car include navigation, with an 8-inch touchscreen and 12-speaker audio system. Ford fits standard keyless entry and start, hands free power tailgate, parking sensors and rear camera. Options fitted to this example add a front camera and active park system. This all adds onto regular Edge kit like the auto headlights, auto wipers, quick clear windscreen, and the noise cancellation tech mentioned earlier.
The interior space is remarkable though. You can sit three adults shoulder-to-shoulder across the back, and there's plenty of legroom for all three. Front seat accommodation is vast too. There's a 602-liter trunk, with a nice, square opening. Fold the rear seats down and it grows to 1,847 liters, which is huge by anyone's standards. There's no shortage of cubbies either, including the door pockets and a giant, cooled box in the center console.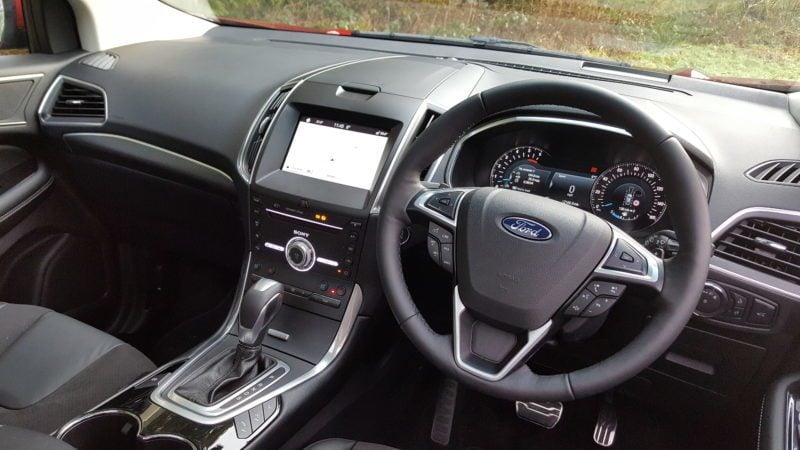 Who wants an Edge?
This is the definition of a modern family car. Unlike most five-seaters, you can actually fit five people in the Edge; the center-rear seat may not be heated like the outside ones, but it's got enough space for a human for a long journey. In addition, you can fit five people's worth of stuff in the trunk too, even if you're all off somewhere for a week.
Throw in the standard four-wheel drive, two-ton towing capacity, optional roof box and optional bike racks and the Edge becomes one of those "lifestyle" cars. If you and your four hip Millennial friends want to tow your jetskis somewhere off road, you can. Although the chances are it'll end up doing a lot of school runs and shopping trips…
What would they buy instead?
The Edge is pitched as a sort of cut price rival to the big, premium SUVs, like the Volvo XC60 and Range Rover Sport. It'd be unusual to find someone walking from the Range Rover showroom to a Ford one – even with the plush Vignale in the range. In reality, the biggest rivals will be cars like the Hyundai Santa Fe and Kia Sorento. Nissan's X-Trail is another realistic alternative.
That said, the Edge does encroach on the price banding of one premium-brand rival. The Jaguar F-PACE has a more enticing badge and interior, but the Edge is more spacious and better-equipped. We're not sure there'll be much cross-shopping, but they're closely matched cars.
What's the conclusion?
It's remarkable just how good the Edge is. While not the last word in driving dynamics, it's an excellent long-distance cruiser. It's spacious, comfortable and packed with enough equipment that pretty much any journey is a pleasant one.
There's no escaping the Mondeo origins on the inside, and it can be a little disappointing to see the expanse of black plastic ahead of you from time to time. The more expensive Vignale version adds some posher trim and contrasting stitching to make matters better, but it rather depends on if you want to spend another £5,000 on it.
As things stand the ST-Line might be a sweet spot in the range. A bit more power would make it a lot sweeter though!
Verdict:
Ford Edge ST-Line
A rare US import that might be the perfect car for modern British family life. If you have a wide garage.
Learn more about
how our rating system works
.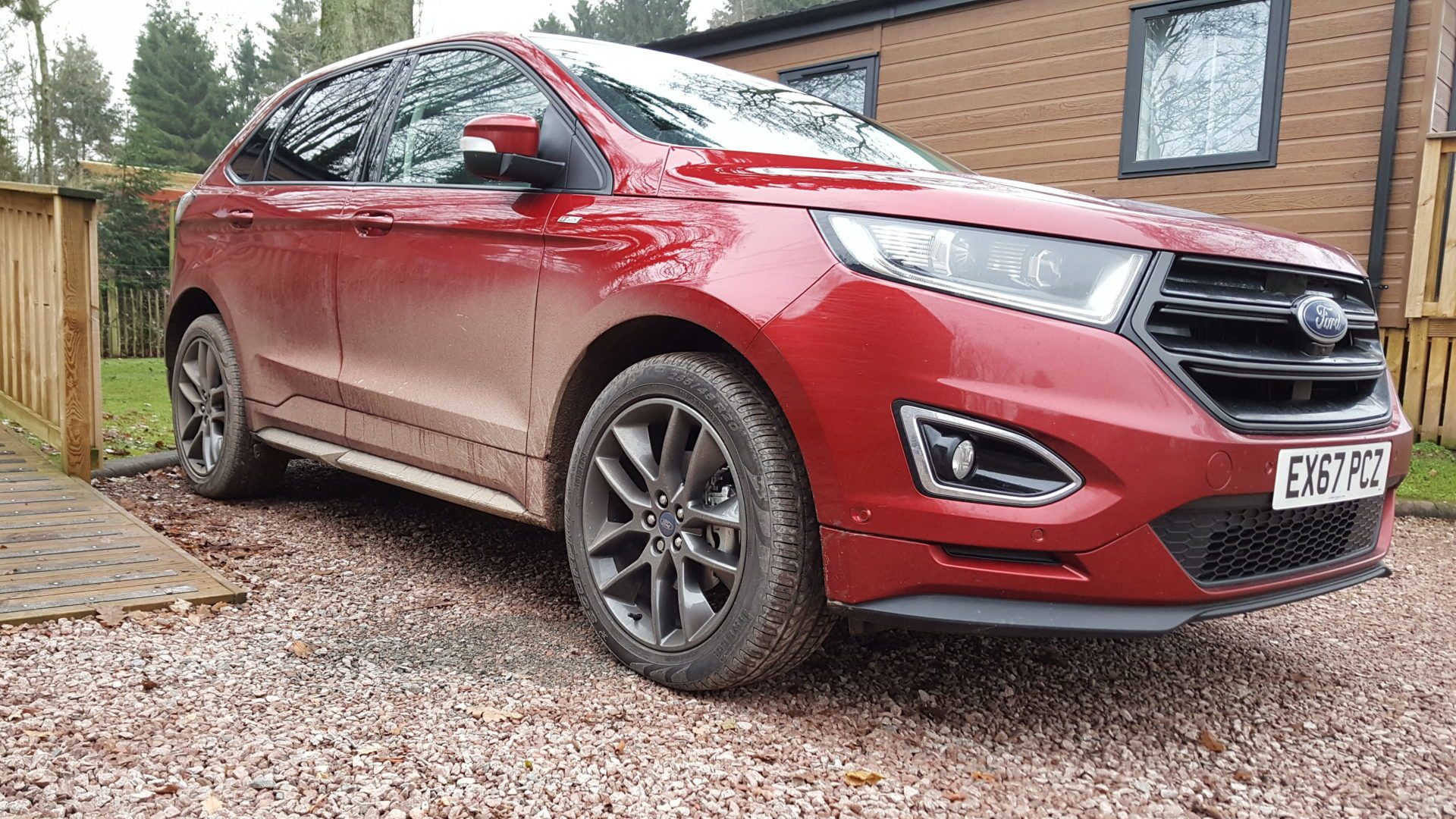 Quick Facts
Engine
2.0-liter turbodiesel
Power
207hp (210PS, 154kW), 331lbft (450Nm)
Layout
Front-engine, four-wheel drive
Top Speed
131mph (211km/h)
More Posts On...