It might be one of Britain's most famous marques, despite having a rather short history — at least when it comes to making cars.
McLaren was probably best-known for its Formula One exploits, with myriad giants of the sport (Senna and Prost among them) driving for it. A dabble in the 1990s produced the fastest road car ever made, the Le Mans-winning McLaren F1. The brand went back to racing. It didn't make another road car until 2011 — and it wasn't even the same company by then. Plus the least said about its F1 performances recently, the better.
There's now four distinct cars in the company's portfolio, and we've been driving one of the lowest in the range — the McLaren 570S.
A "low-range" McLaren?
Yes, it's rather a comparative term. The entry-level car, the 540C, has 532hp and costs more than £120,000. This 570S is 30hp up on that and you'll need £150,000 to call it your own. Both are part of what McLaren terms its "Sports Series". That's the step below the "Super Series" (think of the 720S), with the "Ultimate Series" — just the P1 for now — above that.
There's a few things that McLaren shares across its whole range. The first is the power unit which, 720S aside, is a 3.8-liter, turbocharged V8. It pairs this up to a 7-speed dual clutch automatic — with flappy paddles — which drives the rear wheels.
That's pretty much the recipe for a McLaren road car. Oh, and it's all strapped into a carbon-fiber monocoque, which you access through "dihedral doors".
Seems rather similar to other McLarens…
There's certainly something of a similarity between the Sport and Super Series McLarens — inside and out. Differences between the 570S and the old 650S are… subtle.
It's more about what you can't see with the 570S. For example, the bodywork is largely aluminum rather than carbon-composite. The weight difference is negligible, but it lowers the cost of production (and so the price). McLaren has made it slightly more accessible too. The sills are lower, to aid entry and exit through the sometimes awkward doors (perhaps hinting at the clientele…) and there's a few interior revisions just to aid the feeling of space and make the car a little more useful.
Where it's not different is the performance. It says something when a car that does 204mph is the start of your range, and the 570S will keep hold of the 650S right through the gantry of a drag strip.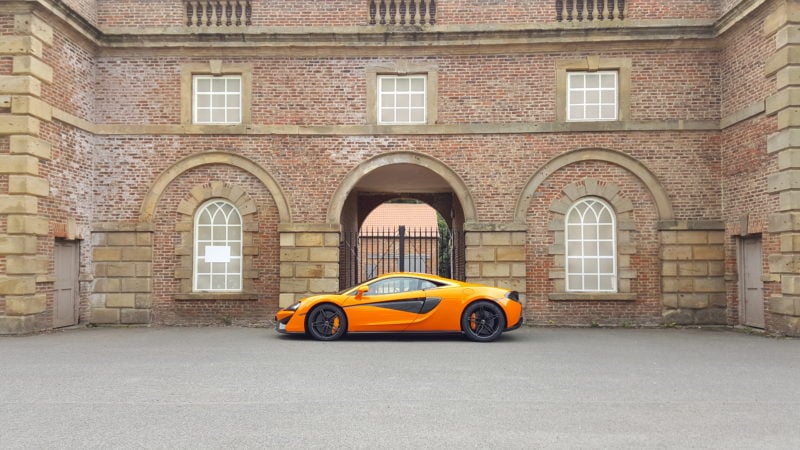 Can you actually use all of that on the road?
The 570S is a bit of a split personality of a car, so we have to talk about each in turn. We'll start off with the less likable half, which is the low-speed manners.
Set the McLaren into Normal Mode and amble about and you'll wonder what the fuss is about. That can be a good and bad thing: you don't want a car that's highly agitated around town but the McLaren nudges towards being actively boring. The twinturbo V8 drones along behind your head as if a Transit van is tailgating you — we've no idea how an engine like this can sound that poor. More annoying is the parking sensors, which continually beep at you in traffic.
Low speed gear transitions can be a bit clunky too. It's not the worst example we've encountered (that goes to one hot hatch we won't name here), and most cars of this type are similar. This also goes for large steering angles, where the outside front tire will crab across the ground. The carbon-ceramic brakes can be so-so too — we've driven the 570S before and found it reticent to slow down from low speeds, but on this particular car there were no such problems.
One bright tick though is the ride. McLaren, as a UK-based company, really seems to know its stuff about the UK's abysmal roads and for the most part it shows on the 570S. Rough stuff doesn't seem to faze it at all. Nor do motorways, where it will happily sit on cruise and return 30mpg (Imperial).
But you don't buy £150k of supercar to muck about in town or dawdle on motorways. You get it for the bits between towns. Set the car's rather complex drive mode system to Sport (not Race. Ever), aim it at the horizon and it becomes money well spent.
Quick doesn't really cover it. The 570S gets across open moorland road like an RAF Typhoon on a training run. It's good enough in Normal mode, but set to Sport it seems to have a much keener turn-in. The steering in general is phenomenal — and Porsche take note, McLaren has retained an electrohydraulic setup — and there's such a level of lateral grip that you barely even need bother the carbon-ceramic brakes.
Nobody should ever be able to exceed the dry grip the car has to offer. We'll concede that, here in the UK at least, dry isn't a default state and four-wheel drive machines will leave the 570S far behind in less ideal conditions. Otherwise, the McLaren is among the quickest ways to cover any given road. Beware of putting too much luggage in the frunk though, as this can get the 570S bottoming out under braking on bumpy roads.
What about the kit?
There's two different cars here too.
Thanks to a few visits to the options list, our car is rather lavish. We've got an upgraded Bowers & Wilkins sound system, extended leather pack, reverse parking camera (with those irritating front parking sensors), a sports exhaust with black finish, the McLaren Designer seats and lashings of orange everywhere.
In fact, through the MSO (McLaren Special Operations) program, you can spend as much as you want to get the 570S looking just how you want.
However, should you not want to spend the thick end of £200,000 on a fully kitted-out car, the regular 570S is pretty much a complete package. Climate control is standard, as are the automatic LED headlights. Also standard is the seven-inch, portrait-mount touchscreen in the floating center stack. This is where the other half of the car's personality kicks in.
The infotainment system contains DAB radio (or Sirius in the USA), satellite navigation, a WiFi hotspot, Bluetooth audio and phone connectivity and even the car's entire user manual. So far so good, right? What if you can't actually use it?
McLaren uses an Android/Parrot-based system called IRIS, and it verges on incomprehensible. Imagine the least intuitive user interface you've ever encountered, and then imagine having it explained to you in Welsh by a Navajo wind-talker.
I was prepared. I'd previously driven a 570S in which some wag had set the clock (one of the three clocks, all of which read a different time) to January 1st 1970. This resulted in the car claiming it was overdue a service by 37,000 days. I'm enough of a nerd to know that this is the start date of Unix time, and the date computers will sometimes claim if they get confused about the time. Knowing that I'm that level of nerd, it took me nearly half a day to work out how to change that clock.
Despite my preparedness, it still took me 20 minutes to input my home address into the navigation system. The system also features one of the worst reversing cameras we've ever seen, with a tiny video image stuck landscape into the center of the screen, and graphics overlaid from Asteroids.
It's a system you really have to learn to get the most out of. Even if you do, it's difficult to get on with, and it's one of the rare parts of the car that the McLaren way isn't the best way.
On the bright side, the 570S is relatively roomy. The front-trunk, or frunk, is easily enough for a couple of overnight bags, and there's a deep, wide shelf behind the seats for even more. You could fit a weekend's camping gear in there without a second thought. There's a small glovebox and clever, covered door pockets to stop everything falling out when the doors open.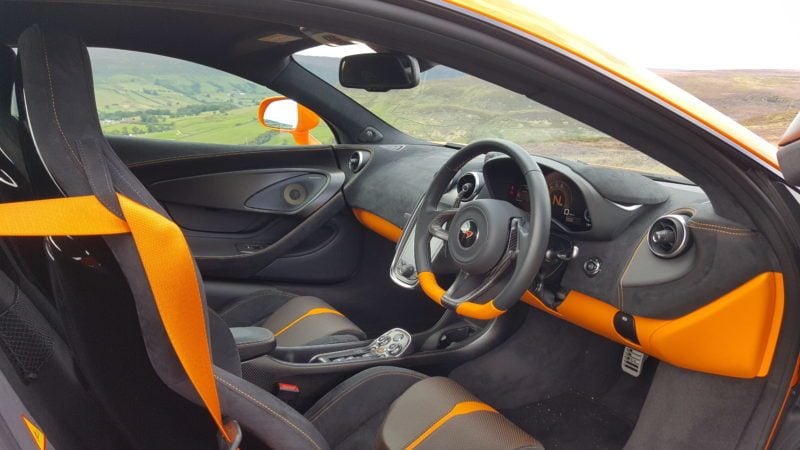 Who'll buy a McLaren 570S?
As with anything this quick, this expensive and this color, sportspeople, lottery winners and gregarious CEOs.
One saving grace here for the McLaren is that it's the junior car in the range, and magpies like their cars more expensive and officially faster, even if they rarely touch the limits of performance.
While our dislike of the infotainment system is obvious, the fact is that everything inside the McLaren is McLaren. You're not going to find switchgear borrowed from its parent company's cars, because it is its parent company. That almost bespoke nature is going to be a draw for the wiser and more value-driven supercar buyer.
It's probably not on McLaren's internal sales demographic targets, but prospective adulterers will love it too. After the first few, we started counting the people photographing it and making "wow" faces even on the move. It averaged one every three minutes. One guy nearly crashed into us when he almost missed his exit through gawping.
What else will tempt them?
What might tempt away potential buyers of a £150k, 200mph supercar? Let's play a game of supercar bingo.
First on any list would be the Porsche 911. That has the benefit of rear seats (kind of), and the Turbo S comes in at about the same price and pace. It's practically the default choice for the sector, with good reason.
Probably the closest thing to a direct rival would be the Ferrari 488. That also uses a turbocharged V8 — 3.9 liters rather than 3.8 — but produces more power and is more expensive. That's a better fit for the McLaren's bigger sibling, the 720S, but we'd wager there's not much between them.
Elsewhere, there's the Audi R8 Plus. That adds four-wheel drive into the mix, and a glorious V10, but the choice between the two would be a struggle for us. There's also the R8's more prestigious cousin, the Lamborghini Huracan, but that comes with a £25k badge tax…
For those who fancy something a bit strange, the Honda NSX would be a nice one from left field.
What's the conclusion?
It's likely that 570S ownership will be a mix of good days and bad.
Having it on your driveway will make you smile every time you see it. It's easier to live with than the old 650S was, and has plenty of room for you and a significant other to head away for a weekend.
It looks great and goes like stink. You'll reach the end of your favorite road, pull over and stop to catch your breath and get your heart rate down. Then you'll turn round and do it again, because that was awesome.
Then it'll lose your preferred DAB station, you'll back it into a planter you couldn't see in a 600 pixel wide image and you'll frequently scream "No I don't want to go to Telford!" at the navigation system.
Nonetheless, in its current guise McLaren has only been making road cars for six years. Its first attempt at a car for this sector — a junior supercar — is one of the best available. And it might be one of the best cars of any kind we've driven this year.
Verdict:
McLaren 570S
A truly immense supercar with foibles you'll forgive every time you open it up - or see other people's reactions to it.
Learn more about
how our rating system works
.
Quick Facts
Engine
3.8-liter, V8 turbo
Power
562hp (570PS, 419kW), 443lbft (600Nm)
Layout
Mid-engine, rear-wheel drive
Top Speed
204mph (328km/h)
More Posts On...