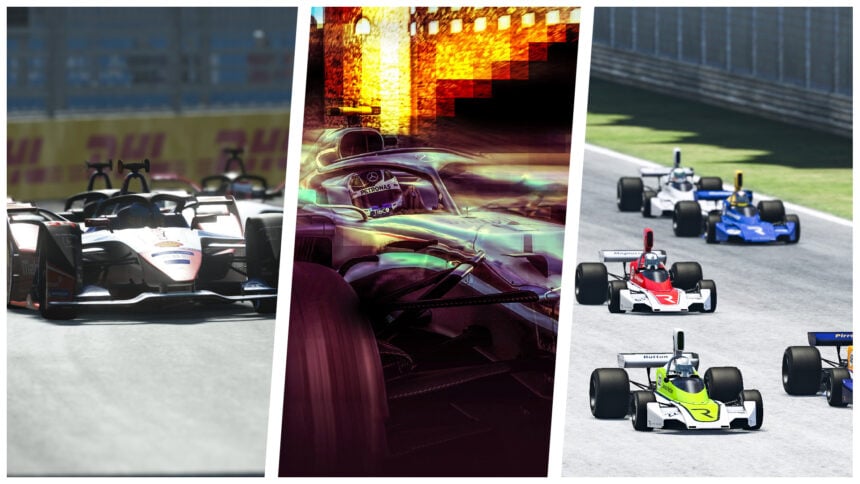 The real world is getting close to restarting its motorsport programs around the world. NASCAR is already underway, but other international series are gearing up for a return to action in July.
That means that the pro esports events — races and tournaments organized by the governing bodies and featuring the pro racing drivers — are starting to wind down, or reach their climaxes. There's plenty of racing still to do before the pros become otherwise occupied though, and here's how to keep across it all this weekend.
ABB Formula E Race At Home Challenge
Formula E marks its grand final this weekend, with an unusual double-header event. The electric open-wheelers will race a routine seventh round on Saturday, before heading into a double-points race on Sunday. Saturday's race revisits the Berlin Tempelhof track — scene of Abtgate — with the final itself in New York on the Brooklyn circuit.
Currently Stoffel Vandoorne leads the standings after finally breaking his duck last time out. The Belgian has routinely been the fastest driver, but has only been able to convert that to a win once. Sitting one point behind the Mercedes man is Mahindra's Pascal Wehrlein, with two wins on the board. Early leader Maximilian Guenther is third for BMW, but 50pt for a win on Sunday means the entire top six is still in with a shout.
Both rounds get underway at 1425 UTC, on June 6 and June 7 respectively.
The Race Legends Trophy & All-Star Esports Battle
The regular season is now over for the All Stars, with Jenson Button claiming the Legends title despite an incredible performance from Fernando Alonso to win the last four events in a row, and Nicki Thiim and Aston Martin winning the Pro Cup in part thanks to a final event disconnect for Esteban Gutierrez.
However, it all returns for the next three weeks and a special "Triple Crown" event. Over the next three weekends, all three fields — including the Sim Masters — will race at the three venues of the motorsports triple crown: Monaco, Indianapolis, and Le Mans. This week it's the Principality and its tight, enclosed city circuit, where both Button and Alonso have achieved real-world wins.
You'll be able to tune in below from 1600 UTC on Saturday:
F1 Virtual Azerbaijan Grand Prix
F1 has two more races in its virtual calendar, overlapping with real world events that would have taken place. This weekend the event heads to the unusual street circuit around Azerbaijan's capital city, Baku, before next weekend's race in virtual Canada.
The VGP event is a pro-celebrity affair, and the pro ranks swell by two. AlphaTauri's Pierre Gasly and Racing Point's Sergio Perez taking to the track, to make eight full-time F1 drivers in the race — and more than half the grid will have been in at least one event.
Shed-sim fans will welcome the return of Jimmy Broadbent, along with Ben "Tiametmarduk" Daly. There's also a slew of pro soccer players, with Italy's goalkeeper Gianluigi Donnarumma joining Belgian counterpart Thibaut Courtois and French defender Aymeric Laporte. The event gets going at 1700 UTC on Sunday and you can watch below.
F1 Virtual Baku Grand Prix LIVE!

Well done Baku! The unofficial Virtual Championship is coming to a close with Leclerc and Russell fighting for first at the penultimate race in Baku! 🇦🇿

Posted by F1 on Friday, June 5, 2020
More Posts On...