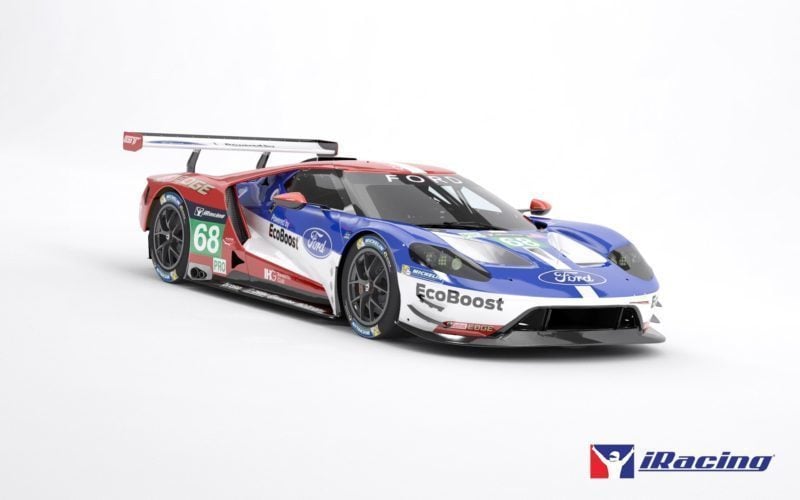 It's good news in the land of iRacing today. The team behind the venerable PC sim has confirmed two new models will arrive in-game tomorrow, June 6.
The news broke this past weekend courtesy of iRacing Executive VP Steve Myers. On Twitter, Myers confirmed both the Ferrari 488 GTE and Ford GT LM would be joining the iRacing roster. The big surprise is just how quickly this will happen, allowing iRacers to use either car for the service's 24 Hours of Le Mans event this upcoming weekend.
Last month, the developer announced both cars would be coming to the game as soon as possible. The hope was that the 488 and GT would be ready for the yearly event — a goal that iRacing has achieved.
Sim racers should need little introduction to either car. Controversially, both proved insanely fast at the 2016 real-world Le Mans race, where not even penalties could shake them from the podium. The GT emerged victorious there, but that won't necessarily be the case in iRacing.
The 488 GTE is hardly a pushover. Boasting a 3.9-liter turbo V8, its spec sheet reads very similarly to the Ford's. The GTE's GT3-class sibling also found success earlier this year at a different endurance race — the Bathurst 12 Hours.
Early reports suggest the Ferrari and Ford are off the pace at this year's Le Mans practice sessions. It will be interesting how these new virtual versions stack up, not only to the real deals, but also to each other.
Expect a more detailed breakdown of the new cars — and any other iRacing changes that accompany them — tomorrow.
More Posts On...