Forza Horizon 5 players are now able to access the game's second expansion, Rally Adventure, with the large, 18.4GB download necessary unlocking earlier today.
Rally Adventure adds a brand-new region to the game's map, called Sierra Nueva. Like the Hot Wheels expansion, this is a separate location to which you'll fast-travel from a dedicated marker on the main map — located near Dunas Blancas.
The Sierra Nueva location has just over six square miles of driveable terrain, with 38 miles of roads and tracks laid across its surface. There's new "biomes" which include populated areas like Pueblo Artza and Crateres Secos, a large abandoned quarry, a new canyon area that's both higher and narrower than Copper Canyon on the main map, and a palm forest which is 100% smashable.
Some areas have new, deformable surfaces which react to the speed, tire size, and steering angle of cars passing across them to leave fresh tracks, and all of the biomes are affected by season changes just like the main map too.
Sierra Nueva hosts a new rally career which will see you advance through the ranks of three rally teams that each focuses on a different discipline and is captained by a different core NPC. There's Alejandra's "Apex Predators" which race on surface roads, Alex's "Horizon Raptors" that run dirt rallies, and Rami's "Grit Reapers" which only rally at night.
You'll need to take on an event for each of the three teams and then choose a starter team — but to complete the whole expansion requires you to beat the challenges of all three teams. In each case you'll be trying to reach the maximum "Reputation" rank and then beat the NPC at their own game to win their car.
Complete all three teams' events and you can enter the Horizon Badlands Goliath. This huge, mixed-surface event takes you across the whole map, and will see you crowned Horizon Rally Champion — winning the Ford F-150 Lightning Platinum. Winning the Goliath also unlocks Rally Adventure events on the Seasonal Playlist each week.
To do this you'll first need to get through 27 different races, with eight race locations for each of the three teams and the team captain challenge, and there's two different race modes for this.
The first is Horizon Race, which is just like the main festival races and can be raced solo or co-operatively with other players. It's you against the pack, the track, and the clock.
However a new Horizon Rally race mode is part of the core experience of the expansion. It's a solo run against the clock and the leaderboard, with a different HUD that adds pace notes from a co-driver flying ahead of you in a helicopter.
You'll need to be quickest from start to finish, through the four split-gates each at around 20% race progress, with your time compared to the leaderboard shown in color. Red means you've lost ground, orange means you've kept pace, and green shows you've improved your ranking — with light green if you're in first overall.
As well as the new races there's 20 new PR Stunts — five Speed Traps and five Speed Zones unlocked through your Apex Predators progess, five Danger signs unlocked through Horizon Raptors, and five Drift Zones through Grit Reapers — and some new collectible items. You can smash respawning Grit Reaper crates at night and Horizon Raptor Pinata Trucks during the day, and there's 30 Apex Predators promo board to discover and break.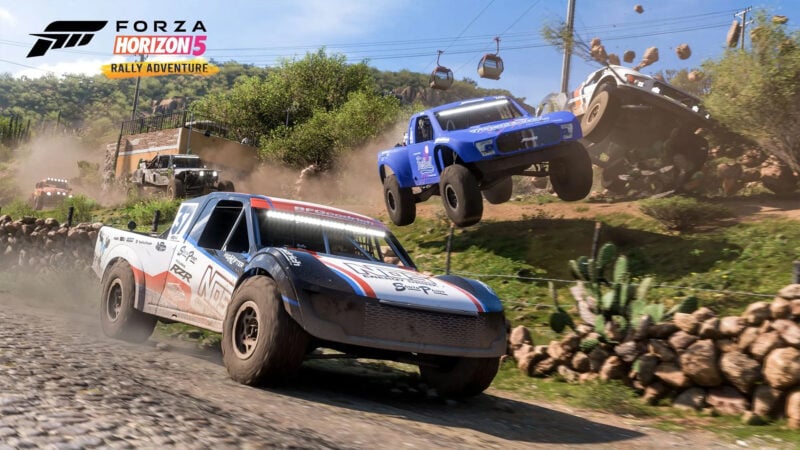 You'll pick up ten new cars as you progress through the Adventure, and an Audi Sport quattro — returning from Horizon Wilds Takeover in Series 18 — as a bonus. They are:
Alumicraft #6165 Trick Truck 2022
Alumicraft #122 Class 1 Buggy 2021
Casey Currie Motorsports #4402 Ultra 4 'Trophy Jeep' 2019
Ford F-150 Lightning Platinum 2022
Ford Focus RS #4 2001
Hoonigan Volkswagen Baja Beetle Class 5/1600 'Scumbug' 1973
Jimco #179 Hammerhead Class 1 2020
Jimco #240 Fastball Racing Spec Trophy Truck 2019
Polaris RZR Pro XP Factory Racing Limited Edition 2021
RJ Anderson #37 Polaris RZR Pro 4 Truck 2021
There's also new cosmetic items for your avatar, from each of the three rally teams, as well as new vehicle horns and new Forza LINK messages. You'll also have 11 new Accolades and 27 Achievements to score in Sierra Nueva.
In order to play Forza Horizon 5 Rally Adventure you'll need the most recent Series 19 update as well as the specific expansion download — which is included in included Premium Add-Ons/Expansions Bundles or the Premium Edition, or as a separate, $19.99 purchase.
You'll also need to have completed the initial portion of the base game, through to the first Showcase and first Story chapter, but once that's complete you can head to the Horizon Badlands Expedition by visiting the Rally Adventure icon at the crossroads on the west edge of Dunas Blancas.
See more articles on Forza Horizon 5 DLC.