There's few model nameplates quite as enduring as the Honda Civic. In fact the first car ever made was a Honda Civic.
Okay, we made that up, but it has been around a good, long while. Honda has made 20 million of these things over the last 45 years. We've been giving the latest model a bit of a workout.
Is that really a Civic?
Surprisingly, yes it is. The Civic does seem to go in cycles of looks, from reserved to mad and back. Admittedly this is one of the maddest yet, but we promise it's really a Civic.
In fact this is the top-spec EX trim, with the entry-level 1-liter turbocharged petrol engine and a manual gearbox. We've also got a rather natty "Orange Line Pack" and an upgrade to the alloy wheels too.
Looks aside then, what's new?
All of it.
This is the new-for 2017 (at least for Europe) 10th generation Honda Civic, and it's new from road to roof.
Most obvious is the body. The old Civic was a traditional tear-drop hatchback (or estate) while the new one is more of a liftback style. It's a little over five inches longer, slightly more than an inch wider and sits about an inch lower at the roof.
The previous car saw a move away from independent rear suspension, but it's back again for this generation. That bodes well for the road test, as does the diet; the metalwork of the new car is 35lb lighter than before.
Honda's got new engines too. There's the turbo three-pot 1-liter we've driven here, but also a 1.5-liter four cylinder if you like life a little faster. Of course there's also the crazy Type R and a diesel model is on its way for Europe in March.
Okay, so it's new. How is it on the road?
With the best will in the world, when it came to the driving experience previous Honda Civics — at least below Type R specification — were just generic cars. They were a car reviewer's worst nightmare; there's almost nothing nice to report other than that there's nothing nasty to report.
The bad news is that it still isn't particularly exciting in this specification. It's not a car to grab by the scruff of the neck and throw down a back road — but not many of its 130hp rivals are either. We did also try out the 179hp 1.5-liter car just for comparison but, increase in pace aside, it didn't seem any different.
It is good to drive though. Despite wearing the largest possible wheels — the optional 18-inch Hexia — the ride is decent even over the inconsistent surfaces of the Yorkshire Dales. It grips rather well, as you'd expect for a car with a hot version 250% up on power, and the steering is precise, with a rack that stays the right side of quick. There's not a huge amount of feel to it, but you can get the nose into a corner with no bother.
The brakes are rather nice to use too, avoiding the pitfall of over-assistance that can give many modern cars an entirely digital pedal. That said, it was exceptionally keen to activate the hazard warning lights on strong braking — something it shares with its predecessor.
One thing to note here is that the 1.5-liter option is clearly better, but we'd sidestep the automatic — a CVT — unless it is absolutely necessary. The six-speed manual is good to use, with a nice, short throw and despite the tiny on-paper acceleration difference, feels a lot quicker over the ground.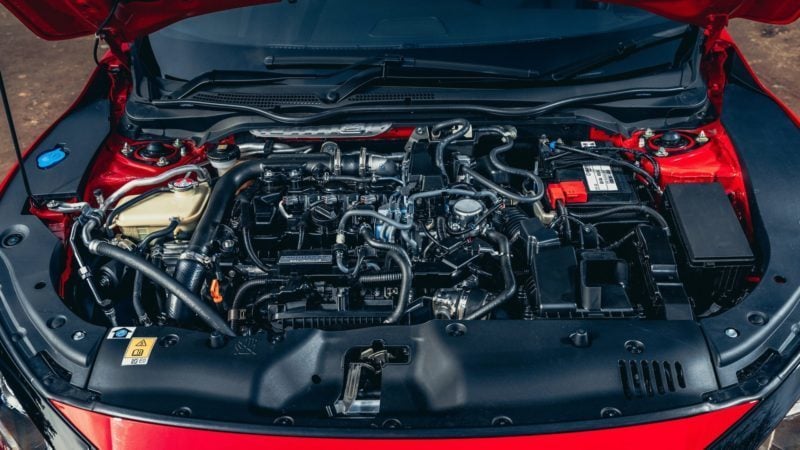 What's it like on the inside?
Well, sadly it's a little more boring.
Fair enough, the previous generation's instrument binnacle was absolutely barking mad, but you wouldn't mix it up with anything else. The current one is a little more generic, and in an age where premium manufacturers are heading towards wide displays and multiple LCD screens just like the old Civic, it's rather strange that Honda has gone directly against that.
You can't argue with the kit you get though. The basic Civic packs in DAB radio, parking sensors at both ends, climate control, multi-function steering wheel, Bluetooth, automatic headlights, and heated door mirrors. Our EX car sits just about at the top of the tree for the 1-liter cars (there's a separate range grading system for the 1.5 — and we don't know why either), so has even more toys.
Navigation, a reversing camera, auto wipers, internet radio and dual zone climate control come in at SR spec, and Honda adds heated leather seats, adaptive dampers, keyless entry and start, and additional driver assist systems for EX. You can add LED headlights and Qi wireless phone charging with an optional Tech Pack, although these come as standard on the 1.5-liter Sport Plus models.
But we will have to concede that there's a price to pay. An entry level Civic is now £18,475 and this one, with all the extras, is £26,915. Before you whip the calculator out, that's a 1-liter Civic that's £2,500 less than the Type R. Steep.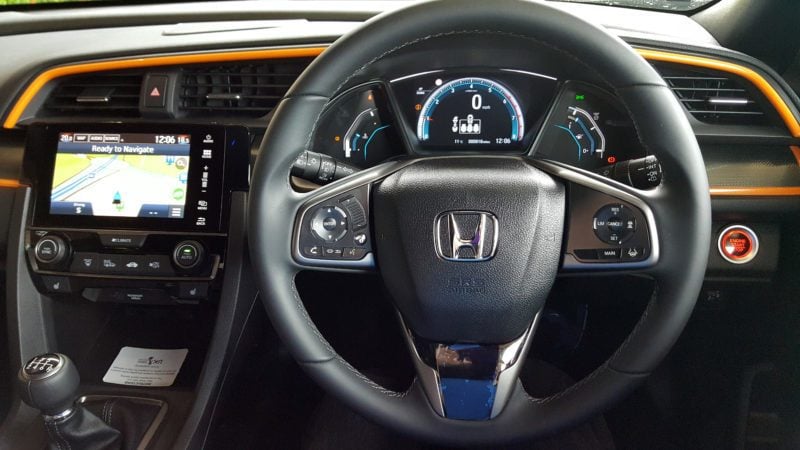 Who's going to buy this?
The Civic has always been one of those cars with a really broad appeal. Those generic driving manners suit everyone, and if you wanted a sportier drive you bought a sportier model.
A new generation of Civic doesn't really change that. Even though it looks a lot weirder than the old one, we saw that it didn't really matter with the "spaceship" eighth generation. People bought Civics because they did most things quite well, nothing really badly and they keep on going forever.
Honda hasn't sold 20 million of these by accident, and its target buyer is pretty much everyone.
What are the alternatives?
That's an interesting question because of the new body style. Certainly most of the same rivals still exist — Ford Focus, Volkswagen Golf, Vauxhall/Opel Astra — but they're almost exclusively hatchbacks in the European market. In fact there's not that much in the UK that counts as a like-for-like rival.
If you're in the USA, you're probably yelling "JETTA" at the screen, and that's certainly one of the few. Volkswagen's Golf-with-a-trunk and its A3 saloon sibling are well worth considering. From the same family you'll also find the SEAT Toledo, but most importantly the Skoda Octavia. Unlike the others, the Octavia is exclusively a four-door saloon, and the vRS model gives it a Type R rival too.
The last car on the list is Mazda's Fastback version of the Mazda 3. It's a saloon rather than a liftback, but otherwise it fairly closely resembles the Civic and appeals to a similar budget and demographic.
What's the conclusion then?
In many ways, the previous Civic was a bit of a missed step. Honda had made it crazy to look at, but dropped the independent rear suspension in the name of packaging, then facelifted it to tone down the looks.
It's gone back on both of those decisions and the new car is a considerable improvement as a result. However, the shift away from the classic hatchback shape may limit its appeal in the UK, despite being a better car.
If Honda can get people into test drives though, it'll sell a bucketload. The fact is that, while a few steps away from the class leaders in terms of ride or handling, it's not far off when it comes to both at the same time. It's a car that does nothing wrong.
However, our particular test car is a bit on the pricey side. We'd be tempted to switch up to the bigger engine in base Sport grade. That comes with most of the same equipment – the adaptive dampers, keyless entry and start, and heated seats are missing – but it's over £4,000 cheaper and has significantly better performance, with not much of a fuel economy penalty.
Verdict:
Honda Civic EX 1.0 Turbo
Once again the Civic gives a good account of itself. You may find more to love in other cars and this particular model is too expensive, but it's a much improved car.
Learn more about
how our rating system works
.
Quick Facts
Engine
1.0-liter, straight-3 turbo
Power
127hp (129PS, 95kW), 148lbft (200Nm)
Layout
Front-engine, front-wheel drive
Top Speed
126mph (203km/h)
More Posts On...