Upon reviewing the VW Scirocco last week, we said that it's one of the most forgotten cars of its type. While still true, this week's car is Korea's version of "hold my beer"; if the Scirocco is forgotten, Kia's pro_cee'd GT is invisible. It's been on sale since 2013, and we don't recall ever seeing one that isn't a press car. There's not even that many in the classifieds — we found 40 in the entire country.
But does it deserve to be so anonymous? We've been playing about with one to find out.
So… what's with the name?
Glad you asked. It's like this: Kia opened a design studio in Europe, in a bid to make its cars look and feel more European. To celebrate this, Kia decided to make a fuss out of it in the name of the first car it produced. It took the initials of the European Economic Community (CEE, because it's in French) and added them to the initials for "European Design". But CEEED had too many Es in it, and two of them meant "European", so Kia dropped one and put an apostrophe in.
That car — the Cee'd — was made famous by being an inexpensive track car for a television show, and Kia made it sportier by molding it into a three-door bodystyle. In order to make it clear it was a separate model, Kia opted for a clever prefix, and "proceed" sounds like the car is moving forwards. We have no idea what the deal with the underscore is though.
What's special about the GT then?
Really, it's Kia's first performance model. Okay, so 200hp isn't a lot these days, but much of Kia's range is a little more homely than that — it's bang on 50% more power than any other pro_cee'd model. It's not quite enough to make it a hot hatch, but it's warm enough.
Kia has gone to town a little with the rest of the car, to reflect the extra performance. All the flourishes and styling details you can see are standard, from the red brake calipers to the "ice cube" LED spot lights. The natty Recaro seats are also standard, along with stainless steel pedals. It's a strong boy-racer look, without straying into gaudy.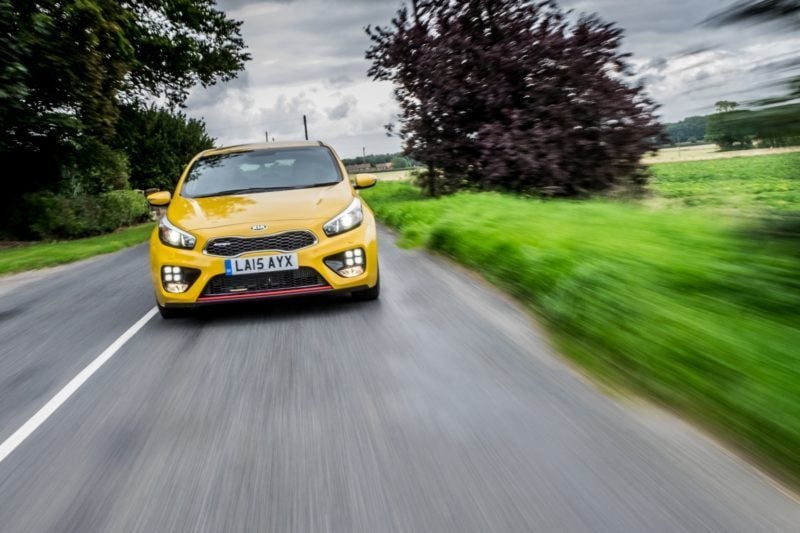 Yeah, but it's just a Kia. It won't drive well, surely?
Someone didn't pay attention to the Cee'd on the TV. Granted, the platform underneath the car isn't replete with performance cars — you'll also find it under the Hyundai Tuscon, for example — but this is a car that Kia has specifically designed, engineered and built in Europe to feel like a European car.
Has it succeeded? Yes, the pro_cee'd GT is a lot of fun to chuck about. We're not going to get carried away here, as it's not really a great, but it will induce a smile on a road you love. You do have to keep your momentum up a bit, as 200hp is working hard to lug 3,000lb, but there's enough torque coming low enough down to give you some flexibility.
There's something charming about the steering too. Again, it's not flawless, but it's light, precise and consistent. You won't struggle to place the car, which is good news around town as those 18-inch wheels seem absolutely massive and very easy to scrape up a curbstone.
We would like to get it onto a track and stretch the chassis and brakes, but on the public road we couldn't really fault either. Even provoked into understeer over an off-camber turn, the GT refused and gripped resolutely.
It doesn't fall short on the ride either. You're a little conscious of pot holes with those big wheels, but steer clear and you'll find it rather settled. It's almost as GT-like as the name suggests (although the fuel economy isn't great for long distance driving) and even in sport mode you don't have to make any excuses for it.
Okay, so the insides are cheap then?
No. It's a really nice, inviting cabin, and Kia hasn't scrimped on the kit. There's nothing revolutionary in here, and you won't necessarily find the same fit and finish as premium brands, but it's screwed together well, made from relatively pleasant materials and intuitively laid out.
All of the go-faster trinkets are standard. That includes Recaro sports seats, chunky leather steering wheel (with red stitching), high-gloss trim, chrome rings in the binnacle, black headlining and stainless steel pedals. It's like an old school approach to the hot hatch, rather than the wings, ducts and vents affair many manufacturers are going for now.
You'll also find standard navigation (with speed camera detection), DAB radio, Bluetooth, air-conditioning and reverse parking sensors. It's not stripped bare for the sake of performance, rather a top of the range model that also sports an extra dollop of power.
If we had any criticisms at all, they'd be that the infotainment is a bit hit and miss, particularly the graphics of the navigation system, which are rather "My First Satellite Navigation System" in look. There's also an irritating jingle the car plays when you start it up or turn it off, lifted directly from Kia's television adverts. You can probably turn this off, but we didn't investigate.
Who's going to buy this?
Judging by how unusual they are, no-one. But the pro_cee'd GT is a genuinely charming, four seat, quick hatchback, and it should appeal to anyone who appreciates something just that little bit different.
The three-door body style and coupe roof eat into the practicality a bit, but it's really no worse than any other three-door C-segment car. The trunk space is a reasonable 380-liters and the rear seats are good enough for teenage kids. If they like each other and you aren't driving for five hours.
Ultimately it's one of the those cars that would suit someone who wants just that little bit of everything and isn't a badge snob.
What are the alternatives?
Anything with three doors, four seats and a focus on sportiness. It doesn't quite have the figures on paper to compete with the new deluge of 300hp+ super hot hatches, but there's plenty of alternatives beneath.
Rivals would include Renault's Megane GT, which also comes in estate form and has a novel four-wheel steering system. The FR version of the SEAT Leon SC is another good rival, posting similar performance figures. Vauxhall/Opel offers a 200hp, 1.6 turbo version of the Astra, which is a little quicker on paper too. Peugeot's 308 GT is another to offer the same thrills at a similar price.
It seems strange to consider, but the Toyota GT86 isn't too far out of the Kia's crosshairs either. The pro_cee'd GT is quicker and cheaper, not to mention more unusual.
What's the conclusion then?
For such a little-known car, the Kia is a bit of a cracker. It has no truly bad habits, no glaring faults and nothing to really mark it down.
We'll happily concede that, with "only" 200hp, it's nowhere near the performance of a modern hot hatch, but it's quick enough as it is. Perhaps Kia could have stoked it up a bit — Peugeot's getting 270hp out of 1.6-liter engines in road cars now — but there's a good chance that even 30hp more would ruin the rather sweet handling the pro_cee'd GT has.
As it is, the Kia is a pretty nice place to be, it drives and rides well and looks great too. Chuck in the value for money and it's difficult to see why it doesn't get significantly more attention. As a first go at a sporty car, it's a very impressive effort and the pro_cee'd ranks as one of the hidden gems.
Verdict:
Kia pro_cee'd GT
A genuinely fun little car that offers throwback thrills in a thoroughly up-to-date package.
Learn more about
how our rating system works
.
Quick Facts
Engine
1.6-liter, straight-4 turbo
Power
201hp (204PS, 150kW), 195lbft (265Nm)
Layout
Front-engine, front-wheel drive
Top Speed
143mph (231km/h)
More Posts On...