Automotive branding is something that's common among luxury automakers. Everything from shoes to watches to theme parks gets logos on them. Now Aston Martin is taking it a step further by getting into the real estate game.
The plan consists of a 391 luxury condominiums in a high rise located at 300 Biscayne Boulevard Way in the heart of Downtown Miami.
Overlooking Biscayne Bay and the South Miami Channel, the tower should provide plenty of stunning views. Only minutes from South Beach and the American Airlines Arena, the home of the Miami Heat, it will also be close to the heart of Miami entertainment.
In a city where land is at a premium, the site is one of the last undeveloped properties in Miami.
The overall architecture of the building is fairly impressive if the renderings are anything to go by. Designed by Revuelta Architecture and Bodas Miani Anger the building will look like the sail of a luxury yacht. Near the top, an infinity pool and sun deck will also complement the overall design.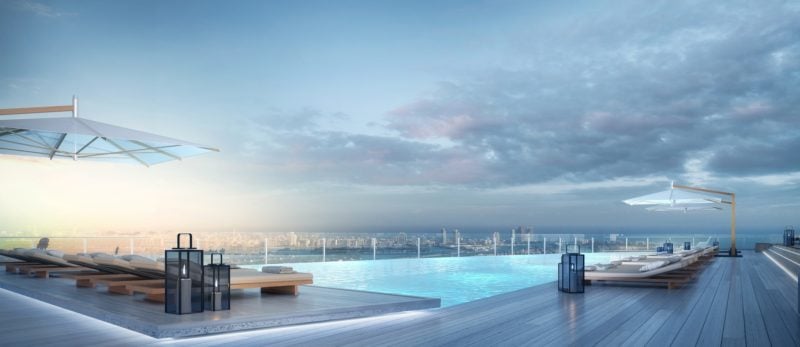 The inside will draw from Aston Martin design influences. A carbon fiber reception desk will greet residents as they enter into one of the private lobbies. We can only assume the lightness of the desk will make check-in faster.
The door handles of the building will also resemble an Aston Martin design.
The top four floors will include a Sky Amenities suite which will allow residents to do most things without leaving the building. The suite includes several gyms, two cinemas, a barber shop, salon, spa, and virtual golf center. We're not sure why anyone would want to stay inside when they live in Miami though…
On the water side of the building, a private yacht dock will also provide access to the building. This will obviously be the perfect place to park your Aston Martin submarine or speedboat.
Prices for all this luxury living don't come cheap. For a one bedroom, 700 square foot condo, prices start at $600,000. From there they only go up. The two-level penthouse will clock in at around $50 million. To put that into perspective you can get 165 Vanquish grand tourers for that price.
If you fancy partying in the city where the heat is on, Aston Martin is currently accepting applications to purchase one of these condos. Unsurprisingly, they're expected to sell out rather quickly — We guess we better act quickly if we want to make one of these suites the new GTPlanet HQ.
More Posts On...