This setup is heavily based on the
Shelby Cobra Daytona Coupe '64's stock settings
. Which was able to win the Expert Level Historic Racing Car Challenge (30/6/2016 06:00 - 28/07/2016 06:00) without any tuning whatsoever , as long as there were no 2J's , Toyota 7's , 2D's and Ferrari 330 P4's in the grid.
Main differences to the Shelby's stock settings are: a bit higher rear ride height and improved differential.
This setup was good enought to win against a grid with one Autounion Streamliner in it with the next fastest AI car being Ford Mark IV. (No other driving aids than ABS 1 were used)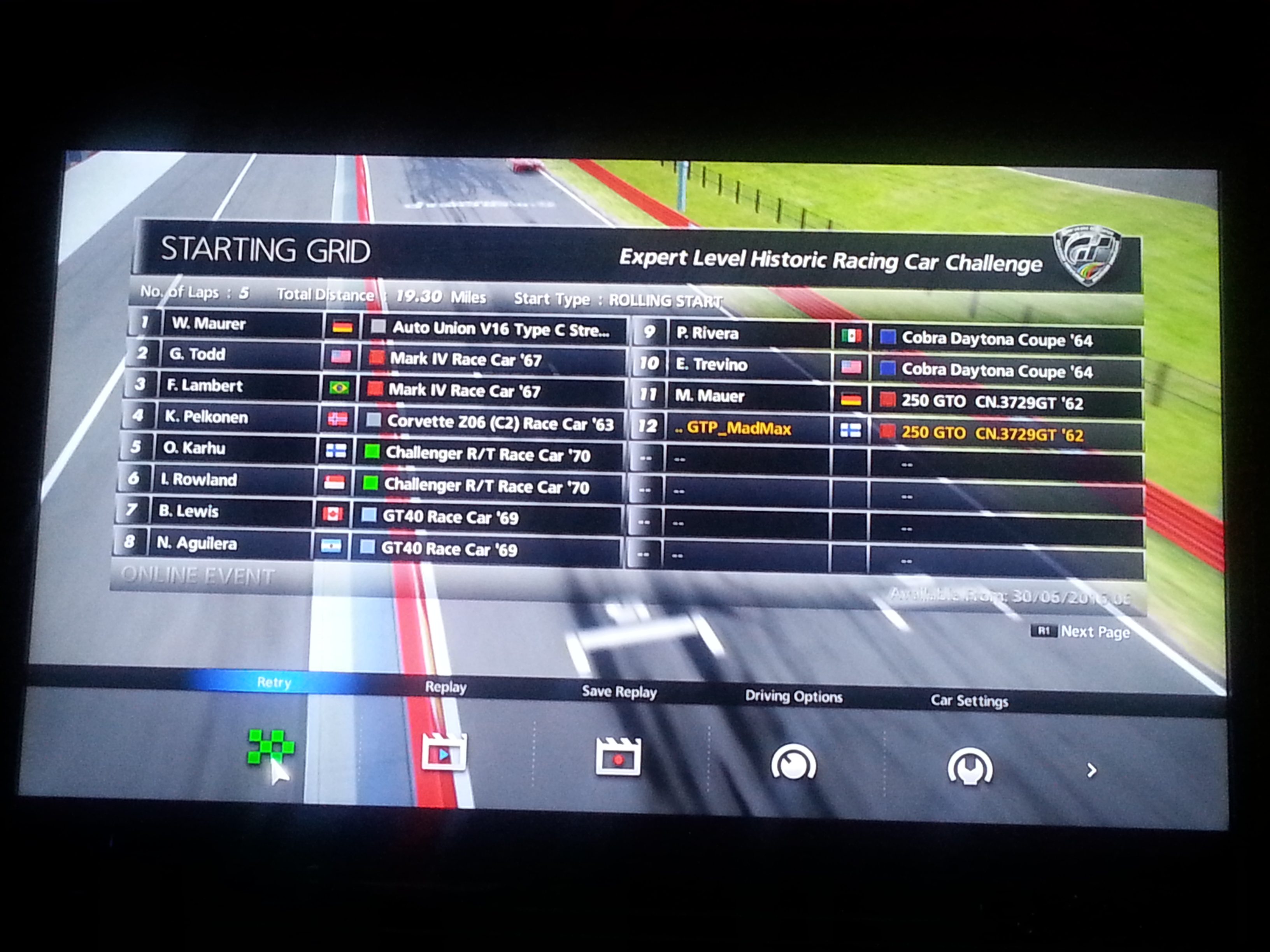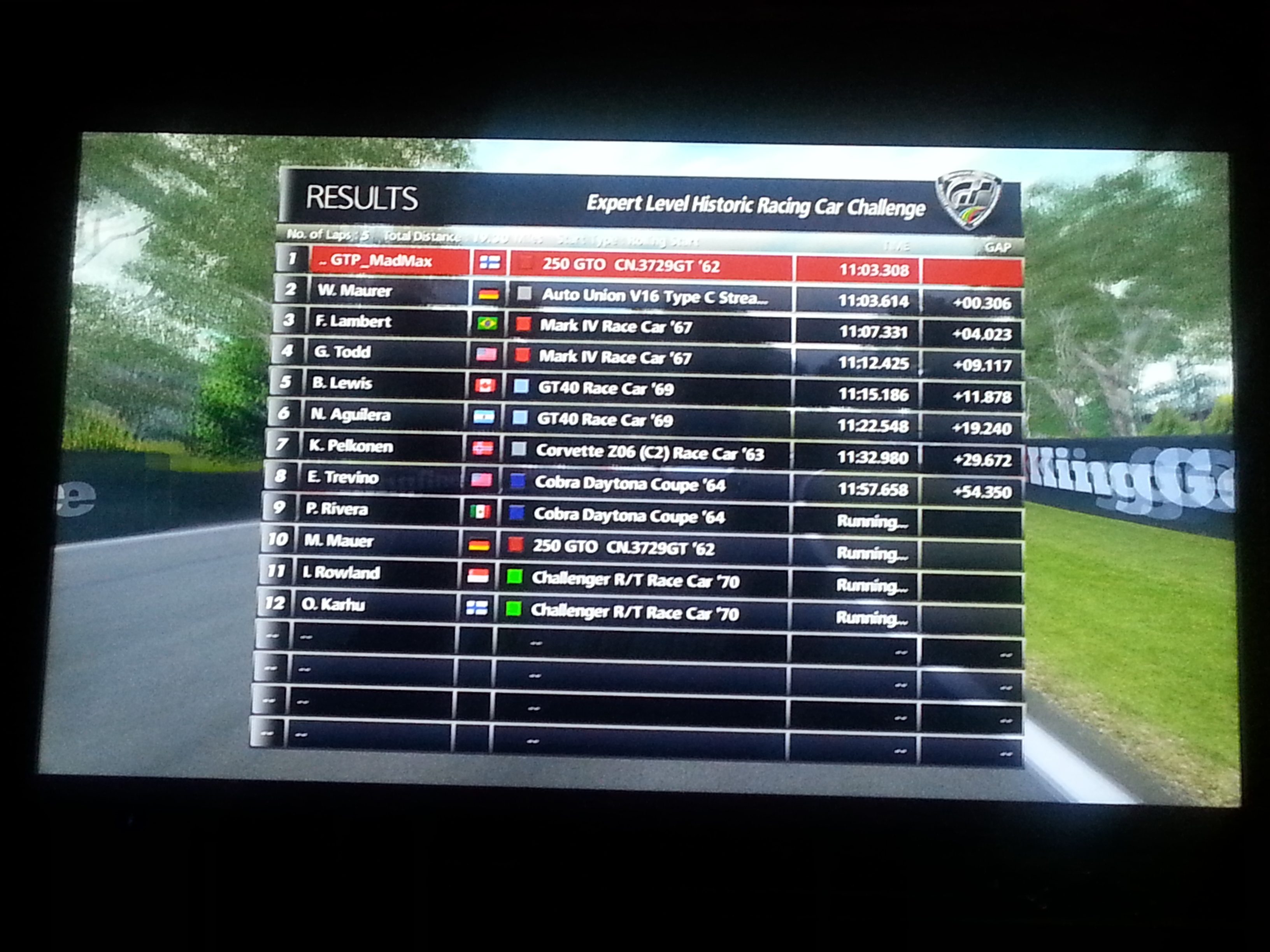 This setup is good for a under 2 minute and 8 seconds lap.
While this car has less downforce than the Shelby , it can be driven very similar to it.
The gears are basicly the same , with 1 extra low gear for the tight and slow turns
Power peak is at 8200 rpm and the optimal shift point is at the redline.
NOTE:
No weight reduction parts are installed. All power upgrades except Catalytic Converter: Sports are installed. No oil change. Ballast is set at 50% (rear)
Game Version

1.22
Controller Type

Steering Wheel
Vehicle Manufacturer

Ferrari
Performance Points

513 PP
Max. Power

427 HP
Weight

980 kg
Weight Distribution

49
Displacement

2953 cc
Max. Torque

295 ft-lb
Drivetrain

FR
Tires (Front)

Racing: Hard
Tires (Rear)

Racing: Hard
Suspension Kit

Height-Adjustable, Fully Customizable Suspension
Transmission

Fully-Customizable Transmission
Clutch

Triple-Plate Clutch Kit
Engine

Stage 3
Exhaust

Racing Exhaust
Other Parts

Racing Brake Kit
Carbon Fiber Driveshaft
Fully-Customizable Mechanical Limited-Slip Differential
Sports ECU
Intake Tuning
Isometric Exhaust Manifold
Ride Height (Front)

120
Ride Height (Rear)

135
Spring Rate (Front)

14.29
Spring Rate (Rear)

10.62
Dampers - Compression (Front)

4
Dampers - Compression (Rear)

4
Dampers - Extension (Front)

4
Dampers - Extension (Rear)

4
Anti-Roll Bars (Front)

3
Anti-Roll Bars (Rear)

3
Brake Balance (Front)

5
Brake Balance (Rear)

3
Max. Speed

211
Max. Speed Unit

mph
Transmission (1st Gear)

3.256
Transmission (2nd Gear)

2.320
Transmission (3rd Gear)

1.690
Transmission (4th Gear)

1.290
Transmission (5th Gear)

1.000
Transmission (Final Gear)

3.590
Transmission (Additional Comments & Instructions)

Set the final gear first and after that move the max speed (slider) to 211mph. (340 km/h)
Initial Torque (Rear)

7
Acceleration Sensitivity (Rear)

8
Braking Sensitivity (Rear)

9
Power Limiter

100%
Downforce (Front)

0
Downforce (Rear)

0
Ballast Weight

100 kg
Ballast Position

50%
ABS Level

1
Traction Control

0