Hello everyone! Here is my G27 project that I'm working, I bought my G27 6 months ago and I didn't really intend to do any mods until my warranty runs out, well the day I bought I already took the pedals and reversed them into my cockpit but I didn't do anything else. BTW the main reason in my buying a G27 is me braking my G25, well after 4 years it was still working but I kinda ruined the electronics, and Logitech doesn't produce them anymore. Straight to the point, a few days ago I got an idea to customize my G27 because I haven't really seen anyone paint there G25/G27 yet. I took it apart, in the mean time I stiffened and silenced my shifter, I made better air flow for wheel etc etc. I will let the pictures do most of the talking.
I haven't got any pictures of preparing, sanding, priming etc but I got pictures of putting it together and the final product.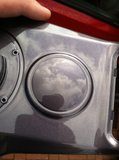 And that's my current setup, thanks a lot for viewing! Sorry for this picture overload in one post.
Now I am currently waiting for my Nardi steering wheel to arrive.
Future plans are:
★Design & make a button box.
★Get Nixim pedal mod.
★Design & make a sequential shifter.
★Paint whole cockpit.
Thanks again, and I'l be coming back with another update. 👍
​
Last edited: