2,592
France
Cytoria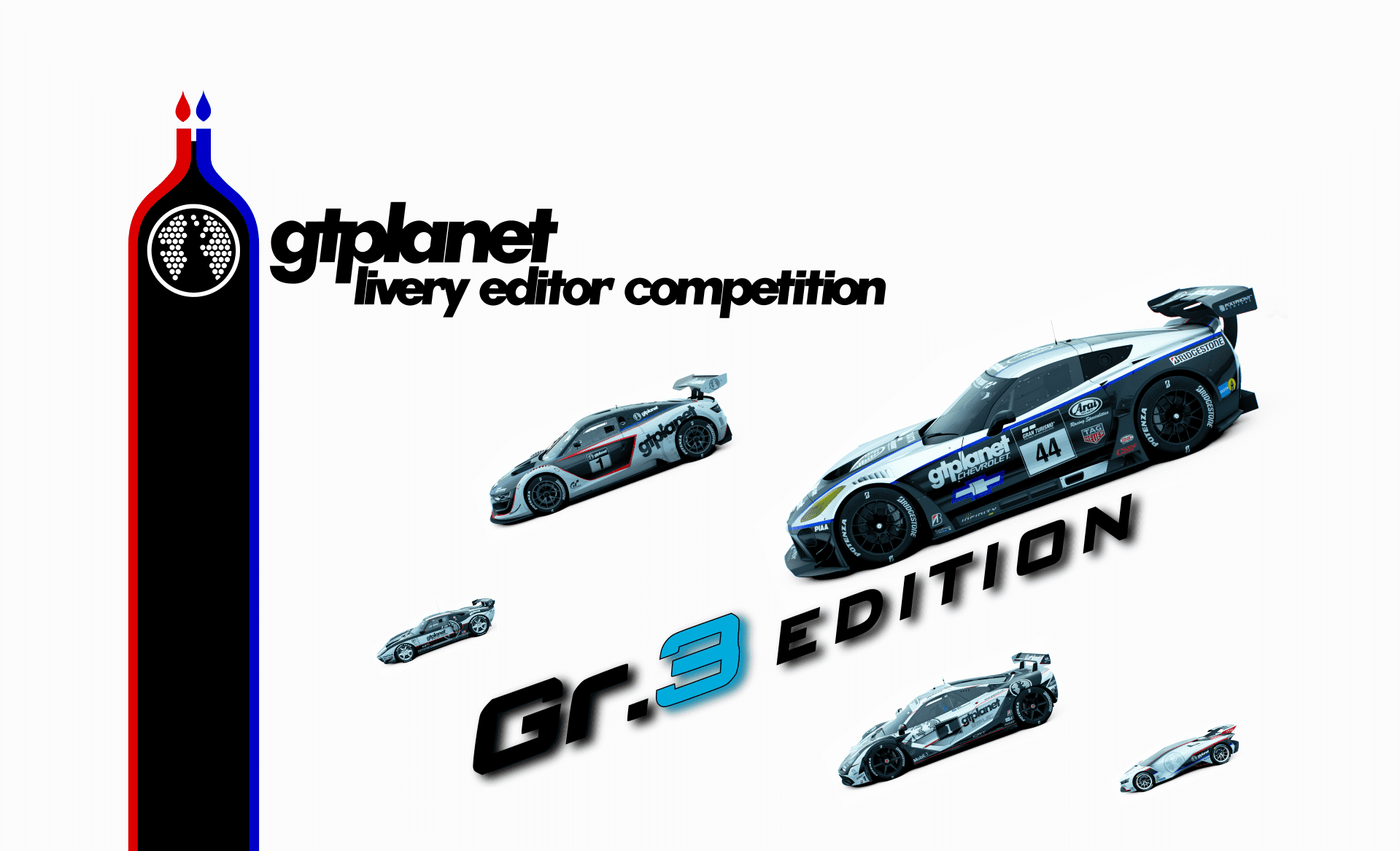 Featured liveries courtesy of @MMX ; @Azabear6 ; @Cytoria and @ghostrider135
​
THE THEME
For the second time, we are celebrating our competition anniversary!

Two years ago, @syntex123 launched the GT Planet Livery Editor Competition. We are now in the 51th round and we have seee more than a thousand entries through this journey.

It's now time to celebrate our beloved website again, this special place which allows us to gather and have fun together. When we were preparing this theme, however, one change appeared : we wanted @Jordan to be involved in the process and to design a theme for him!

So here is what he said :

"I would prefer to see liveries for a class of cars. Gr.3 has always felt like the "core" class in GT Sport, so that would be my choice. I think it would be great for the community to have a wide range of high-quality Gr.3 GTPlanet liveries to choose from, so if the liveries were "Sport Mode friendly", I think that would be a plus.

In the previous competitions I have always been torn between the most "creative" liveries and the most "realistic". I think (hope!) that adding some constraints like this will make it easier to be just a bit more objective about judging the whole thing."

You can check the previous threads to remember or discover what we did in the previous events (sorry from some broken images or links).
First competition thread / First competition poll
Second competition thread / Second competition poll

So have fun and be creative with these racing beasts!



CARS :
- Gr.3 cars only.
LIVERIES :
- No Restrictions
UNIQUE RESTRICTIONS :
- The main sponsor of the livery must be GTPlanet.
- You can use these existing GTPlanet decals
Sport Mode and GT League events use the Number Plate type 01 with mandatory placement. If you draw a custom number plate on your livery or place sponsors randomly, they may end up half-covered or not covered at all which will make it looks weird. We usually say « Sport mode compatible » or « Sport mode friendly » when the custom number plate and sponsors are placed where the GT plate type 01 will fit without denaturing the overall design. It's easy on some cars but very hard on others (the 911 RSR for example has a very small type 01, or the Corvette has it in the middle of the door).

BONUS PICTURES SETTINGS :
- No Restrictions.
- You can have up to 3 bonus pictures
USER MADE DECALS :
- Allowed.
POLL : THE RULES
Considering the amount of entries (52 liveries), the poll will be splitted in two parts.
First poll will include the 1st to 26th entry (from Racerx_34 to Kelmac).
Second poll will include the 27th to 52th enfry (from Azabear to NBDEDIGNZ).
Please take the time to open all the spoilers, they definitely show the liveries in the best way for most of them.
You can vote for 3 entries of each poll.
You can NOT vote for your own work.

The poll will end on April 14, 2019 (23:00, CEST/GMT+1)
Top ten of each poll will reach the finale.
Once again, you'll have 3 votes, and Jordan will choose the winner among the 3 on the podium.
If we have a draw on the first polls, there will be no tiebreaker : all of the cars will go to the finale.
POLL : THE ENTRIES
Poll Option #01
Poll Option #02
Poll Option #03
_____________________________________
Poll Option #04
Poll Option #05
Poll Option #06
Poll Option #07
Poll Option #08
Poll Option #09
Poll Option #10
Poll Option #11
Poll Option #12
Poll Option #13
Poll Option #14
Poll Option #15
Poll Option #16
Poll Option #17

_____________________________________
Poll Option #18
Poll Option #19
Poll Option #20
View media item 60172
View media item 60171
Poll Option #21
Poll Option #22
Poll Option #23
Poll Option #24
Poll Option #25
Poll Option #26
Last edited: