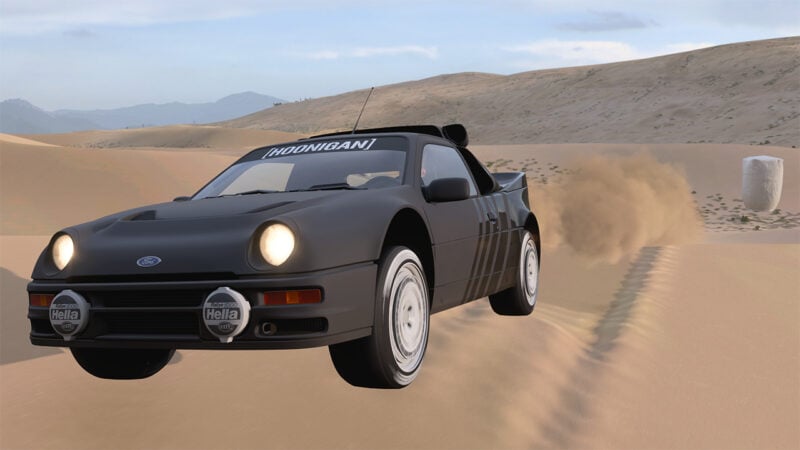 Series 16 of Forza Horizon 5 is now available, bringing with it new events, challenges, reward cars, and a special theme across the next four weeks.
Officially titled #FORDzathon (yes, with the hash mark), the series is a one-marque wonder. With the exception of some Daily Challenges and a couple of online events, every challenge over the next four weeks will require you to drive a car from the Blue Oval.
That covers not only Dearborn (or Dagenham, or Genk) natives, but some associated brands too including Fords from Hot Wheels and the Hoonigan brand. By our count that makes more than 70 cars available across the various challenges for the month.
There's a new Evolving World accolade too, although as none of the new-to-game prize cars this month are Fords it's a curious disconnect wherein you'll be picking up Renault and MG models during the Fordzathon…
Series 16: #FORDzathon Rewards
It's look but don't touch this week, as you won't pick up enough points in Summer alone to win either of the main Series prize cars.
Despite the theme for S16, the first of those isn't a Ford at all. In fact it's not even from the same continent, as 80 points will earn you the new-to-series MG6 Xpower sports sedan.
Based on the regular MG6, the Xpower takes styling cues from the brand's TCR car — which will also be available later this Series.
Along with reviving the "Xpower" name, last used on the Ford-engined (tenuous Ford link alert!) supercar added to FH5 in Series 4, the limited-edition MG6 packs 300hp — all heading to the front wheels through a 10-speed auto — courtesy of a two-liter turbo combustion engine and an electric motor.
For 160 points across the series you'll win the Hoonicorn v2. This extensively reworked Ford Mustang comes from the minds of the late Ken Block and Vaughn Gitten Jr.'s RTR workshop.
Its 6.7-liter V8 twin-turbo is good for 1,400hp, delivered to all four wheels, creating one of the scariest driving experiences in the game. You also won't be able to buy the car in the Autoshow, making it well worth aiming for this month.
Series 16 Summer/Wet Season Rewards
The Season prizes include another mix of new not-Ford and Ford-but-not-Ford, with the brand new car sitting in the regular lower slot.
Pick up 20 points this week and you'll return with a brand new Renault Megane RS250. This was the car that marked the first appearance of the Renault Sport sub-brand on the third generation Megane back in 2010.
With 247hp (250PS, giving it the name) from the newly developed F4Rt engine (no laughing at the back), the RS250 was the most powerful road-legal Megane ever made when it was first introduced, and went on to form the basis of the Nurburgring "record"-holding RS265, RS275, and Trophy R models.
There's a rare Hot Wheels car up for 40 points too, with the Ford F-5 Dually available for finishing most of the playlist.
This rat-rod pickup won the Hot Wheels Legends tour back in 2018, earning the right to be made into a toy. The name comes from the fact it has a dual-wheel rear axle set-up, with a pair of tires on each corner.
While it might sound weird, the Dually packs a 7.3-liter diesel engine, so having twice the rubber at the back helps rein in the massive torque.
Summer will run through to 1430UTC on Thursday January 12, while Series 16 will continue for another three weeks to the same time on Thursday February 2.
Series 16 Summer Playlist: Forzathon Events
The Ford theme for the Playlist begins with Summer's Weekly Challenge, Built Wild. You'll need to own and drive the new, 2021 Ford Bronco to get the challenge underway.
You'll be offroading a lot in the Bronco, with the challenge requiring three more activities in the rough stuff. First you'll need to win the Baja California Trial event, located between Dunas Blancas and the volcano. Then take victory in any Cross Country event.
Finally earn three stars on any Trailblazer in the Bronco — Malpais, just at the southern end of the highway is the easiest — to earn your five points and 80FP, with the Forzathon Points doubled if you own the La Casa Solariega player house near Teotihuacan.
Weekly Challenge: Built Wild
Car: Ford Bronco 2021

Chapter 1: Own and drive the Ford Bronco 2021
Chapter 2: Win the Baja California Trail in a Ford Bronco 2021
Chapter 3: Win any Cross Country event in a Ford Bronco 2021
Chapter 4: Earn three stars on any Trailblazer in the Ford Bronco 2021

Reward: 5 points, 80FP
There's a new set of seven Daily Challenges, coming along at their usual rate of one a day, with seven days to complete for one point and 10FP per challenge completed.
First Go Fordward by driving five miles in any Ford. This shouldn't be difficult to achieve given that the entire playlist requires you to drive Fords this week.
Do it Ford the Memories next, by earning 50,000 Skill Score in any Ford. This should similarly be an easy task, so long as you hold off doing too many events until at least Friday; it's not clear if it requires you to do it all in one Ford or carries across multiple Fords, but it's not a large amount to earn.
Rock Out at the weekend by taking a picture at Valle de las Ranas. This isn't particularly Fordy, but you could photograph a Ford to make it so.
Head up Slide Street next by earning four stars at Drift Zones in the 2018 Ford Mustang RTR S5. You can pick this up in The Trial this week if you don't have one already.
It's a Fully Charged Monday as you'll need to earn a Hard Charger Skill in Playa Azul. This comes from a full-throttle launch and keeping it pinned for around ten seconds. In a slow enough car it's a breeze, but also note you only need to score the skill in Playa Azul; you can do the launch outside the town so long as you end up in it.
Show 'Em Who's Boss next, by winning any Dirt Racing Series event in a 1969 Ford Mustang Boss 302.
Finally smash up a taco cart to complete Taco This. You'll find these on the streets in most towns, but a cluster at the north side of Playa Azul is the easiest way.
Daily Challenges
January 5 – Go Fordward: Drive five miles in any Ford
January 6 – Ford the Memories: Earn 50,000 Skill Score in any Ford
January 7 – Rock Out: Take a picture at Valle de las Ranas
January 8 – Slide Street: Earn four stars at Drift Zones in the Ford Mustang RTR 2018
January 9 – Fully Charged: Earn a Hard Charger skill in Playa Azul
January 10 – Show 'Em Who's Boss: Win a Dirt Race in a Ford Mustang Boss 302 1969
January 11 – Taco This: Smash a Taco Cart
Series 16 Summer Playlist: Season Events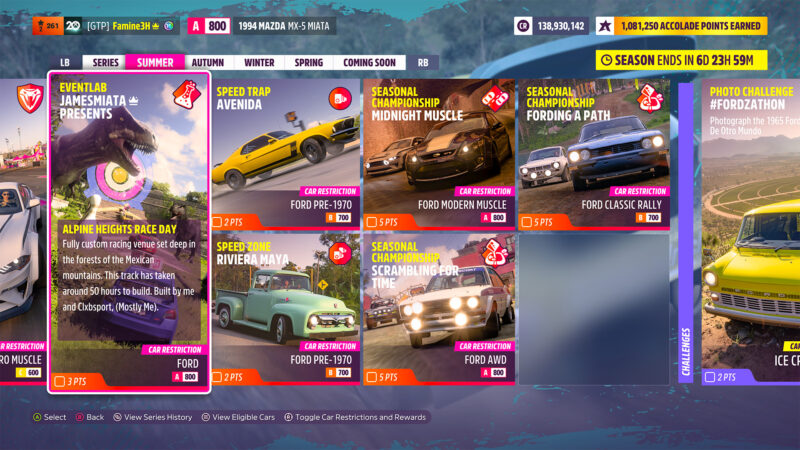 This week's Season Events consist of three Seasonal Championships, two PR Stunts, and an EventLab.
The PR Stunts are of a theme this Series, shifting from the open events we've seen recently. You'll still only need one car to do them all, but for this week it's a B Class (601-700PI) Ford car from 1969 and earlier. Each stunt is still worth two points and a Super Wheelspin available.
You won't find so much of a challenge this week, with the 130mph target at the Avenida Speed Trap in Playa Azul and the nearby Riviera Maya Speed Zone's 100mph goal within reach with only a little gearbox tuning.
EventLab consists of a two-lap run around a custom-made race track up on the mountaintop. Alpine Heights Race Day is open to any A Class (701-800PI) Ford, and you'll earn three points and a Green Pinata Outfit for finishing the event.
For the three Seasonal Championships, each a three-race series against Highly Skilled AI, you'll be focussing on the rough stuff. In each case you'll need to top the final points table to win five points to your season total.
Fording a Path is a Dirt Racing Series for B Class (601-700PI) Classic Rally cars from Ford, with a Mk1 Capri as a bonus prize. Scrambling for Time turns the speed up to A Class (701-800PI) Fords equipped with AWD, but still on the Dirt Racing circuit and with a '77 Escort RS1800 for the win.
Midnight Muscle shifts to Street Racing, with the event open to any Modern Muscle Ford in the A Class (701-800PI) performance bracket. There's a 2015 Ford Falcon for victory.
Speed Trap: Avenida
Car: B Class, Ford, Pre-1970
Location: Playa Azul, Avenida Speed Trap
Challenge: 130mph
Reward: 2 points, Super Wheelspin
Speed Zone: Riviera Maya
Car: B Class, Ford, Pre-1970
Location: Playa Azul, Riviera Maya Speed Zone
Challenge: 100mph
Reward: 2 points, Super Wheelspin
EventLab: Alpine Heights Race Day
Car: A Class, Ford
Location: Gran Caldera, Montana Trail
Challenge: Finish the Event
Reward: 3 points, Green Pinata Outfit
Seasonal Championship: Fording a Path
Car: B Class, Ford, Classic Rally
Location: Gran Puente, River Scramble
Challenge: Win the Championship
Reward: 5 points, Ford Capri Mk1
Seasonal Championship: Midnight Muscle
Car: A Class, Ford, Modern Muscle
Location: Guanajuato, Tunnel Run
Challenge: Win the Championship
Reward: 5 points, Ford Falcon 2015
Seasonal Championship: Scrambling for Time
Car: A Class, Ford, AWD
Location: Guanajuato, El Pipila Scramble
Challenge: Win the Championship
Reward: 5 points, Ford Escort RS1800 #5 1977
The two bonus events for Hot Wheels DLC owners aren't required for 100% completion of the Playlist, but give an extra option for seven more points.
For the PR Stunt this week you'll be heading to the Treetops Speed Zone in Forest Falls. The 125mph target isn't significant, even for a B Class (601-700PI), pre-1970 Ford required — as with the other PR Stunts this week. You'll win two points and another Super Wheelspin.
Speed go up a notch for the Seasonal Championship. Speed Beast is a three-race event against Highly Skilled AI for any S1 Class (801-900PI) Fords, and you'll need plenty of top end to deal with the drops and speed boosts too. There's five points and a 2000 Ford Mustang SVT Cobra for victory.
Hot Wheels Speed Zone: Treetops
Car: B Class, Ford, Pre-1970
Location: Hot Wheels Forest Falls, Treetops Speed Zone
Challenge: 125mph
Reward: 2 points, Super Wheelspin
Hot Wheels Seasonal Championship: Speed Beast
Car: S1 Class, Ford
Location: Hot Wheels Ice Cauldron, Dragon's Fall Speed Circuit
Challenge: Win the Championship
Reward: 5 points, Ford Mustang 2000
Only one multiplayer event sits on this week's playlist, with Xbox Live Gold required — unless you play on PC — to access.
That is, of course, The Trial, which is again Ford-themed. You'll need a C Class (501-600PI) Retro Muscle car from the Ford brand to take part.
In case you're not familiar with it, The Trial is a team game pitting you and up to five fellow humans against a squad of six "Unbeatable" level AI Drivatars. Each player on each team earns 100 points for each opponent they beat, but there's no reward for beating team-mates.
That means you should aim to help out your team-mates and hinder your rivals, rather than battering your way to the front through everyone without a care.
As it's a Road Racing Series event this week and the cars are relatively low performance, it should be a manageable event, and winning inside two races is not difficult. Unless you show up in a stock Mustang.
Win as a team and you'll earn ten points and a Ford Mustang RTR S5.
The Trial: Blast From the Past
Car: C Class, Retro Muscle, Ford
Location: Horizon Festival, Horizon Mexico Circuit
Challenge: Win the Championship
Reward: 10 points, Ford Mustang RTR S5 2018
Series 16 Summer Playlist: Challenges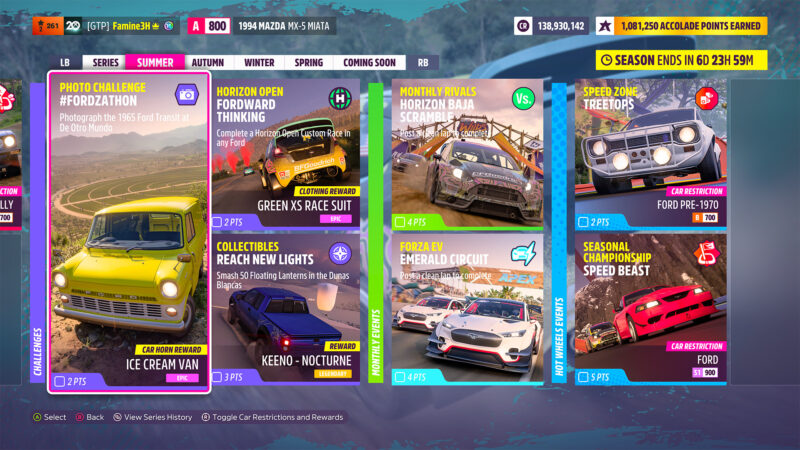 There's three challenges this week, although one is a multiplayer event and therefore requires XBox Live Gold to access — unless you play on PC, where it's available for free.
Naturally the Photo Challenge is still there, as always, and Ford-themed. You'll need to take the original Ford Transit — curiously its modern equivalent was just crowned the UK's best-selling vehicle in 2022 — to the De Otro Mundo irrigation circles and take a photograph of it. Two points and an Ice Cream Van horn are your reward.
There's a Collectibles event which brings a classic back from early 2022. You'll need to smash 50 floating laterns around Dunas Blancas — it's easier in Horizon Solo as other players won't be able to hit them first — to earn three points and the Keeno track Nocturne for Horizon Mixtape.
Finally there's the multiplayer event, Fordward Thinking. Just complete any Horizon Open race in any Ford vehicle to take two points and a Green XS Race Suit.
Collectibles: Reach New Lights
Cars: Any
Location: Dunas Blancas
Challenge: Smash 50 floating laterns at Dunas Blancas
Reward: 3 points, Keeno – Nocturne
Horizon Open: Fordward Thinking
Cars: Ford
Location: Horizon Open Custom Race
Challenge: Complete any Horizon Open Custom Race in any Ford
Reward: 2 points, Green XS Race Suit
Photo Challenge: #Fordzathon
Cars: Ford Transit 1965
Location: De Otro Mundo
Challenge: Photograph the 1965 Ford Transit at De Otro Mundo
Reward: 2 points, Ice Cream Van Horn
A new Series means new Rivals challenges, and both require use of a Ford — though unusually neither involves new-to-game vehicles this month.
In each case you'll need to set a clean laptime at the events. Even though they are Rivals events, beating laptimes set by people on your friends list isn't required; you don't need speed, only cleanliness.
That won't be easy in either case. The regular Monthly Rivals challenge sends you to the dirt, with a clean lap of Horizon Baja Scramble needed in the Ford Fiesta #14 Rahal-Letterman car. Forza EV might be more difficult, with the compact Emerald Circuit hosting the Ford Mustang Mach-E 1400.
Completing each gives four points, with one point awarded to each of the four seasons — including completed weeks where necessary.
Forza EV: Emerald Circuit
Cars: Ford Mustang Mach-E 1400 (provided)
Location: Palacio Azul, Emerald Circuit
Challenge: Post a Clean Lap
Reward: 4 points (1 added to each season)
Monthly Rivals: Horizon Baja Scramble
Cars: Ford Fiesta #14 (Provided)
Location: Horizon Baja, Baja Circuit
Challenge: Post a Clean Lap
Reward: 4 points (1 added to each season)
Series 16 Summer Forzathon Shop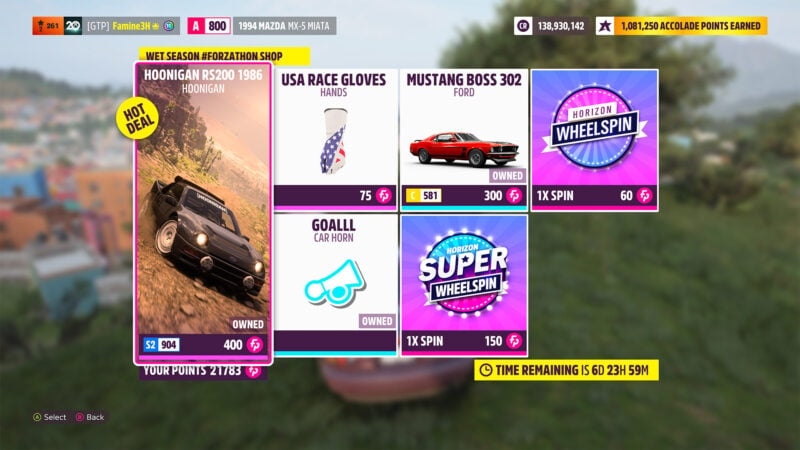 As you'll probably be expecting, it's a Ford-heavy Forzathon Shop this week.
Leading the line is the Hoonigan Ford RS200 Evolution. Although it might seem a bit like sacrilege to modify one of the rarest versions of one of the rarest road cars ever made by Ford — a homologation special for Group B rallying — Hoonigan has nonetheless done just that.
The 2.1-liter turbo four cylinder has been turned up to some 750hp, and matched to a six-speed gearbox to allow the car to stretch its legs. There's upgraded suspension, wheels, and tires, and the black-on-black RS200 is one of the quickest rally cars in the game.
It's available in the Autoshow for 500,000cr, but the 400FP price in the Shop this week isn't a bad deal either.
The Ford Mustang Boss 302 — which you'll need for a Daily Challenge — occupies the other slot, at a 300FP price against 230,000cr in the Autoshow.
Another car made for racing, the Boss 302 featured a 302ci (4.9-liter) V8 engine good for 290hp, allowing Ford to take the Mustang into the Trans-Am series.
Store items this week are the USA Race Gloves and Goalll Horn, at 75FP each. The Wheelspin (60FP) and Super Wheelspin (150FP) remain in their usual spots.
See more articles on Forza Horizon 5 Season Change.