It barely seems like it's been four months since Forza Horizon 5 launches, but today sees the start of the fifth "Series" in the title's life.
Series 5 brings with it a new theme, as well as four new Playlists, a bunch of new cars, yet more Accolades, and myriad additional items throughout the game.
The theme for S5 is "Horizon Rush Takeover". That will see the Horizon Rush festival being the focus of the activities throughout Mexico over the next four weeks.
Rush is the home of the PR Stunt. It's the hub you need to unlock by way of the Canyon Expedition, and it gives access to all the daredevil antics around the map.
There'll be even more of them this Series, with PR Stunts forming a major part of the Playlist — an Ultimate J-Turn away from the events of the S4 Horizon World Cup, which had precisely none of them. We'll see 16 new Stunts across the Series, with four set to remain as permanent fixtures once S5 is in the history books.
As PR Stunts typically give fewer points than most other Playlist activities, there's a reduction in available points again this season, at just 208.
However the rewards thresholds have also been lowered, with the Playlist Exclusive cars all available for 20 points within each Season and 80 points for the overall Series. The higher-tier rewards remain at the lower target implemented in S4 at 40 points each Season and 160 points for the Series reward car.
The new Stunts will also form part of the Accolades, so be sure to tick them off your list. There's also a wild transformation which sees the Estadio Horizon converted into a giant stunt park.
Series 5
It's a brand new Series, which means a brand new set of reward cars. As it's also the first week of the series, it's very much a case of look but don't touch — you'll not score enough points to pick up even the first of the cars even at the new lower threshold.
That's a pity, as the car in question for the Series is a rather unusual modified Mini. The Mini Forza Edition is based on the original city car but rather heavily modified.
It's a resto-mod, with an electric drivetrain powering all four wheels. The motors are good for 235hp and plenty of instant torque, so rather unsurprisingly the Mini is classed as a Super Hot Hatch (though technically it is a sedan).
As a Forza Edition car, it comes with a skills modifier and — in keeping with the theme of the Series — that's a Stunt Skills boost. You'll be able to pick it up for 80 points across the Series, and it's a Playlist exclusive car.
The higher-tier reward for this month is the Porsche 917 LH, specifically the "hippie car" #3 which finished second at the 24 Hours of Le Mans in 1970.
This flat-12-powered 917 longtail ("Langheck", or "LH", being German for longtail) was good for speeds of up to 240mph down the long, old Hunaudieres straight, and unsurprisingly the only car quick enough to beat it was another 917.
It's available for 160 points across the Series, although there's only 208 points available in total so you will need to work for it. Alternatively, as it's not a Playlist exclusive, you could just buy it for a mere 15 million credits…
Series 5 will run through to 1430 UTC on Thursday, March 31, with the Summer season lasting until the same time on Thursday, March 10.
Summer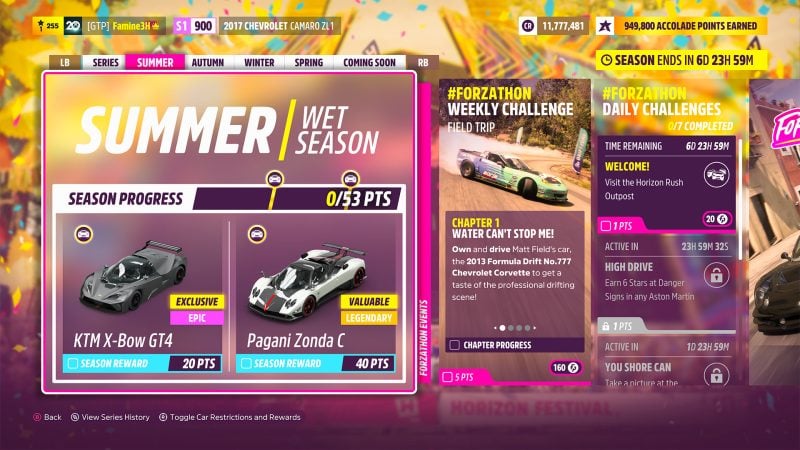 For this season's playlist you'll be able to pick up two cars with origins on the race track.
The first is the KTM X-Bow GT4, which returns from Forza Horizon 4. It's a reworked version of the KTM X-Bow, a lightweight track toy that ordinarily has very little by way of bodywork.
While that's great for track days, it doesn't suit a racing car, so KTM created a new body for it, incorporating a canopy roof and aerodynamic aids, as well as covering up some of the protruding bits that hamper straight line speed.
The car remains so lightweight that it proved impossible to fit it into the GT4 racing class with regular "balance of performance" strategies of reducing power and/or increasing weight. Eventually the solution was to add a full inch to the ride height to slow it down in the bends.
It's available for the lower 20-point target, and it's exclusive to the Playlist. Moreover, you will need it for some of the events this week, so it's worth focusing on early.
The second car trod the opposite path; rather than being upgraded from track toy to race car, it's a track toy that was lightly sanitized to become a road car.
Pagani's Zonda Cinque is effectively the road-legal version of the insane Zonda R — which you could have won in the final playlist of S4 just last week.
One of several cars that were going to be the last ever Zonda (only for yet more last ever Zondas to appear), the Cinque had a total production run of five — as the name suggests. And then Pagani made five more of them, but this time as Roadsters
It essentially takes all of the bits that made the Zonda R slightly too mad for even European roads and toned them down ever so slightly. That still means it packs more than 650hp and enough downforce to generate cornering forces of more than 1.4G.
You'll be able to pick up your Zonda Cinque Roadster for 40 points this Season.
That is, however, an appreciable chunk of the points available, and you will need Xbox Live Gold (or to play on PC) to achieve it. There's only 53 points on offer in Summer, and that's actually the largest amount in this entire Series.
Forzathon Events
Stunts are the theme for the entire Series, so it should be no surprise that the Forzathon Weekly Challenge focuses on exhibition driving.
This week it's all about drifting, and you'll need to pick up the Formula Drift #777 Corvette to get things started in the Field Trip challenge. If you don't already have it, it's available for passing the East Resort Speed Trap on this week's Playlist.
Once you have the car, take a trip to its natural home: the Drift Zones of Mexico. Score enough points to hit six stars across any of the Zones to pass this stage.
Naturally the next step is to net 10 Ultimate Drift or Ultimate E-Drift skills — that's either a regular drift or one initiated by the handbrake, which goes on for long enough to hit "Ultimate" status — anywhere.
Finally you'll need to go back to a Drift Zone of your choice and slide enough to score 100,000pt in two minutes or less. Complete it all and you'll pick up five points towards your seasonal total and 80FP.
Daily Challenges look to have a similar theme, offering one point for your season total and 10FP each time you complete one of the one-a-day tasks.
It's a simple starter this week, as Welcome! requires you only to visit the Horizon Rush Outpost. That's up to the North of Guanajuato, looking eastwards down the Copper Canyon — and if you haven't unlocked it yet you'll need to complete the Canyon Expedition to do so.
High Drive follows on Friday, which requires you to get six stars at any Danger Signs using any Aston Martin vehicle.
The weekend starts with a brand new Danger Sign. You'll need to take a photo of any car at the Salto de Rio Danger Sign — located on the south side of the reservoir at Cordillera, near the Sierra Verde Dam — to pass the Shore You Can challenge.
On Sunday you'll be tasked with scoring a total of 300mph across any Speed Zones in the 2016 Dodge Viper ACR to finish I'm A Snake. You don't need to average 300mph through a single zone, but average speeds that add up to 300mph in any number of Zones.
Speechless starts next week's action off with an easy one. Just visit the new Stadium Stunt Park to get the point.
For Tuesday you'll need to grab that X-Bow GT4 again to hit three stars at any Speed Traps. The wording is unclear if this requires a single trap or whether you can visit multiple traps, but we'll clarify it when we can.
Finally there's Tippy Taps, which tasks you to score five Air Skills in any Buggies category car while at the Stadium Stunt Park. You only need to get all four wheels off the floor to score one, so with all the ramps around the park it should be easy.
Season Events
The Playlist across the entire Series is packed out with stunts of all stripes, and that starts with the Summer season. There's five to tackle this week, with only a single Seasonal Championship for those of you who want to race the AI.
One of each type of PR Stunt awaits you, with a Danger Sign, Drift Zone, Speed Trap, Speed Zone, and Trailblazer all available, and each worth two points. Some are brand new additions to the game just for this Series.
The only one on the list that isn't new is the Drift Zone. You'll need to score 10,000 points at the Giro Encorvado zone in the DeBerti Toyota Tacoma TRD — which is available in the Forzathon Shop but we'd just pay the 500,000cr in the Autoshow.
It's the shortest Drift Zone on the map, consisting of two corners at the top of the Horizon Mexico circuit near the main festival, but the benchmark isn't high (especially with the S1 class — 801-900 PI — tuning requirement) so you should easily pick it off and grab the Wheelspin reward.
The Metal Bird Danger Sign will see you jumping off a badly parked aeroplane fuselage at the Aerodromo en la Selva. Grab any S1 Class (801-900 PI) Hypercars category vehicle and hit the 92m jump target to score the points and an Aventador as a prize.
Desierto Viviente (Living Desert) is a new Speed Zone between Colinas Aridas and the Horizon Festival. It's set on a dirt road, but since the task this week is to average 75mph in a B Class (601-700 PI) Classic Rally car, it shouldn't be too tricky and you'll win a Hoonigan Escort for your trouble.
The River Rapids Trailblazer is new, but sits in the same location as an event added for S3, on the road north of the volcano. Thankfully it's a much shorter run, directly westwards to the mouth of the river, and if you can manage it with ten seconds to spare in an A Class (701-800 PI) Buggies vehicle you'll get the points and a Wheelspin.
That leaves the Speed Trap at East Resort, a new location just west of Playa Tranquila on the east coast. You'll need this week's 20-point car, the KTM X-Bow GT4, tuned to S1 Class (801-900 PI) for the challenge, and hitting 130mph through the cameras will win you the Formula Drift Corvette needed for this week's Forzathon Weekly Challenge.
For those of you who like racing the Highly Skilled AI, there's a single three-race championship on offer this week. You'll need an S1 Class (801-900 PI) Jaguar to take part in Party Animal, and if you beat the AI you'll take three points and McLaren 720S Spider.
There's one last solo event this week which is quite mad. Players might remember driving a parade float — slowly, then alarmingly fast — during the Expedition to unlock Horizon Rush. Now it has its own race, with 12 of the things.
It runs over the Tropico Cross Country course, and if you can survive and win — and not laugh yourself to death — you'll win five points and a Green Pinata outfit for your avatar.
Danger Sign: Metal Bird
Car: S1 Class, Hypercars
Location: Aerodromo en la Selva, Metal Bird
Challenge: 92m
Reward: 2 points, Lamborghini Aventador 2012
Drift Zone: Giro Encorvado
Car: S1 Class, DeBerti Toyota Tacoma TRD
Location: Horizon Festival, Giro Encorvado
Challenge: 10,000pt
Reward: 2 points, Wheelspin
Speed Trap: East Resort
Car: S1 Class, KTM X-Bow GT4
Location: Playa Tranquila, East Resort
Challenge: 130mph
Reward: 2 points, Formula Drift #777 Corvette
Speed Zone: Desierto Viviente
Car: B Class, Classic Rally
Location: Colinas Aridas, Desierto Viviente
Challenge: 75mph
Reward: 2 points, Hoonigan Escort Group A
Trailblazer: River Rapids
Car: A Class, Unlimited Buggies
Location: La Gran Caldera, River Rapids
Challenge: 10s
Reward: 2 points, Wheelspin
Seasonal Championship: Party Animal
Car: S1 Class, Jaguar
Location: Hotel Mirador Balderrama, Chihuahua Circuit
Challenge: Win the Championship
Reward: 5 points, McLaren 720S Spider
Seasonal Special: Horizon Parade
Car: Playground Games Parade Float
Location: Ek'Balam, Tropico Cross Country
Challenge: Win the race
Reward: 5 points, Green Pinata Outfit
There's just two online multiplayer events this week, with Seasonal Playground Games not making the cut. As usual, you'll need to either play on PC or have an active Xbox Gold subscription to take part in these.
Arcade will be its usual relatively simple task. Head to any Arcade start point (the pink circles on your main map) for any theme — Air, Chaos, Drift, Speed, Wreckage — and complete all three rounds of it to claim your three points.
The other event this week is The Trial. This tends to be the most challenging event on any Playlist, not least of which because you need to beat "Unbeatable" rank AI Drivatars to win it.
However the real challenge comes in the form of teamwork. In order to win you'll need to outscore the six AI as a team, rather than individually, and that means working with the five humans you're paired with to help each other to maximum points while hindering the AI.
Thankfully the lower speeds of this week's event should help. You can use any Ford Focus model, so long as it's tuned into B Class (601-700 PI). Should you beat the bots over the three races, you'll take ten season points and the Hoonigan Gymkhana 10 Focus as a prize.
Horizon Arcade: Mini Games
Car: Any
Location: Any
Challenge: Complete any Horizon Arcade Theme
Reward: 3 points
The Trial: Ready, Set, Focus
Car: B Class, Ford Focus
Location: Guanajuato, El Pipila Scramble
Challenge: Win the Championship
Reward: 10 points, Hoonigan Gymkhana 10 Focus
Challenges
The Challenges list is a little shorter this week, consisting only of a Photo Challenge and The Eliminator.
It's the standard task for The Eliminator, of entering the event and finishing 30th or better. Usually that's a matter of just surviving a couple of minutes — although on a few rare occasions you can start the match with 30 or fewer competitors — and should be easily achieved. It's worth two points and a Quick Draw emote.
The Photo Challenge is called #PRTAAAYTIME, and no that's not a typo; this Series is all about PR Stunts after all!
It's not a tricky task. Just head to the Horizon Rush Outpost and photograph any car from the Track Toys class. There's a good chance you'll encounter a bunch of other people doing it if you're in Horizon Life, so you might not even need to snap your own vehicle.
Of course there's also a new Monthly Rivals challenge, running across all four weeks of the Series. You can complete it at any time in the Series, and it will add four points to each of the four seasons — backdating it if necessary.
As you might expect, this month's event is also Horizon Rush themed, as it takes place at the Lookout Circuit. That's a Road Racing Series course which loops around that very Outpost.
You'll need to set a clean lap in the new KTM X-Bow GT4 to pass the test — don't worry, you don't need the car; it's provided to you just for this event. That shouldn't be too much of a challenge, though there are a couple of corners where you can catch a barrier, or a serious dose of gravity, if you take too many liberties.
Photo Challenge: #PRTAAAYTIME
Cars: Track Toys
Location: Horizon Rush Outpost
Challenge: Photograph any Track Toys car at the Horizon Rush Outpost
Reward: 2 points, Horizon Rush Tee clothing item
The Eliminator
Cars: Any (provided)
Location: The Eliminator, Valle de las Ranas
Challenge: Finish 30th or better in The Eliminator
Reward: 2 points, Quick Draw Emote
Monthly Rivals: Lookout Circuit
Cars: KTM X-Bow GT4 (Provided)
Location: Lookout Circuit, Horizon Rush Outpost
Challenge: Post a Clean Lap
Reward: 16 points (4 added to each season)
Forzathon Shop
A new season means a new Forzathon Shop, and there's a pretty rare vehicle leading the way this week.
The Lotus Elise GT1 was a very short-lived and very expensive project to get the brand into the GT1 class of endurance race.
Bearing little relation to the regular Elise, the GT1 consisted of a spaceframe chassis (with the Elise's bonded aluminum tub stuck in the middle) and a V8 engine out at the back; ironically of the six race cars, the Lotus factory example was the only one to use a Chevrolet V8 instead of the Lotus V8.
It was phenomenally unsuccessful, and pretty quickly dispensed of as a result. However — in accordance with homologation rules — Lotus did make a single road car, which you can pick up in the shop for 650FP. As it's also only 1.8m credits, it might be best to save your points.
That also applies to the other offering, the DeBerti Toyota Tacoma TRD. Even though you'll need to use the car this week in the Playlist for the Drift Zone, it appears in the Autoshow for 500,000cr, so at 400FP it's not the best bargain we've seen.
Store items this week are the Parade Horn and a Blue Polka Dot Summer Skirt for your avatar, at 75FP each. The Wheelspin (80FP) and Super Wheelspin (300FP) take their usual spots too.
See more articles on Forza Horizon 5 Season Change.