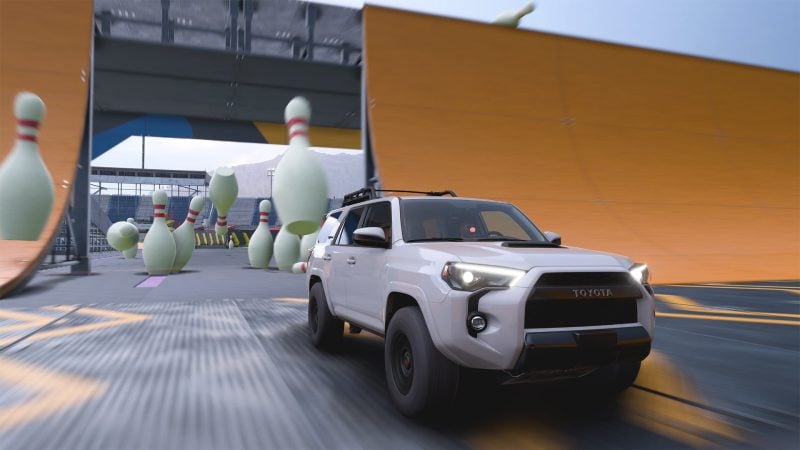 Another stormy Autumn season has arrived in Forza Horizon 5, bringing with it a new playlist and a whole new set of challenges.
It's the second week of Series 5, which is themed around stunts. Officially known as the "Horizon Rush Takeover", the event centers on the challenges — speed traps and zones, danger sign jump, drifts, and cross country trailblazers — that the Horizon Rush Outpost offers.
Along with the theme there's new cars, new items and a range of brand new Accolades to earn, although you will have to unlock the Rush Outpost via the Canyon Expedition first.
In total there'll be 16 more Stunts across the map, four of which will remain once the festival moves on to Series 6 at the end of the month. There's also a transformation of the Horizon Stadium into a special Stunt arena.
Series 5
The Series rewards remain as they are across all four weeks, but this week you should be looking at picking up the first of them.
A special Forza Edition Mini awaits for anyone picking up 80 points across the Series — a much lower threshold than we've previously seen, reflecting the reduced points in the rather specialist Playlists.
This resto-modded car packs some 235hp, but all of those ponies are electric; the Mini FE is an EV, with a battery pack instead of a petrol-powered A Series engine or any one of myriad other fuel-burning power units.
Not content with just making it go with a motor, the Mini actually has two of them, with one on each axle. That makes it an all-wheel drive car and, though technically a sedan, it slots into the Super Hot Hatch category as a result.
Forza Edition cars all come with a skills modifier, and you'll be unsurprised to learn that, given the theme of S5, it's a Stunt Skills boost.
You'll have to wait a while to pick up the higher-tier reward; it certainly won't arrive this season, as there's just not enough points.
It's the Porsche 917 LH, and rather more precisely it's the car which finished second at the 1970 24 Hours of Le Mans.
The flat-12-powered 917 "hippie car" spots the longtail body — "Langheck", or "LH", being German for longtail — with the aero benefits making it good for speeds of up to 240mph at the event. Only another 917 came between this car and the race win.
You'll be able to pick it up later in the Series for 160 points, although that's an appreciable fraction of the 208 points available. If you have cash to burn but not time, it's also available in the Autoshow for 15 million credits…
Series 5 will run through to 1430 UTC on Thursday, March 31, with the Summer season lasting until the same time on Thursday, March 17.
Autumn
For Autumn there's two distinctly different cars available, although neither is entirely at home on a public road.
The Toyota 4Runner TRD Pro is a highly specialized off-roader, built out of a machine already pretty good at heading into the wilderness.
It existing abilities are enhanced with brand new TRD suspension, which is tuned for getting over stuff rather than TRD's usual remit of making things go fast. There's thick skidplates to protect the underside if you somehow run out of space under the car, and it's pretty much ideal for some of the terrain in Horizon's Mexico.
You'll only need 20 points in this Season's Playlist to score the 4Runner — which is exclusive to the Playlist for now — and you will need it to pick up maximum points too as there's a Daily Challenge involving it.
However the second car very much deals with speed — so much so that it's not even road legal any more.
Ferrari's FXX K is essentially a development of its already ludicrously quick LaFerrari, and succeeds the Enzo-based FXX as the ultimate track toy from Maranello.
It combines a mildly reworked version of the V12 hybrid powertrain, now good for more than 1,000hp, with a serious diet and some massive wings for high-speed downforce.
There's also some F1 tech in the car too, lifted from Scuderia Ferrari's 2014 F14T. It's all rather excessive for the streets of Mexico.
You can grab the FXXK from the Playlist for 40 points this season, although it is also available for 2.7m credits in the Autoshow if you miss out.
There are only 52 points on offer this season, and you will need to have access to online multiplayer — an Xbox Live Gold subscription, or playing on PC — to complete the Season, and indeed to win the Ferrari.
Forzathon Events
There's some more stunt-themed action in the Forzathon Weekly Challenge this week, which features perhaps one of the most inappropriate cars to be jumping around if you value your life and limbs. Grab the BMW Isetta 300 microcar to get Bubble Trouble started off.
Naturally you'll then need to show off its performance potential by zipping through any Speed Trap at 55mph or better. Interestingly, this stage seems to require a completely standard Isetta, with community reports of tuned or even painted cars not triggering completion.
Stage three then requires you to score four stars in total across any kind of PR Stunts — and we know there's plenty of drift tunes out there for the machine, so Drift Zones will probably be a safe bet. Tuned cars are eligible from this point forward.
Finally you need to go out and get a two-star score at any Danger Signs across the map. We reckon that sticking the landing in this tiny metal coffin will be a bigger challenge than getting the speed up for two stars.
Survive it all and you'll score five points towards your seasonal total and 80FP.
The stunts unsurprisingly carry over to the Daily Challenges, each worth one point for your season total and 10FP, and coming in at one each day over the course of the week.
You'll start the challenges off with What a Treet. It's a photo challenge that will require you to take a picture at the new Jungle Traversal Trailblazer start gates, located just northeast of the Aerodromo en la Selva airstrip.
For Drift Off on Friday, you'll need to head to the new Stunt Park inside the Estadio Horizon and earn eight Drift skills. Just get the car sliding about and you'll pick these up in no time; get five really good "Ultimate" ones in and you'll also pick up a time-limited Accolade.
The weekend starts with Perfection. Not the Michael Fassbender meme, but a challenge to earn a total of 300mph across any Speed Traps in a Cult Classic car. You don't need to get this all at once; you could run through three at 100mph each, for example.
Sunday's challenge is a Turkey, but sadly not the roast kind. You'll need to go back to the Stunt Park and score three "Strike" skills. As you get one each time you knock over a bowling pin, smack into three of the dozens littering the arena to take the point.
Running Machine will start off next week's action on Monday. You'll need to hit up Danger Signs in the Toyota 4Runner, which means scoring 20 points across other events this Season first. Once you're in the car, jump as far as you can through these specific stunts to accumulate a distance of 1,220m (4,000ft).
It's back to the Stunt Park on Tuesday for Air Time. Score an Ultimate Air Skill — basically a jump where you stay in the air for a really long time — to pass. If you blast straight into the arena from either the west or east entrance and hit the central ramp, you'll easily achieve it.
Finally you'll need to earn two stars from any Trailblazers in any Mustang to beat the Animal Crossing challenge on Wednesday.
Season Events
It's all about the stunts again in this Season's main events, with another five to fill up your time. There's one of each type of PR Stunt — Danger Sign, Drift Zone, Speed Trap, Speed Zone, and Trailblazer — each worth two points and mostly new for this season..
The Arbolada Drift Zone, down near the Gran Puente bridge, is not one of the new ones. Grab any S1 Class (801-900PI) Drift Car and hit a score of 75,000pt on one run to pass and win a Ford Mustang RTR.
San Juan Jump is a new Danger Sign which sees you leap over the church at San Juan. You'll need any UTV in the A Class bracket (701-800PI), and your target distance is 91m to take the points and a Black Danger Sign Tee clothing item.
The Speed Trap at Pantano Pass could prove a tricky one this week. Even though the 110mph target isn't that high, you'll need to achieve it in a C Class (501-600PI) Chevrolet. We'd suggest a good run from the south end to claim your points and a Black Speed Trap Tee.
For the other two challenges you'll win a Wheelspin. The first is the Camino del Cielo Speed Zone, a new zone located at the north end of the map, above Copper Canyon. You'll want to run west to east, to take advantage of gravity, as you aim for a 105mph average in any A Class Rods & Customs.
Finally there's the Trailblazer at Jungle Traversal. This is also a new spot, and also appears as a Daily Challenge too — just photograph your car as you start the run. You've got a gentle target time of two seconds remaining, which should be easy enough even in the B Class (601-700PI) Offroad vehicle required.
One last event this week is an EventLab creation. This starts at the Aerodromo Drag Strip, at the easternmost end of the Aerodromo en las Selva runway, and consists of an obstacle course set through the airfield and out towards Costa Rocosa. Win the race against the AI and you'll take three points and a Green Pinata Head clothing item.
Danger Sign: San Juan Jump
Car: A Class, UTVs
Location: San Juan, San Juan Jump
Challenge: 91m
Reward: 2 points, Black Danger Sign Tee
Drift Zone: Arbolada
Car: S1 Class, Drift Cars
Location: Gran Puente, Arbolada
Challenge: 75,000pt
Reward: 2 points, Ford Mustang RTR #88
Speed Trap: Pantano Pass
Car: C Class, Chevrolet
Location: Riviera Maya, Pantano Pass
Challenge: 110mph
Reward: 2 points, Black Speed Trap Tee
Speed Zone: Camino del Cielo
Car: A Class, Rods & Customs
Location: Hotel Mirador Balderrama, Camino del Cielo
Challenge: 105mph
Reward: 2 points, Wheelspin
Trailblazer: Jungle Traversal
Car: B Class, Offroad
Location: Aerodromo en la Selva, Jungle Traversal
Challenge: 2s
Reward: 2 points, Wheelspin
EventLab: Escape
Car: A Class, Sports Utility Heroes
Location: Aerodromo en la Selva, Aerodromo Drag Strip
Challenge: Win the Race
Reward: 3 points, Green Pinata Head
There's only two online multiplayer events in this part of the Playlist this week, with Seasonal Playground Games returning to join The Trial. As usual, you'll need to either play on PC or have an active Xbox Gold subscription to take part in these.
Playground Games will pit you and up to five team-mates against a squad of fellow humans as you battle over games of Zombies, Flag Rush, and King in a confined arena.
This week's venue is the rather pyramid-packed (or rather ziggurat) Ek'Balam. You can use any Jeep vehicle tuned to fit into the A Class (701-800PI) for the event.
Simply complete the event — winning isn't necessary, even if it's fun — to win the overall prizes of three points and an AMC Gremlin. That might will come in very handy for the Daily Challenges…
The Trial is usually the most difficult event on the Playlist. It's a multiplayer challenge where you and up to five other people race against a pack of "Unbeatable" rank AI Drivatars across a series of three races.
Beating the AI is one thing, but making sure your team-mates also beat as many AI cars as they can without obliterating each other (or you) is the really hard part.
You will, as a team, need to outscore the AI in order to win; each driver on each team gets 100pt for every opponent they beat, with a 50pt bonus awarded to the winning car overall as a tie-breaker. That means that sometimes it's better to drop back a bit and hinder an AI car so your team-mates can pass it, rather than chasing down an AI ahead of you.
This week it's a Road Racing Series event for any A Class (701-800PI) Audi vehicle, so hopefully everything should be nicely under control. Come on top over the three races and you'll take 10 points and an Audi R8 V10 Plus.
Seasonal Playground Games: Jeep Thrills
Car: A Class, Jeep
Location: Ek'Balam
Challenge: Complete the event
Reward: 3 points
The Trial: All Wheel Adventure
Car: A Class, Audi
Location: Guanajuato, Panoramica Sprint
Challenge: Win the Championship
Reward: 10 points, Audi R8 V10 Plus
Challenges
There's a pretty packed set of Challenges this week, with Collectibles and a Treasure Hunt both joining in the action.
This week's Treasure Hunt clue, for a challenge called Incey Wincey Spyder, is "see the stars by taking your spyder for a high jump, but beware of the river, we don't want to wash the spyder out".
That should direct you to a new Danger Sign location for the Season, Salto de Rio. This is located on the south side of the reservoir at Sierra Verde, just north of Super7. The picture hint and clue also let you in on the fact you'll need a Porsche 918 Spyder.
Go full send and get the Porsche to jump across the river and you'll earn a Treasure Clue — a red map marker not unlike the undiscovered Barn Find marker that guides you to a treasure chest. This week it's located at a jetty nearby, on the south side of the reservoir, overlooking the dam and sunken church.
Smash that open and you'll score three points and earn 50,000cr.
The Photo Challenge for the week, #WingIt, is also Danger Sign-related. Grab the Zenvo TSR-S and head to the Metal Bird Danger Sign at the Aerodromo en la Selva. Take a snap and you'll score two points and a "This is Fine" Forza LINK message.
Collectibles will send you out to smash up pinatas. You only need to hit ten of the "tank" scoring pinatas — the happy FH5 mascot, rather than the nasty cactuses — in EventLab or Horizon Arcade Wreckage events. Complete the task and you'll win three points and a "Tanks For The Memories" Forza LINK message.
That leaves one online multiplayer challenge and, for once, it's not The Eliminator. Instead it's a Horizon Open Drifting event.
Open up your pause menu, go to Online, select Horizon Open and then Open Drifting. Now just rack up 50 Drift Skills of any kind — you don't even need to do it in one sitting — to pass the event and score two points and a "Driftacular" Forza LINK message.
Monthly Rivals also remains on the list as it will for all four weeks of the Series. It doesn't matter when you complete it, as doing so adds four points to each of the four seasons, even backdating it to expired Seasons.
The event takes place at the Lookout Circuit near the Horizon Rush Outpost — the core of the themed events this Series — and you simply need to set a clean lap in the KTM X-Bow GT4 provided.
Collectibles: Tank You!
Cars: Any
Location: Horizon Arcade/EventLab
Challenge: Smash 10 Tank Pinatas in Horizon Arcade Wreckage events or EventLab
Reward: 3 points, "Tanks for the Memories" Forza LINK
Photo Challenge: #WingIt
Cars: Zenvo TSR-S
Location: Aerodromo en la Selva, Metal Bird Danger Sign
Challenge: Photograph the Zenvo TSR-S at the Metal Bird Danger Sign
Reward: 2 points, "This Is Fine" Forza LINK
Treasure Hunt: Incey Wincey Spider
Cars: Porsche 918 Spyder
Location: Cordillera, Salto de Rio Danger Sign
Challenge: Score one star at the Salto de Rio Danger Sign, find the Treasure Chest
Reward: 3 points, 50,000cr
Horizon Open: Drift King
Cars: Any
Location: Horizon Open Drifting
Challenge: Score 50 Drift Skills in Horizon Open Drifting
Reward: 2 points, "Driftacular!" Forza LINK
Monthly Rivals: Lookout Circuit
Cars: KTM X-Bow GT4 (Provided)
Location: Lookout Circuit, Horizon Rush Outpost
Challenge: Post a Clean Lap
Reward: 16 points (4 added to each season)
Forzathon Shop
There's new items in the Forzathon Shop for the new season, with some very rare machinery on offer.
Leading the way is the Lamborghini Sesto Elemento. The name, "Sixth Element", refers to carbon, hinting at the quantities of carbon fiber used in constructing the Gallardo-based track toy, which results in a weight of under a ton.
Lamborghini only made 20 of these cars, selling at $3m each. The in-game version is available in the Autoshow at 2.5m credits, so the 700FP prize here might look attractive.
Your other car choice this week is the limited run Subaru Impreza 22B homologation special. Designed as the basis of Subaru's World Rally Championship car, the 22B sports a bigger engine and much wider body than a regular Impreza Coupe.
It's quite a hard car to find, as it doesn't show up in the Autoshow at all. Even so, 450FP for a B Class vehicle isn't cheap, but at least you're not relying on the luck of a Wheelspin.
Store items this week are the Confetti Cannon Horn and Silver Leather Boots for your avatar, at 75FP each. The Wheelspin (80FP) and Super Wheelspin (300FP) take their usual spots too.
See more articles on Forza Horizon 5 Season Change.