Series 6 of Forza Horizon 5 continues today with a new season, as Mexico moves into its stormy Autumn.
It's the second week of the S6 theme of "Horizon Customs", a celebration of all things modified. That covers not only cars but events too, courtesy of the game's powerful EventLab tool.
That means we'll be seeing more community creations on the Playlist this week, as well as a renewed focus on the online multiplayer thanks to the new Custom Race option.
If you haven't already seen it, Drift Club returns with S6, as FH4's sliding expert Rob opens up a new club in Mexico. This new Horizon Story is part of the Monthly Challenge across the Series, so you'll want to get it cleared before Series 7 makes its debut.
As usual the Series also sees new cars, new collectibles, and new EventLab props to play with, and new Evolving World Accolades too.
There's more to play for on the Playlist compared to recent months too, with 230 points now available across the four week. Reduced prize thresholds introduced in S4 remain though, and with the Exclusive cars all available for the lower value you can still pick up more for less.
Series 6
Our new Series reward cars remain as they were when introduced last week, but you'll be aiming to score the first of them this week. Neither is a Playlist exclusive, but you'll be able to score them for free rather than spending a significant amount of money to own them.
The Honda NSX-R GT is first up, and available for 80 points across the season. It's based on the "regular" Honda NSX-R, but it's longer and wider, with some extra aerodynamic accoutrements.
That's because it was intended to homologate a new body in order for the NSX to compete in the Super GT series. The obvious "snorkel" mounted on the engine cover was there to shovel cold air into the engine, but only on the race car; it didn't actually function on the road model.
Despite having no more power or weighing any less than the NSX-R, the GT came with a pretty steep $300,000 price tag for each of the five examples Honda made.
It's appropriately hard to find in FH5, as only a Forzathon Shop/Playlist car, and if you can find it in the Auction House it's probably up for 20 million credits. That makes it well worth scoring the points required across the month.
Although a good deal cheaper and easier to find, the 11 million credit Ford GT40 MkII is still a solid prize for the higher tier 160 point reward.
It was the first Ford to win the 24 Hours of Le Mans, after the American brand set out to smash Ferrari at the event following a failed attempt to buy it out. Ford would go on to win four in a row, with the GT40 and the later Mk IV J-car, but 1966's win was the first.
The FH5 car is the winning machine of Bruce McLaren and Chris Amon, which beat the second-place #1 of Ken Miles and Denny Hulme by a matter of yards. That was because Ford tried to stage a photo finish, but under endurance regulations the #2 had traveled further due to starting behind the #1.
Series 6 will run through to 1430 UTC on Thursday, April 28, with the Autumn season lasting until the same time on Thursday, April 14.
Autumn
For Autumn there's a pair of high-performance exotic cars on offer as you rack up the Playlist points.
At 20 points you can score the Playlist-exclusive McLaren 765LT. It's based on the already rapid McLaren 720S but, as the name suggests, it comes with more power and more length.
McLaren uses the "LT" name to distinguish its "longtail" cars. The first was its FIA GT Championship-winning GT1 racer, the F1 Long Tail, which sported two extra feet of bodywork, all at the rear, to improve stability at speed.
While the 765LT is longer than the 720S, it's only by two inches and — oddly — most of that is actually at the front. Nonetheless, with an extra 45hp and more downforce, it covers the ground quicker than the base car.
Ferrari's Enzo Ferrari is available for 40 points. This supercar, named for the company's late founder, followed in the mold of the F40 and F50 as the brand's tip-of-the-spear performance offering, mixing F1 tech with road car manners.
Any machine named after a figure like Ferrari himself has to be pretty special, and indeed the Enzo was. With over 650hp and active aerodynamics — and this was back in 2002 — it was the quickest and fastest car the brand had ever made at the time.
While you needed an invitation to buy one originally, and that only went out to people who owned both an F40 and an F50, you can simply buy one from the FH5 Autoshow for 2.8 million credits. That means you won't miss out if you can't score the 40 points this season, but you will save yourself a few credits.
Forzathon Events
For this season you'll be driving the original generation of Mazda MX-5. Pick up the 1994 model car to get Sports Car Supreme underway.
You'll be living out the custom theme for the next stage, by tuning your Mazda up to A Class (701-800 PI) and winning any three Road Racing Series events. Both circuit and point-to-point should count.
Next up you'll need to apply a coat of paint to modify your car more; it's not clear whether already painted cars will pass this stage automatically or not, but we'll clarify when we can.
Finally just take a photo of your MX-5 to finish up, and win the five season points and 80FP (doubled to 160FP if you own the La Casa Solariega player house).
Upgrades and custom events litter the Daily Challenges too. There's a new challenge each day at 1430 UTC, with seven days to complete the task, awarding one point for your season total and 10FP each time.
Autumn's tasks start with Challenge Accepted. Find and complete any challenge card (marked on the map by the hexagonal Super 7 car logo) to pass this test.
Watering Hole follows that on Friday. Head to the Cascadas de Agua Azul waterfalls, near the Horizon Wilds Outpost, and take a photo of the cataract to complete it.
The weekend will start with Classically Trained. You'll need to play any Event Blueprint featuring Classic Sports Cars. The best way to do this is to hit up the pause menu, go to Creative Hub, EventLab, and select Event Blueprints. Use the search feature to find any event with Car Type set to Classic Sports Cars, and race it to end the task.
New Ground is Sunday's trial, and you'll need to win any Dirt Racing Series race in a Retro Rally vehicle which has been tuned into the A Class (701-800 PI) performance bracket.
On Monday you'll be celebrating Italian Powerhouse by spending 15,000cr on upgrades for any Italian vehicle. This will require new expenditure; already tuned cars don't contribute towards the event.
Take a Brake is the penultimate challenge for the week. Just paint any vehicle's brake calipers — again, this will need to be applied after the challenge starts — to pass the test.
Finally there's You Rock! Take a photo of Copper Canyon, at the north-east edge of the map, to tick this last challenge off.
Season Events
EventLab is again a particular focus this Season, with another two of the player-created challenges this week. As with Summer there's also three PR Stunts and a Seasonal Championship to complete the single-player offerings.
Bounce House v2 is the first of the EventLab races, and it features a course around the airport made up of high platforms, halfpipes, and — you guessed it — bounce pads. Simply finish the three lap course in any B Class (601-700 PI) Super Hot Hatch to claim three points and a Builder's Helmet clothing item.
Any B Class (601-700 PI) car will do for the Pinata Power! v1 race. This neat point-to-point road race is littered with pinatas which affect your car's power. Hit the bad cactus pinatas and you lose power, hit the good "tank" pinatas and you gain power — and you can force the AI into hitting the bad ones, for added fun.
Win the race and you'll take three points and a 1981 Ford Fiesta XR2 as a prize.
The three PR Stunts for the week consist of a Drift Zone, a Speed Zone, and a Trailblazer. Each awards two points and a Super Wheelspin.
For the Trailblazer you'll need any B Class (601-700 PI) Hot Hatch. Head to the Granjas start point near San Juan and complete the course with 18 seconds to spare to win the prizes.
The Drift Zone might be a little tricky this week. You can use any A Class (701-800 PI) Modern Muscle car, but you'll need to hit the East Coast zone's three-star requirement of 130,000 points in order to clear the challenge.
It should be a little easier to manage the Speed Zone, as the performance bracket is quite high and the target speed is on the low side. Grab any S1 Class (801-900 PI) Retro Supercar and run an average speed of 140mph through the Punta Allen zone to score the rewards.
Finally there's the Seasonal Championship, Creative Spark. This three-race series against Highly Skilled AI Drivatars will see you racing D Class (up to 500 PI) Cult Cars in a Road Racing Series championship.
Come out on top of the points table after the three rounds and you'll take five points and a 1999 Lotus Elise.
EventLab: Bounce House v2
Car: B Class, Super Hot Hatch
Location: Aerodromo en la Selva, Airfield Cross Country Circuit
Challenge: Finish the Race
Reward: 3 points, Builder's Helmet
EventLab: Pinata Power! v1
Car: B Class
Location: La Selva, Sierra Verde Sprint
Challenge: Win the Race
Reward: 3 points, Ford Fiesta 1981
Drift Zone: East Coast
Car: A Class, Modern Muscle
Location: Playa Tranquila, East Coast Drift Zone
Challenge: 130,000pt
Reward: 2 points, Super Wheelspin
Speed Zone: Punta Allen
Car: S1 Class, Retro Supercars
Location: Costa Rocosa, Punta Allen Speed Zone
Challenge: 140mph
Reward: 2 points, Super Wheelspin
Trailblazer: Granjas
Car: B Class, Hot Hatch
Location: San Juan, Granjas Trailblazer
Challenge: 18s
Reward: 2 points, Super Wheelspin
Seasonal Championship: Creative Spark
Car: D Class, Cult Cars
Location: Hotel Mirador Balderrama, Riviera Sprint
Challenge: Win the Championship
Reward: 5 points, Lotus Elise 1999
There's only a single online multiplayer event this week, as only The Trial makes the cut. As usual, you'll need to either play on PC or have an active Xbox Gold subscription to take part in it.
You'll team up with up to five other players as you race against six "Unbeatable" rank AI Drivatars in a three-race series. The challenge comes in part from the difficult-to-beat AI, but also your human team-mates.
Winning is a matter of teamwork rather than individual speed. Humans will gain 100pt for every AI they beat (and a 50pt bonus for a race win), while the AI gain 100pt for every human they beat. Getting the maximum 650pt is therefore meaningless if you're followed home by a train of 'bots.
Sometimes it's a better tactic to drop back and block one (or several) AI cars in order to help your team pass them (and you) than to struggle to chase down one AI ahead of you.
This week the championship features any car at all so long as it fits into the C Class (501-600 PI) performance bracket. That should help the racecraft, as slower cars don't crash quite so hard.
If you can succeed over the three races, you'll take ten season points and a Ford GT '05.
The Trial: Artistic Expression
Car: C Class
Location: El Estadio Horizon, Estadio Circuit
Challenge: Win the Championship
Reward: 10 points, Ford GT '05
Challenges
There's another big list of Challenges this week, with more Horizon Open events featuring to nudge players into discovering the new levelling system and Custom Race options. Horizon Open will require an active Xbox Live Gold subscription, or playing on PC, to access.
For Dust Off you'll need to enter and complete any Horizon Open Custom Race in the Dirt Racing category. Tap the pause button, pick Online from the top menu, then Horizon Open and Custom Race.
Select "Dirt" and any car performance class you like. When there's a sufficient number of other people looking for the same thing you'll be dropped into a race hopper. Simply complete the race and you'll take two points and a Subaru WRX 2015.
Level Up! will require you to earn three levels in Horizon Open. Any Horizon Open event will do, and if you haven't raced, drifted, or gamed in any of them yet you'll find that gaining three levels is pretty easy to complete — possibly even doable in a single race. Complete the task to take two points and a Police Siren horn.
The Eliminator also returns, and also requires online multiplayer access. As usual, just finish 30th or better — commonly just a matter of surviving two minutes — and you'll take the prizes. This week that's two points and a Super Wheelspin.
There's another Photo Challenge this week featuring one of the game's many murals. #FlyTheCoupe will require you to snap the BMW M2 Coupe in front of the Raul Urias mural in Colinas Aridas.
This one can be tricky to find, but it's just south-west of the stadium near the crossroads for the Cruce del Valle street race and an XP board. Take the photo to win two points and a "relaxed fit tee" clothing item for your avatar, designed by the same Raul Urias.
That leaves a Treasure Hunt, Double Up, and the clue looks like a bit of a head-scratcher. It reads "Special offer! Buy a new upgrade and get 200 miniature party hats for your Gremlins!".
Sounds odd, but it appears to be guiding you towards upgrading an AMC Gremlin so that it will hit 200 miles per hour (the same abbreviation as "miniature party hats"). Complete that and you'll unlock the hint: a red circle on your map which shows you roughly where you'll find the treasure chest.
This week that's located in Guanajuato, which makes it particularly hard to find the chest — especially as it's technically in one of the city's tunnels. Look just southeast of Panoramica Sprint and smash it to take the three points and a Painter Hoodie clothing item.
Finally there's two Monthly Events, as the usual the Monthly Rivals is joined by a new Horizon Story: Drift Club Mexico.
For those of you familiar with Drift Club from Forza Horizon 4, this Story is more of the same but in Mexico. Your FH5 host, Rob, has made the trip to a new continent to get the sliding society started up again, and completing it counts towards your Playlist this Series.
There's six chapters of the story in total, with 18 stars possible. Work through all six and score the maximum at any point during the four-week Series and, regardless of when you complete it, you'll get three points added to each season (12 in total), as well as a Mustang Mach-E 1400 as a bonus prize.
The regular Monthly Rivals challenge also runs across all four weeks of the Series as usual. You can complete it at any time, gaining four points in each of the four seasons (16 in total). In both cases it's backdated if you complete it later in the Series.
This month the Rivals challenge is a lap around the Emerald Circuit, up at Palacio Azul del Oceano. Complete a clean lap in the Ascari KZ1R provided to win the points.
Horizon Open: Dust Off
Cars: Any
Location: Horizon Open Custom Race
Challenge: Complete a Dirt Racing Horizon Open Custom Race
Reward: 2 points, Subaru WRX 2015
Horizon Open: Level Up!
Cars: Any
Location: Horizon Open
Challenge: Earn 3 Levels in Horizon Open
Reward: 2 points, Police Siren Horn
The Eliminator: Battle Royale
Cars: Any (provided)
Location: Valle de las Ranas, The Eliminator
Challenge: Finish 30th or better
Reward: 2 points, Super Wheelspin
Photo Challenge: #FlyTheCoupe
Cars: BMW M2 Coupe
Location: Colinas Aridas
Challenge: Photograph the BMW M2 Coupe at the Raul Urias Mural in Colinas Aridas
Reward: 2 points, Raul Urias Relaxed Fit Tee
Treasure Hunt: Double Up
Cars: AMC Gremlin
Location: Any
Challenge: Reach 200mph in the AMC Gremlin, locate the Treasure Chest
Reward: 3 points, Painter Hoodie
Horizon Story: Drift Club Mexico
Cars: Provided
Location: Horizon Festival
Challenge: Earn 18 Stars in Drift Club Mexico
Reward: 12 points (3 added to each season), Ford Mustang Mach-E 1400
Monthly Rivals: Emerald Circuit
Cars: Ascari KZ1R (Provided)
Location: Palacio Azul del Oceano, Emerald Circuit
Challenge: Post a Clean Lap
Reward: 16 points (4 added to each season)
Forzathon Shop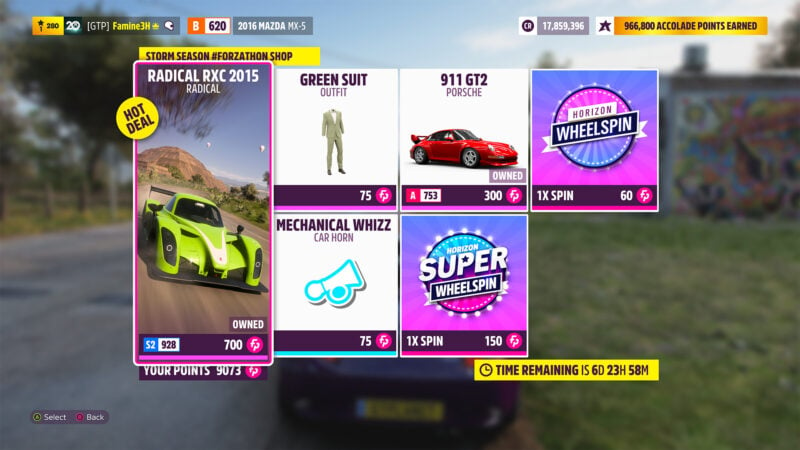 The Forzathon Shop has also refreshed for the week, with two high-performance, track-focused road cars on offer.
That description is stretched to its very limits with the first vehicle, the Radical RXC. Although it looks for all the world like some kind of mad, tiny Le Mans Prototype, it is actually — depending on your specification — a fully road-legal car.
Made in, where else, the United Kingdom by Radical Sportscars, the RXC is largely derived from the brand's SR9 LMP2 car, albeit with a closed cockpit (a rarity from Radical) and a 3.7-liter V6 Ford Mustang engine. In this model, that's turbocharged too, because why wouldn't it be?
It's a pretty crazy concoction which will set you back 700FP and as the car is both natively in S2 class and unavailable outside of Playlists, Wheelspins, and the Forzathon Shop, probably worth the price.
At 300FP the Porsche 911 GT2 1995 is a good deal cheaper, but it's also readily available from the Autoshow for 550,000cr. While it does sport a little bit of intrigue in that it has the Hoonigan RWB Porsche hidden within its skill tree, we'd recommend paying cash instead of points for it.
Store items this week are the Mechanical Whizz Horn and a Green Suit outfit for your avatar, at 75FP each. The Wheelspin (80FP) and Super Wheelspin (300FP) are in their usual spots too.
See more articles on Forza Horizon 5 Season Change.