Summer has arrived again in Forza Horizon 5's Mexico, and that means it's time for a brand new Series.
Like every other Series before it, Series 8 has a special theme upon which many of the Playlist events are based across all four weeks. This month's theme is "German Automotive Excellence", a celebration of the cars that come from one of Europe's biggest industrial powerhouses.
Across this Series you'll be driving in as many German cars as you can possibly manage, and the prizes throughout the four weeks look to be either German vehicles or customization items.
That means you'll be getting rather familiar with the best of Audi, BMW, Mercedes, Porsche, and Volkswagen, among others.
There's three new cars in the Series, all available to win through the Playlist, with the Audi RS4 Avant 2018, Mercedes-AMG GT S, and Porsche 911 992 GT3 2021 all prizes for 20 points in individual seasons. An appropriate Evolving World Accolade is also available for owning all three.
Series 8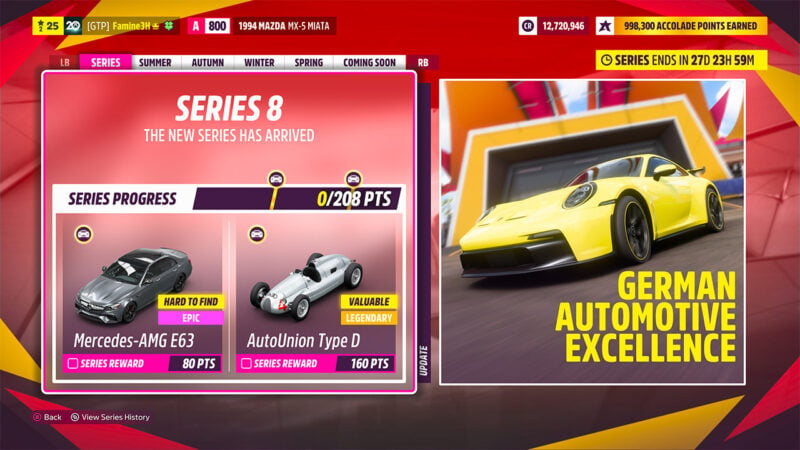 As the theme for this month is "German Automotive Excellence", it's probably no surprise that the series rewards hail from the country. Neither is exclusive to the playlist, but both will make a fine addition to your collection.
Score 80 points across the Series and you'll win a Mercedes-AMG E63. This big sedan comes with a pretty big engine in the form of AMG's four-liter, twin-turbo V8 — perhaps not as big as when the car originally got its name (although even then it was a 6.2, not a 6.3), but with over 600hp it's no slouch.
It's a car that you can't buy in FH5, as it doesn't appear in the Autoshow at all. That means the small amount of points needed this week is probably a better way than waiting for it to show up on a Wheelspin, or in the Forzathon Shop.
You certainly can buy the higher-tier reward car, but you'll need very deep pockets. The Auto Union Type D comes in at 15 million credits, so it's well worth trying to max out your points each season this Series to score the 160 required.
It's one of the most famous and most successful pre-war grand prix cars, with a twin-screw V12 delivering close to 500hp to the rear wheels. Auto Union, one of several brands that formed the later Audi brand, just about mopped up the grand prix circuit with its cars, and the D scored victories at Reims and Monza.
The Summer season runs through to 1430UTC on Thursday June 2, while Series 8 will continue on until the same time on Thursday June 23.
Summer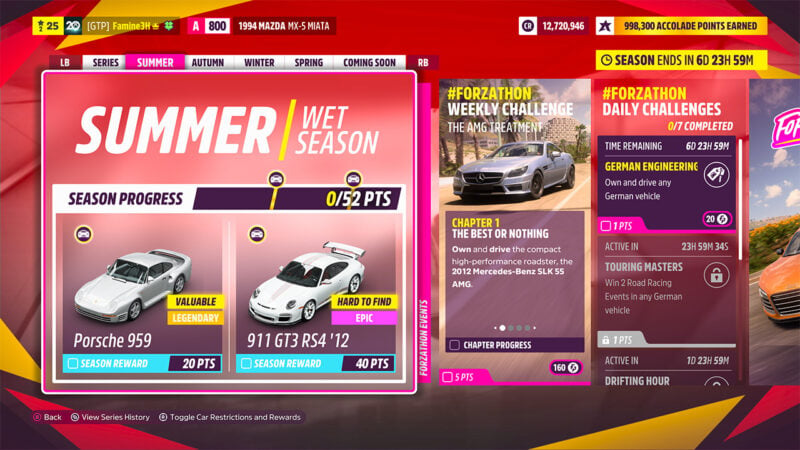 It's all about Porsche in the first rewards list for Series 8, with two of the brand's sportiest offerings available. Neither is a Playlist exclusive, but they'll save you a good chunk of coin by earning them this way.
First up for 20 points is the 959. This was really the first supercar produced by the brand, although the fact it's rear-engined and four-wheel drive might make supercar purists a bit cross.
It was a technical masterpiece, combining everything Porsche knew about making the 911 go fast with semi-sibling brand Audi's proof of the power of four-wheel drive in rally.
The result was a Group B homologated racer that was at home pretty much anywhere. That included back-to-back Dakar rally wins and — in track-racing 961 guise — a run at Le Mans. The road car could hit a handy 198mph, making it the fastest production car in the world at the time, although some variants could go faster still.
For 40 points you can pick up the Porsche 911 GT3 RS 4.0. This car acted as a send-off for the 997-generation GT3, by fitting it with a larger, four-liter engine instead of the 3.8 in the regular GT3 RS.
That resulted in close to 500hp, and with chassis and aero improvements derived from the turbocharged GT2 model, it was the quickest GT3 around at the time.
Porsche only made 600 cars in total, but of course FH5 doesn't impose a similar limit. As the RS 4.0 isn't available in the Autoshow, it's a good chance to pick it up — but you will need to either play on PC or have an Xbox Live Gold subscription to pick up enough points.
Forzathon Events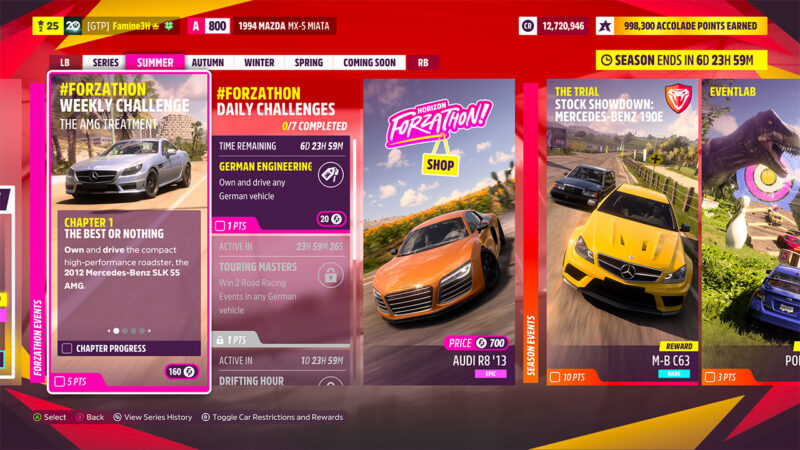 The German theme pervades the Playlist this month, starting with the Weekly Challenge The AMG Treatment. Own and drive the Mercedes-Benz SLK55 AMG to get started.
All you need to do to complete the second stage is take a photograph of your SLK55 — although you might like to wait until Sunday to do this. However you'll then need to score the equivalent of nine stars at any Speed Traps, so you might want to tune the little hardtop convertible for a bit more pace.
Finally, take that hopped-up car to earn and bank a total of 100,000 Skill Score; speed, slide, and smash your way to as many points as you can. Complete that and you'll earn five points and 80FP (doubled to 160FP if you own the La Casa Solariega player house).
The seven Daily Challenges — one new challenge becoming available each day during the season, with seven days to complete each — also focus on German machinery. Each is worth one point to your season total and 20FP (again doubled to 40FP with the same player house).
It's an incredibly easy and almost unavoidable one to start this week. Own and drive any German vehicle to pass German Engineering.
Touring Masters follows on Friday, requiring you to win any two Road Racing Series events using a German vehicle.
You'll then need to pick up 20 Drift or E-Drift Skills (that's a drift you initiate with the handbrake) using the Formula Drift BMW 325i #98 to complete Drifting Hour.
Smile! requires you to photograph any Mercedes-Benz… such as the one you need to photograph for the Weekly Challenge.
For Peak Porsche you'll need to jump far enough to earn five stars at any Danger Signs using the Porsche 914/6.
It's BMW up next, as you'll need to drive ten miles in a BMW Z4 Roadster 2019 to be at One With The Road.
That leaves the final challenge for the week, Going Overboard. Earn three Skillboard Skills by hitting billboards in any German vehicle.
Season Events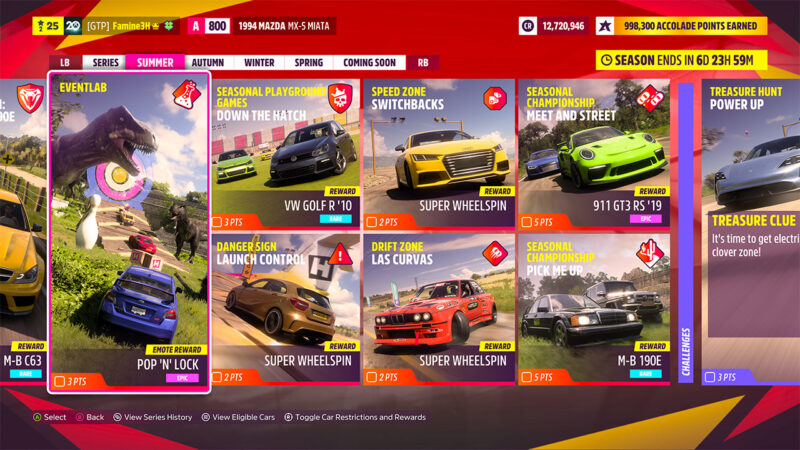 The regular mix of events returns, with two Seasonal Championships, three PR Stunts, two online multiplayer events, and an EventLab challenge — and there's a few links between them.
This week's EventLab is a head-to-head, which will see you racing 1v1 with an opponent at a course made of cargo containers. Grab any B Class (601-700 PI) German car to take part.
You'll need to take care on the relatively narrow circuit, laid out around the main Horizon Festival, as there's plenty of immovable objects sticking out to bring you to a halt at any given moment.
However it's a pretty straightforward loop, and you'll earn three points and a Pop'n'Lock Emote for victory in the three-lap race.
As seems to be the norm now, the three PR Stunts each offer two points and a Super Wheelspin for completion.
The Danger Sign, Launch Control, is also at the main Horizon Festival, and will require you to leap off the ramp propped up against the Festival cargo plane. You'll need to tune the Mercedes-Benz A45 AMG required up to the top of the A Class (701-800 PI) to make the 320m distance.
For the Las Curvas Drift Zone you'll need to head into Tierra Prospera, near the Street Scene Outpost. Although the Formula Drift BMW #98 needed is ideal for the run, you'll need to score 90,000pt — 50% more than the three-star score. You can tune it or leave it stock as it naturally sits in the S1 Class (801-900 PI).
Switchbacks is the Speed Zone on the lower eastern slopes of the volcano. Again, this is one where the car can't quite do the job in stock form, but turn the 2015 Audi TT-S up to the top of A Class (701-800 PI) and you'll be fine. Naturally your best bet would be to make the run downhill and let gravity do some of the work.
The Seasonal Championships run on mixed surfaces this week, with a Street Racing Series event and one from the Cross Country Series. As usual each is a three-race championship against Highly Skilled AI Drivatars.
Meet and Street runs on the blacktop, and requires Audi or Porsche cars in the A Class (701-800 PI) performance bracket. You'll win five points and a Porsche 911 GT3 RS 2019 for overall victory.
For Pick Me Up you'll need something that can handle rough terrain, with B Class (601-700 PI) Pickups and 4x4s required. Come out on top and you'll grab five points and a Mercedes-Benz 190E. Keep hold of this, because you'll need it for The Trial.
EventLab: Shipyard Autocross Battle
Car: B Class, Germany
Location: Horizon Festival, Festival Drag Strip
Challenge: Win the Race
Reward: 3 points, Pop'n'Lock Emote
Danger Sign: Launch Control
Car: A Class, Mercedes-Benz A45 AMG
Location: Horizon Festival, Launch Control Danger Sign
Challenge: 320m
Reward: 2 points, Super Wheelspin
Drift Zone: Las Curvas
Car: S1 Class, Formula Drift BMW 325i #98
Location: Tierra Prospera, Las Curvas Drift Zone
Challenge: 90,000pt
Reward: 2 points, Super Wheelspin
Speed Zone: Switchbacks
Car: A Class, Audi TT-S
Location: La Gran Caldera, Switchbacks Speed Zone
Challenge: 95mph
Reward: 2 points, Super Wheelspin
Seasonal Championship: Meet and Street
Car: A Class, Audi/Porsche
Location: Rio de la Selva, Wetland Charge
Challenge: Win the Championship
Reward: 5 points, Porsche 911 GT3 RS '19
Seasonal Championship: Pick Me Up
Car: B Class, Germany, Pickup & 4x4s
Location: Ek'Balam, Tropico Cross Country
Challenge: Win the Championship
Reward: 5 points, Mercedes-Benz 190E
You will need Xbox Live Gold, or to play on PC, in order to access online multiplayer for the two online events, this week consisting of The Trial and Seasonal Playground Games.
Playground Games is called Down The Hatch this week, which is something of a clue for what car you'll need. Any Hot Hatch will do so long as it's B Class (601-700 PI) and, of course, German.
It's the usual best-of-three set of games, of Infected/Zombies, King, and Flag Rush, as you pair up with five other players to take on a squad of six fellow humans.
Winning isn't necessary to take the prizes, which are three points and a Volkswagen Golf R '10 this week, so just have fun. Also keep that Golf, as it'll come in handy for the Photo Challenge.
There's something of a change to The Trial this series. In order to equalize things, each event this month will require standard cars in stock form only, and for this week's event that will be the Mercedes-Benz 190E. If you don't already have one, you can win one at the Pick Me Up Seasonal Championship above.
How that changes the balance is unknown right now, but the event will still be six humans vs. six "Unbeatable" AI drivatars, so the inability to tune your vehicle might make life harder.
The challenge for The Trial usually comes from your team-mates though. Although The Trial is a team game, rewarding each driver 100 points for every opponent they beat, some players still take a win-at-all-costs approach. Often it's a smarter play to hold up (or crash out) the AI to allow your team-mates to pass than it is to try to overtake one car ahead of you.
However, the 190E is just about at the top of the C Class performance bracket, so the relatively low speeds might make things better. Or at least more controlled in the braking zones.
You'll need to win as a team in the best-of-three Road Racing Series event to take ten points and the bonus prize of a 2012 Mercedes-Benz C63 AMG Black — which might come in useful in a future season…
Seasonal Playground Games: Down The Hatch
Car: B Class, German Hot Hatch
Location: El Estadio Horizon
Challenge: Complete the Championship
Reward: 3 points, Volkswagen Golf R '10
The Trial: Stock Showdown – Mercedes-Benz 190E
Car: Mercedes-Benz 190E, No Upgrades
Location: El Estadio Horizon
Challenge: Win the Championship
Reward: 10 points, Mercedes-Benz C63 AMG Black '12
Challenges
There another compact set of Challenges this week, with a Treasure Hunt and a Photo Challenge, plus the now regular Horizon Open challenge. You will require an active Xbox Live Gold subscription to access the Open event, unless you play on PC.
For the Photo Challenge, #OnCourse, you'll be Golfing while you Golf. Grab a 2010 Volkswagen Golf R — from the Playground Games event above if you don't already have one — and head over to the Club de Opalo de Fuego on the south-west coast. Take a snap to complete the task for two points and the Light Blue High Tops clothing item; sadly there's no bonus for being on the golf course when you do it.
The Power Up Treasure Hunt's clue states that "It's time to get electric in the clover zone!". That doesn't take much effort to decipher, especially with the picture of the Porsche Taycan as the thumbnail.
If you're struggling, you'll need to take the Taycan — it is, after all, the only German EV in the game — and score at least one star in the Tresor (it's Spanish for "clover") Speed Zone on the main highway by the cloverleaf junction. That will generate the map clue: a red circle zone showing you where you will need to look to find the treasure chest.
This week that's close by, between Cordillera and San Juan, under the northenmost electricity pylon in the zone. Smash it and you'll take three points and 100FP.
The Horizon Open challenge is Open Season. It's a simple task: just complete any kind of Horizon Open race event in any German car. The reward is two points and a 2013 BMW M6.
With a new Series comes a new Monthly Rivals event. For this you'll need to complete a clean lap at the event shown on the Playlist — and you can enter it directly from the Playlist screen, to save time.
This month it's a time trial at the Arch of Mulege Circuit, within the town of Mulege. Set a clean lap in the new-to-game Porsche 911 GT3 '21 provided to you — it doesn't need to be fast, just clean — and you'll win four points spread across the entire Series.
You can complete the event at any time during the four-week Series, and it will award one point to each of the four seasons (four in total), backdating it to completed seasons if required.
Horizon Open: Open Season
Cars: Any German car
Location: Horizon Open Racing (any)
Challenge: Complete a Horizon Open race in any German car
Reward: 2 points, BMW M6 '13
Photo Challenge: #OnCourse
Cars: Volkswagen Golf R '10
Location: Club de Opalo de Fuego
Challenge: Photograph the Volkswagen Golf R '10 at Club de Opalo de Fuego
Reward: 2 points, Light Blue High Tops
Treasure Hunt: Power Up
Cars: Porsche Taycan Turbo S
Location: Cordillera, Trebol Speed Zone
Challenge: Score one star in the Trebol Speed Zone, find the Treasure Chest
Reward: 3 points, 100FP
Monthly Rivals: Arch of Mulege Circuit
Cars: Porsche 911 GT3 '21 (Provided)
Location: Mulege, Arch of Mulege Circuit
Challenge: Post a Clean Lap
Reward: 4 points (1 added to each season)
Forzathon Shop
Forzathon Shop is naturally also quite German this week, with three themed items.
Headlining the store is the Audi R8 '13. This monster was Audi's first ever supercar, coming in 4.2-liter V8 and 5.2-liter V10 forms. The car here is the later V10, with a little extra power from its Lamborghini-derived engine as it's the Plus model.
Although many purists prefer the manual V8 model, the noise the V10 makes is hard to argue with, and the R8 brought Audi great success in GT3 racing.
It's not a car you can just buy in FH5 either, so although 700FP sounds like a lot, it's an easy way to get the car into your garage — and doubtless it'll be needed later in the Series.
For 200FP you can pick up the Formula Drift BMW 325i #98, which you'll need in events this week. However you can buy this in the Autoshow for just 300,000cr, so the choice is yours.
Store items this week are the Germany Cap and the Sea of Thieves Theme Horn at 75FP each. The Wheelspin (60FP) and Super Wheelspin (150FP) are in their usual spots too.
See more articles on Forza Horizon 5 Season Change.