Another season has rolled into Forza Horizon 5's Mexico, bringing with it not just storms but a new Playlist for the next seven days.
Series 8 is all about German cars, with all four weeks featuring special events using cars from the country that gave the world the car in the first place.
That means that this week's events will put you behind the wheel of various models from Audi, BMW, Mercedes, Porsche, and Volkswagen. among others.
Naturally all three of the new cars you can win in the Series are also German, with the first of those becoming available this week.
You'll win the Porsche 911 992 GT3 if you hit your targets this week, with the Audi RS4 Avant 2018 and Mercedes-AMG GT S available in the following seasons. A new Evolving World Accolade is also available for owning all three.
Series 8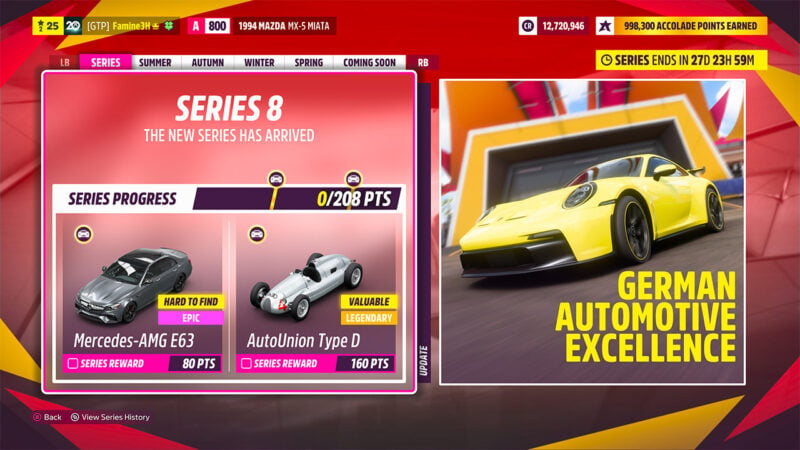 Of course the two series rewards this Series are also German, and while neither is exclusive to the playlist there's certainly good value in winning both.
The lower-tier reward is the Mercedes-AMG E63. It's no supercar, but it's certainly a great way of going very fast indeed in comfort.
Despite the "63" name, the AMG doesn't have a 6.3-liter engine. In fact it never did — the original car was a 6.2 — but the 600hp+, four-liter twin-turbo V8 is the same engine found across the AMG and even Aston Martin range and is plenty to get you into trouble at speed traps.
You can't buy the E63 in the Autoshow in FH5, but it will pop up on the Wheelspin from time to time. That makes the 80 points required to win the car this series a bit of a timesaver — and you should score it this season.
There's even better reason to work up the 160 points for the next car — in fact about 15 million reasons, as that's how much the Auto Union Type D costs if you head to the Autoshow.
As one of the most successful of the pre-war grand prix cars, the Auto Union sported a twin-supercharged V12 good for 500hp, driving it to wins at famous circuits like Reims and the original Monza.
The Autumn season runs through to 1430UTC on Thursday June 9, while Series 8 will continue on until the same time on Thursday June 23.
Autumn
It's your first chance to win a S8 exclusive car this season, as the Porsche 911 992 GT3 pops up as the first reward.
Score 20 points this season and you'll be gifted with the latest generation of GT3. As with every model before it, the GT3 is intended to be the peak of the model's naturally aspirated offerings.
This means the 992 comes with a four-liter boxer six, good for 500hp, along with suspension and aero technology from the 911 RSR GTE race car. All in, it's 17 seconds quicker around the Nurburgring than the 991.2 model before it.
There's something a little older on offer for 40 points, in the shape of the Mercedes-Benz SSK. This car was actually designed by Ferdinand Porsche, making it the fourth successive season reward with a Porsche connection.
The SSK sports a huge, seven-liter straight six, augmented by a supercharger. That's worth 300hp or so, which is a fairly large number for a pre-war road car.
Another fairly large number is its usual price: 7.5 million credits in the autoshow. That makes it well worth aiming for the 40 points this season if you don't already have the car — and you can scrape together enough without online multiplayer this week.
Forzathon Events
Unsurprisingly there's more German-themed action up and down the Playlist this week, with the Weekly Challenge moving on to Audi. You can get "Sport. It's In The Name" started by owning and driving the Audi S1.
The second stage requires you to score ten stars at any PR Stunts. You'll need to hit scores high enough at any Danger Signs, Drift Zones, Speed Traps, Speed Zones, and Trailblazers to rack up the total.
Following this, you're challenged to keep a speed of 150mph or greater for at least ten seconds in the car to pass the next stage. Upgrades are not strictly necessary here, but you'll have an easier time in a tweaked car.
Finally take the S1 to victory in four Dirt Racing Series Scramble events — that's lap-based circuits rather than point-to-point Trail courses. Complete that to earn five points and 80FP (doubled to 160FP if you own the La Casa Solariega player house).
Your seven Daily Challenges all require German cars too. One new challenge will be available each day during the season, and you have seven days to complete each for one point and 20FP (again doubled to 40FP with the same player house).
That all starts with End Game. For this you'll need to complete any Horizon Arcade theme — find the pink Arcade zones on the map — in any German car. Finish stage three, either solo or with other players to score the point… or rather four, as this doubles up with a Season Event.
For Wanderlust on Friday you'll need to play any EventLab race from the Creative Hub in the pause menu in any German car. It's not clear if the EventLab Season Event this week will count towards it, but we'd assume not for the time being.
The weekend's first Challenge is more or less a duplicate. Schnell! requires you to stay over 150mph for 15s or more in any German car; do it in the Audi S1 to double-up with the Weekly event.
Skill Masters on Sunday sets you the task of banking 100,000 Skill Score in any BMW. This is a cumulative total rather than single 100k blast, so should be a breeze.
For Turbo Power you'll need to earn 10 Speed Skills in a 2020 Porsche Taycan Turbo S. We'll gloss over the fact that the car is electric and has no turbo, but if you take a quick highway blast you should be able to combine this with Schnell! if the S1 doesn't work for you.
Das Auto will require you to win any Street Racing Series event in any Volkswagen.
The week's challenges round out with The AMG Way. Score nine stars at any Speed Traps in any Mercedes-AMG model to complete it.
Season Events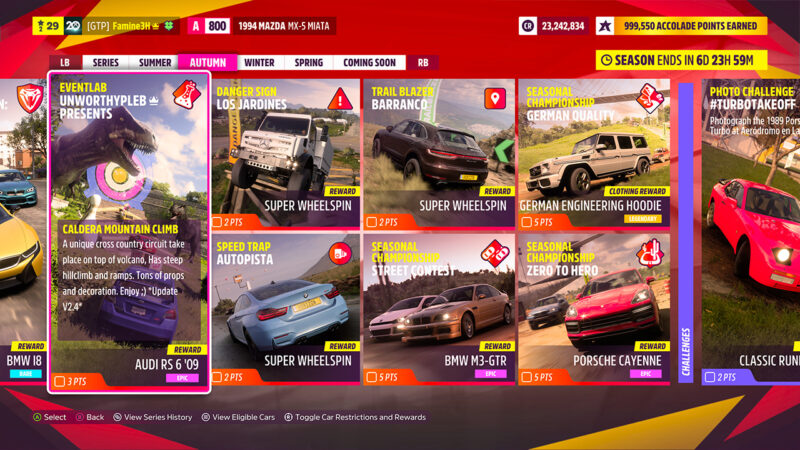 It's a fairly standard spread of events this week, with three Seasonal Championships, three PR Stunts, two online multiplayer events, and an EventLab challenge.
EventLab heads up into the hills for the Caldera Mountain Climb. It's a fairly convoluted circuit set in and around the very peak of the volcano, with some pretty severe jumps, firm landings, and a crossover point which seems to fox the AI opponents. That means it should be a breeze; you'll even lap some of them.
You'll be driving any A Class (701-800 PI) car from the Unlimited Offroad category — German cars not required — for the three-lap race. Complete the event and you'll take three points and an Audi RS6.
As we've seen frequently in recent Playlists, each of the three PR Stunts offers two points and a Super Wheelspin for completion.
This week's Danger Sign, Los Jardines, is one of the longer launches, with the ramp sited in the middle of a traffic circle at the end of the main highway. However, with the D Class (≤500 PI) Unimog, it's still going to be a challenge to hit the 110m target.
Tune the Mog up to the top of the class, take a long run up, watch out for the kink and try to hit the ramp at over 100mph to pass.
The Autopista Speed Trap is also on the main highway, about a third of the way up from the south-west end, and also at the extreme of its type. With the relatively high 206mph target and a relatively low A Class (701-800 PI) limit — German cars only, of course — it will be a challenge; approach it from the north-east for best results.
If all that high-speed driving wasn't quite enough, the Barranco Trailblazer is another that requires a lot of pace — this time gravity-assisted as you blast down the side of the volcano. Although you're limited to a B Class (601-700 PI) Porsche Macan Turbo, and the 35s target is above three stars, a clean run should see you clear.
There's more rough stuff for the Seasonal Championships this week, with an event each from the Dirt Racing Series and Cross Country Series, plus a Street Racing event. The three challenges are all three-race championships against Highly Skilled AI Drivatars.
German Quality will have you racing on dirt tracks in the Dirt Racing Series, with any AWD, German, A Class (701-800 PI) car. Take first place overall and you'll win five points, with German Engineering Hoodie clothing item for you avatar as a bonus.
Meanwhile Zero to Hero will send you across the wilds of Mexico on and off recognized roads. You'll need a "Sports Utility Heroes" car, from Germany, and in the B Class (601-700 PI) performance bracket — like the Macan from the Barranco Trailblazer. A championship win scores you five points and a Porsche Cayenne.
EventLab: Caldera Mountain Climb
Car: A Class, Unlimited Offroad
Location: Gran Caldera, Las Dunas Cross Country
Challenge: Win the Race
Reward: 3 points, Audi RS6 '09
Danger Sign: Los Jardines
Car: D Class, Mercedes-Benz Unimog
Location: Los Jardines, Los Jardines Danger Sign
Challenge: 110m
Reward: 2 points, Super Wheelspin
Speed Trap: Autopista
Car: A Class, German
Location: Cordillera, Autopista Speed Trap
Challenge: 206mph
Reward: 2 points, Super Wheelspin
Trailblazer: Barranco
Car: B Class, Porsche Macan Turbo
Location: La Gran Caldera, Barranco Trailblazer
Challenge: 35s
Reward: 2 points, Super Wheelspin
Seasonal Championship: German Quality
Car: A Class, German, AWD
Location: Gran Pantano, Tulum Trail
Challenge: Win the Championship
Reward: 5 points, German Engineering Hoodie
Seasonal Championship: Street Contest
Car: B Class, BMW vs Volkswagen
Location: Bahia de Plano, Ruta Norte
Challenge: Win the Championship
Reward: 5 points, BMW M3 GTR
Seasonal Championship: Zero to Hero
Car: B Class, German, Sports Utility Heroes
Location: Aerodromo en la Selva, Airfield Cross Country Circuit
Challenge: Win the Championship
Reward: 5 points, Porsche Cayenne
That leaves the multiplayer events, for which you will need Xbox Live Gold, or to play on PC, in order to access. This week it's Horizon Arcade and The Trial, in its new "Stock Showdown" form.
For Horizon Arcade you'll simply need to visit any of the pink Arcade zone circles on the map. Any type — Air, Chaos, Drift, Speed, or Wreckage — will do. Complete all three stages of any and you'll win the three points on offer.
There's no requirement to use a German car for this event — the only such challenge anywhere on the Playlist — but if you do you'll also complete the Daily Challenge End Game.
For this Series, The Trial has changed ever so slightly. The format is the same — a best-of-three event that pairs up a squad of six human players to race six "Unbeatable" AI — but the entry requirements are a little different.
All four events in S8 require mechanically standard cars, and this week that's the BMW M2 Coupe. That comes in at 718 PI (A Class) in stock form, in case you're not sure what cars in your stable are tweaked.
With everyone driving the same car, it's a good chance to see exactly how Unbeatable the AI are, but the challenge in The Trial is often from the humans rather than the 'bots.
It's a team game, with every driver awarded 100 points for every opponent they finish ahead of, with a 50pt bonus for first place overall. That means you gain nothing from beating a team-mate, but you might gain a lot as a team from putting an AI car into a wall or off a bridge and allowing your fellow blues to get past it.
However there's still some players who take an all-or-nothing approach and hamper their own team, but with the relatively low speeds and decent brakes on the M2, it should be a more controlled affair this week.
Take the team win in the Road Racing Series event this week to score ten points and a BMW i8.
Horizon Arcade: Mini Games
Car: Any
Location: Horizon Arcade (any)
Challenge: Complete any Horizon Arcade theme
Reward: 3 points
The Trial: Stock Showdown – BMW M2 Coupe
Car: BMW M2 Coupe, No Upgrades
Location: Guanajuato, Plaza Circuit
Challenge: Win the Championship
Reward: 10 points, BMW i8
Challenges
Playground Games is keeping things short this week, as there's only a single Photo Challenge alongside the Monthly Rivals event.
For #TurboTakeOff you'll need to head to the airport in the forest (Aerodromo en la Selva, which is Spanish for… airport in the forest). Photograph a Porsche 944 Turbo anywhere in the area — and it needs to be your own car, rather than one of the gathered other players — to complete it, earning two points and a Classic Running Man Emote.
The Monthly Rivals event runs across all four seasons, and allows you to complete it at any time during the Series to win one point in each of the four weeks. It even backdates to completed seasons.
You'll need to complete a clean lap at the event shown on the Playlist, and to save time you can enter it directly from the Playlist screen during regular gameplay.
For this month the challenge is a time trial at Mulege's Arch of Mulege Circuit, using the new Porsche 911 GT3; you don't need the car, as it's provided to you.
You don't need to set a fast lap time, just a clean one — watch out for that first turn — to complete it and win the four points.
Photo Challenge: #TurboTakeoff
Cars: Porsche 944 Turbo
Location: Aerodromo en la Selva
Challenge: Photograph the 1989 Porsche 944 Turbo at Aerodromo en la Selva
Reward: 2 points, Classic Running Man Emote
Monthly Rivals: Arch of Mulege Circuit
Cars: Porsche 911 GT3 '21 (Provided)
Location: Mulege, Arch of Mulege Circuit
Challenge: Post a Clean Lap
Reward: 4 points (1 added to each season)
Forzathon Shop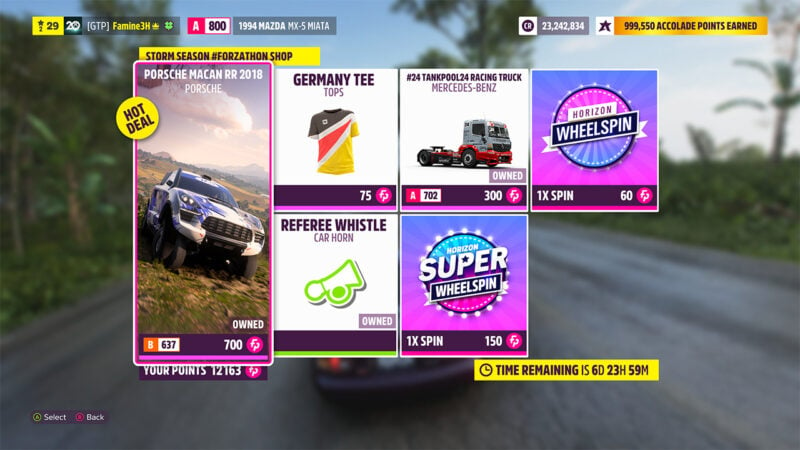 Forzathon Shop is naturally both German and really very heavy this week.
The featured vehicle is the Porsche Macan Rally Raid, one of the cars that made its debut in FH5.
This machine was purpose-built by LP Racing to compete in the Dakar Rally in 2018. As a result, there's not actually a lot of Macan left in it — just the headlights by all accounts — but with its Schlesser-made tubular spaceframe chassis it's perfect for bounding across bits of Mexico other cars cannot reach.
At 700FP it's a bit expensive for a B Class car, but you cannot buy it through the Autoshow. That means it's a case of hoping it pops up on the Playlist, in a Wheelspin, or spending the points.
Heavier still is the Mercedes Tankpool24 racing truck. This massive beast weighs in at over 12,000lb, so even though it packs more than a thousand horsepower it's not the quickest machine out there.
At 300FP it's not the cheapest either, especially as it's only 500,000cr in the Autoshow.
Store items this week are the Germany Tee and the Referee Whistle Horn at 75FP each. The Wheelspin (60FP) and Super Wheelspin (150FP) are in their usual spots too.
See more articles on Forza Horizon 5 Season Change.