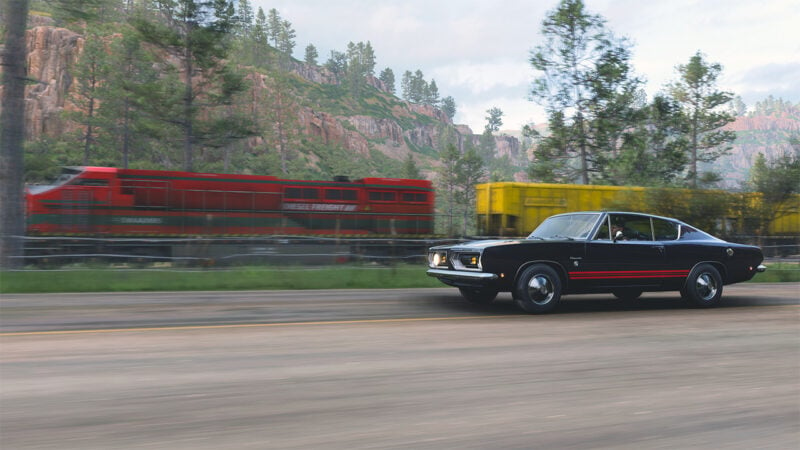 A new set of Playlist events is now available in Forza Horizon 5, bringing us one week closer to the launch of the new Hot Wheels Expansion with some events themed around the 1:64 scale cars.
Events across the month of Series 9 will see you take parts in races and challenges that either use Hot Wheels cars, reward you with Hot Wheels cars, or pay homage to Hot Wheels in some other way.
Acting as a sort-of community-wide preview of the Expansion — whether you're picking it up or not — the events should get you in the mood for some toybox action.
In addition, there's a batch of new vehicles, available as Playlist exclusives, along with new Accolades — includng one for picking them all up.
Series 9
The two cars available for activity completion across aren't exclusive to the Playlist, but you aren't able to just dip into the Autoshow and buy them. Winning them here then will save you time or a lot of money in the Auction House.
Naturally it starts off with a Hot Wheels car, for 80 points in the Playlist. The Twin Mill is a Corvette-style coupe — albeit a great deal more cab-rearward — with an unusual feature that gives the car its name: two engines.
This pair of supercharged 502ci Chevy V8s combines for 16.5 liters of engine and 1,400hp heading to the rear wheels. There's also a giant ram scoop on the top of each engine, making it a very tricky car to drive in cockpit view.
Score 160 points — for which you'll need to wait until at least the Winter season — and you'll win a Ferrari Dino 246 GT.
While labelled as a Ferrari in the game, the 246 GT was actually sold under the "Dino" brand — named for Enzo Ferrari's eldest son, Alfredo "Dino" Ferrari, who'd died in 1956.
Dino had played a role in designing the V6 Dino engine which was at the heart of the brand's cars. The goal was to create a more affordable alternative to the V12-powered Ferraris, bringing more people into the marque.
The 246 GT was an evolution of the earlier 206 GT, with a larger version of the engine (2.4 liters instead of 2.0) to provide more power for the heavier, steel body.
Autumn will run through to 1430UTC on Thursday July 7, while Series 9 has two more weeks after that and ends at the same time on Thursday July 21.
Autumn
A second Playlist Exclusive of the Series comes in as Autumn's lower-tier reward car, with the Plymouth Barracuda available for 20 points.
Originally designed as an answer to the first Ford Mustang, the Barracuda — despite being named after a fish — was Plymouth's pony car entry. Like the Mustang, which was in effect a sporty car based on the Falcon, the Barracuda was a reworked Valiant.
This second-generation car was introduced in 1967, and features a 383ci (6.3-liter) V8 with upgrades derived from the Super Bee and Road Runner muscle cars. However it comes in at a mere 300hp as standard.
For 40 points this week you'll win a NIO EP9, which is pretty much as far removed as you can get from a '60s pony car while still having four wheels.
First added to FH5 in February as one of a host of Chinese cars for S4, the EP9 is an all-electric hypercar.
NIO originally made six of the machines as a proof of concept and tech demonstrator, rather than a car intended for the public roads. Indeed it's not a road-legal car at all.
It sports four 250kW (335hp) motors, with each one driving an individiual wheel. That means it can drive each wheel independently, or all four at once with 1MW (1,341hp) of grunt.
The EP9 briefly held an unofficial electric lap record at the Nurburgring Nordschleife, though as it's not a road legal car it was — unsurprisingly — beaten by the Volkswagen ID.R.
You'll need Xbox Live Gold (or play on PC) to win the NIO this week, as 40 points isn't possible without multiplayer.
Forzathon Events
This season's Weekly Challenge looks to one of the game's cover cars… or rather two of them, as you'll need to pick up and drive the 2021 Ford Bronco to get started. If you're missing the Hot Wheels connection, the Bronco appeared in a "Then and Now" collection alongside its first generation sibling.
Once driven, head over to the Baja California Trail, a Dirt Racing Series event between Dunas Blancas and the volcano. Win the event to progress.
After that, win any Cross Country event to pass stage three, then earn a three star time on any one Trailblazer to complete Mud Stud. You'll win five points and 80FP (doubled to 160FP if you own the La Casa Solariega player house).
The Daily Challenges this week are more varied than recent themed offerings. Each is worth one point and 20FP (doubled to 40FP with the LCS player house), with a new Challenge available each day.
Care Package gets things underway. You'll need to send a Gift Drop to any player to complete this — which you can do from the pause menu or at any Barn Find location.
Following that there's Big 50, which sets you the challenge of jumping 500ft (152m) in any car made between 1970 and 2020. Which is virtually every car in the game, so it shouldn't be difficult.
Super Speeder then requires you to earn 10 Speed Skills in the 1997 Mazda RX-7. You'll start to rack up Speed Skills at around 100-120mph, and they continue to pop up if you maintain the speed, so hit up the main highway and go for a blast.
Sunday's task is to win a Drag Race in any Retro Supercar, to pass 1/4 Mile Final. Just enter and win any Drag Race — at the Festival site, the airport, or Teotihuacan — in the right car category to complete it.
Crash Course will need you to earn a Wreckage skill during a Cross Country race. This is easy enough, as you only need to drive into something which breaks apart to earn the skill, and there's lots of those on Cross Country events.
For Slide Street you'll need a specific car: the 2018 Ford Mustang RTR Spec 5. Hit up the Drift Zones and earn scores good enough for a total of four stars to complete.
That leaves Well Played. You only need to complete round three of any Horizon Arcade event, so look for the pink Horizon Arcade circles on your map, go to one of any theme (Air, Chaos, Drift, Speed, Wreckage), and get through all three rounds.
Season Events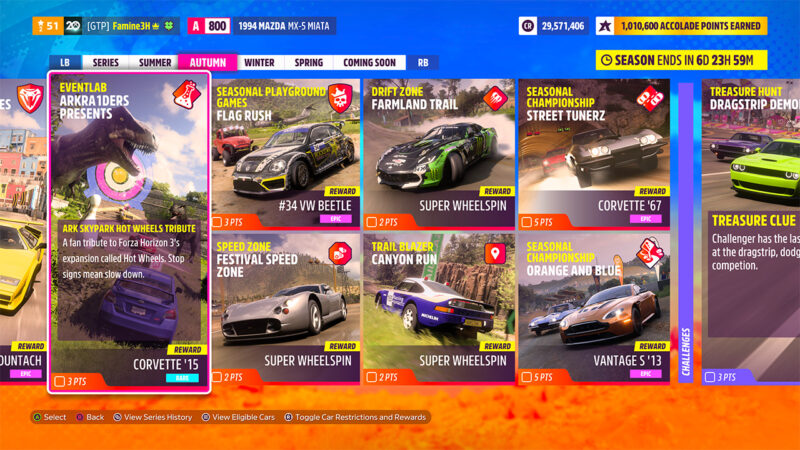 Your usual mix of Season Events awaits this week, with three PR Stunts, a pair of Seasonal Championships, The Trial, and an EventLab challenge — with a return for Seasonal Playground Games but in an unusual format.
For the third successive week, the EventLab challenge is a bunch of quarter-pipes making a looping route in the skies above the Gran Caldera.
The Ark Skypark seems better constructed than previous EventLabs of the same type, although there are a couple of hairy sections, including crossover and a pinch point or two. Also it makes the volcano texture go crazy.
It's open to S1 Class (801-900PI) Track Toys, which very much don't like the start grid on the dirt path (also don't use the Supervan…), but survive the two-lap race and win and you'll take three points and a 2015 Chevrolet Corvette.
Again, the three PR Stunts — a Drift Zone, a Speed Zone, and a Trailblazer — gift you with Super Wheelspins and two points for completion, which has been the standard for some months now.
The Drift Zone takes you to Farmland Trail, just south of the traffic circle at Los Jardines. You'll need a B Class (601-700PI) Chevrolet for the challenge, and the target score is well above three stars at 170,000pt. Speed, angle, and line are key to a big score, along with chaining drifts together.
For the Speed Zone you'll be heading to the main Festival site, and the very short, very tight Festival Speed Zone on the Horizon Mexico circuit. You'll need to use an A Class (701-800PI) Retro Supercars vehicle and take plenty of run up — in either direction — and maximize your corner speed to hit the 100mph target, just below the three-star speed.
That leaves the Trailblazer, which is one of the trickier examples of its type. Canyon Run starts at the top of Copper Canyon and heads west towards Hotel Castillo Santa Cecilia, through a tunnel and up the riverbed.
The best route here is to stay to the right of the river, dodging rocks, until just before the left turn under the railroad and up the dirt track, allowing a wide arc and as little time in the water as possible. You'll need an S1 Class (801-900PI) Rally Monster, and thankfully the 24s target is below the three-star time.
Both Seasonal Championships run against Highly Skilled AI, offering five points for completion. You'll need to top the points table after all three races in each series, which usually means at least two race wins
Street Tunerz is named after a collection of modified Hot Wheels, though you don't need to hit your own car with the Barry stick to take part. Simply grab a B Class (601-700PI) Modern Sports Car for this Street Racing Series event. A 1967 Corvette is available for the win.
That leaves Orange and Blue, named for another vehicle collection but also the colors of the plastic track itself: orange track with blue joining pieces. This Dirt Racing Series event requires a B Class (601-700PI) Classic Muscle car. Come out on top and you'll win an Aston Martin Vantage S in addition to the points.
EventLab: Ark Skypark Hot Wheels Tribute
Car: S1 Class, Track Toys
Location: La Gran Caldera, El Descenso Cross Country
Challenge: Win the Race
Reward: 3 points, Chevrolet Corvette '15
Drift Zone, Farmland Trail
Car: B Class, Chevrolet
Location: Los Jardines, Farmland Trail Drift Zone
Challenge: 170,000pt
Reward: 2 points, Super Wheelspin
Speed Zone: Festival Speed Zone
Car: A Class, Retro Supercars
Location: Horizon Festival, Festival Speed Zone
Challenge: ?mph
Reward: 2 points, Super Wheelspin
Trailblazer: Canyon Run
Car: S1 Class, Rally Monsters
Location: Copper Canyon, Canyon Run Trailblazer
Challenge: 24s
Reward: 2 points, Super Wheelspin
Seasonal Championship: Orange and Blue
Car: B Class, Classic Muscle
Location: Los Jardines, Bajio Trail
Challenge: Win the Championship
Reward: 5 points, Aston Martin Vantage S '13
Seasonal Championship: Street Tunerz
Car: B Class, Modern Sports Cars
Location: La Gran Puente, Jungle Descent
Challenge: Win the Championship
Reward: 5 points, Chevrolet Corvette '67
You'll need Xbox Live Gold, or to play on PC, in order to access the two multiplayer events this week, which sees a regular The Trial event and a new format Seasonal Playground Games.
Instead of a three-round set of different games, SPG is now a one-game event. This week that's Flag Rush, which sees you and your five human team-mates trying to get as many flags as you can to the score zone without being tagged by the six human rivals, and trying to tag the rivals to stop them doing the same.
You won't need to win, only finish the event, to score three points and a Volkswagen Andretti Beetle #34.
The Trial is set to be an interesting challenge this week, although it retains its usual format.
It's a three-race championship between a team of up to six humans and six "Unbeatable" AI Drivatars. Every driver earns 100pt for each driver they beat from the other team, with a 50pt bonus for the driver who wins.
That means it's a team game, and you'll need to help your team-mates by hindering the AI, while not hindering your team-mates — so you have to be aware of whether it's red or blue behind or alongside you and act accordingly.
This week's event, Oldies But Goodies, is for D Class (≤500PI) cars from the 1970s. That means speeds should be low enough that everyone stays under control for a change, helped by the pure-blacktop Road Racing Series basis for the event this week.
Beat those AI bots across the three-race series and you'll take ten points and a 1988 Lamborghini Countach.
Seasonal Playground Games: Flag Rush
Car: B Class, Volkswagen
Location: Aerodromo en la Selva
Challenge: Finish the Event
Reward: 3 points, Volkswagen Andretti Beetle #34
The Trial: Oldies But Goodies
Car: D Class, 1970s
Location: Guanajuato, Plaza Circuit
Challenge: Win the Championship
Reward: 10 points, Lamborghini Countach '88
Challenges
Three Challenges await this week, with a Treasure Hunt and a Photo Challenge joined by The Eliminator, while there's two Monthly Events to get on with too.
You will need Xbox Live Gold or to play on PC to access The Eliminator, but it's the usual event after that. Simply place 30th or better — usually a matter of just surviving a couple of minutes — to score two points and a Farid Rueda Lion Classic Shades clothing item.
The Photo Challenge, #SwampBeast, is simple enough too. Take any Rally Monster category vehicle to the Gran Pantano region ("big swamp") and photograph it to earn two points and a Jump On It emote for your avatar. It's a bit awkward to trigger, but the Barn Find location in the region will do it.
This week's Treasure Hunt, Dragstrip Demons, is much easier than last week's. The hint reads "Challenger has the last laugh at the dragstrip, dodging the competition", so grab hold of a 2018 Dodge Challenger SRT Demon and win a race at any of the three drag strips: the Festival, the airport, or Teotihuacan.
That will then trigger the Treasure Clue, a red circle on your map which shows roughly where the chest is. This week that's at Teotihuacan — convenient if you chose that strip — about half way down the drag strip and on the west side opposite the smaller "Pyramid of the Sun". Smash it to take three points and 100FP.
S9 sees two Monthly Rivals events across the four weeks, in a new format we're expecting to continue in future seasons.
Both are available throughout the Series, and you can complete them whenever you wish to gain one point added to each season — backdated to complete seasons if you leave them late.
In each case you'll need to complete a clean lap at the specified time trial, with the vehicle provided to you. Clean is the key — you don't need to go fast — so keep it off the walls and away from trees, or anything else solid.
The regular Monthly Rivals event will set you the task of a clean lap of the Chihuahua Circuit in the provided Hot Wheels 2JetZ.
Forza EV, the new event named for its focus on electric vehicles — loans you a Lotus Evija for a clean lap of the Horizon Mexico Circuit.
Photo Challenge: #SwampBeast
Cars: Rally Monster (any)
Location: Gran Pantano
Challenge: Photograph any Rally Monster at Gran Pantano
Reward: 2 points, Jump On It Emote
Treasure Hunt: Dragstrip Demons
Cars: Dodge Challenger SRT Demon 2018
Location: Any Dragstrip
Challenge: Win any Drag Race in a Dodge Challenger SRT Demon 2018, Locate the Treasure Chest
Reward: 3 points, 100FP
The Eliminator: Battle Royale
Cars: Any (provided)
Location: Valle de las Ranas, The Eliminator
Challenge: Finish 30th or better in The Eliminator
Reward: Farid Rueda Lion Classic Shades
Forza EV: Horizon Mexico Circuit
Cars: Lotus Evija (Provided)
Location: Horizon Festival, Horizon Mexico Circuit
Challenge: Post a Clean Lap
Reward: 4 points (1 added to each season)
Monthly Rivals: Chihuahua Circuit
Cars: Hot Wheels 2JetZ (Provided)
Location: Hotel Mirador Balderrama, Chihuahua Circuit
Challenge: Post a Clean Lap
Reward: 4 points (1 added to each season)
Forzathon Shop
Italian performance machines inhabit the Forzathon Shop this week, headlined by the Italdesign Zerouno.
Effectively a coachbuilt Audi R8/Lamborghini Huracan, the Zerouno was a five-car limited production run (10 if you include the convertible Duerta) from famous carrozzeria Italdesign — its first ever car under its own name.
It uses the same Lambo-Audi modular aluminum and carbon fiber platform, the same 5.2-liter V10, and even all-wheel drive. All the Italdesign magic comes where you can see it — the bodywork and interior.
As a pretty exclusive car in real life, coming in at $1.7 million apiece, it's also not common in FH5. In fact you can't even buy it normally, so the 700FP price may well be worth it.
Sitting alongside the Zerouno is the Ferrari F50. The second "F" car from Ferrari, the F50 was built to celebrate the 50th anniversary of the first Ferrari-badged car, the 1947 Ferrari 125 S.
The targa-topped F50 uses a carbon fiber tub with a 4.7-liter version of the Ferrari 333SP WSC race car's Tipo 130 V12 engine — itself derived from the Ferrari 641 F1 car's power unit.
While not the prettiest car from Maranello, the F50's power delivery and driving characteristics means it has plenty of fans who prefer it to the peaky turbocharged F40.
At 300FP it's not a bad price, considering it's two million credits in the Autoshow.
Store items this week are the Hot Wheels Crew Socks and the Hot Wheels Guitar Stadium Horn at 75FP each. The Wheelspin (60FP) and Super Wheelspin (150FP) are in their usual spots too.
See more articles on Forza Horizon 5 Season Change.