Forza Horizon 5's celebration of all things Ford moves into its third week today, bringing along more new challenges and reward cars themed around the Blue Oval for the next seven days.
Series 16, officially known as #FORDzathon, turns its focus to one of the world's largest and oldest motoring brands. Across the four-week Series, almost every event will require you to drive a Ford, and almost event will award you with a Ford.
That doesn't just cover cars that are Fords through and through either. You'll find Ford models under several other banners in the game, including Formula Drift, Hoonigan, and Hot Wheels. They're all in on the act as well this month.
One place where Ford doesn't actually appear is the new prize cars in the Series. Instead you'll be racing to pick up a mix of two brand-new MG cars and three returning Renault models, with an Evolving World accolade available for collecting all five.
Series 16: #FORDzathon Rewards
With two weeks already completed you should have the first of those new MGs already in your garage; it's available for 80 points, and there's been 124pt to play for thus far.
That's the MG6 XPower, a sporty sedan based on the normal MG6 but with a little TCR added into the mix.
Borrowing styling from the MG6 TCR, which you would have picked up during the Autumn season for 20pt, the XPower also sports a significant power hike over the regular sedan.
Courtesy of a two-liter turbo hybrid, the MG6XP boasts 300hp, all going to those front wheels. If you fancy a flimsy Ford link, the car also revives the Xpower name, last used on the Ford-engined supercar from the pre-Chinese ownership days and added to FH5 in Series 4.
With 160 points, which you should be blasting through this week on your way to the 182pt maximum, and you'll earn the Hoonicorn v2.
Best defined as an absolute weapon, the Hoonicorn started out life as a first-generation Mustang. All that's left of the original is the body shell (and probably the VIN), which is now wrapped around a spaceframe chassis and a monster powertrain.
That consists of a twin-turbocharged, 6.7-liter V8, delivering an unnecessary 1,400hp to all four wheels. It won't come as much of a surprise that the vehicle comes from Vaughn Gitten Jr.'s RTR workshop, and was built for the late Ken Block's Hoonigan brand.
As neither of this month's two vehicles are available to buy in the Autoshow, it's worth scoring the points where you can to earn these two very rare cars.
Series 16 Winter/Dry Season Rewards
Your weekly not-a-Ford prizes this week start with one of those returning Renaults, and it's something of a beast.
Renault's Clio RS16 Concept is named for the brand's 2016 Formula One contender, and while it isn't quite an F1 car for the road it is about as mad as you can make a Clio without putting the engine in the back.
Sporting more power than any Clio before or indeed since, the RS16 borrows the two-liter turbo from the bigger Megane, pushing 271hp to the front wheels.
It may not have an engine in the back, but it doesn't have much else out there either as it's stripped back to almost the bare minimum; there's a front passenger seat, but that's about it. Lower and wider than the Clio IV it's based on, it's quite the hot hatch.
At 40 points you'll win one of the most unusual Ford models ever made: the GT.
A mid-engined supercar built as both a 100th birthday present to itself and a celebration of its GT40 — a car made out of spite to win the biggest race in the world — the GT is the fastest production car with a blue oval on the nose.
Designed in homage to the GT40, the GT takes plenty of styling cues from the original and had input from one of the key men behind the Le Mans-winning machine: Carroll Shelby.
The 5.4-liter supercharged V8 is good for 550hp and speeds north of 200mph, and unlike the small run of road cars for the original, Ford made and sold as many as it could — around 4,000 cars.
You can't pick this up in the Autoshow either, so aim for those points.
Winter will run through to 1430UTC on Thursday January 26, while Series 16 will continue for another week to the same time on Thursday February 2.
Series 16 Winter Playlist: Forzathon Events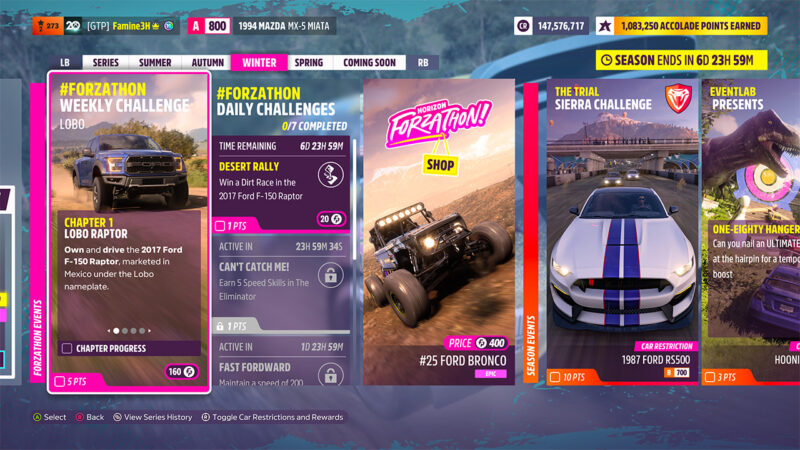 We move from past glories to the present day with the Forzathon Events this week. Pick up the 2017 Ford F-150 Raptor — it's a reward from the Hot Wheels Seasonal Championship this week — to get Lobo underway.
Next up, show that everyone should be afraid of the big, bad wolf by winning any Cross Country event in the Raptor. You'll be continuing the cross country theme by earning nine stars from any Trailblazers in the big pickup after that; double-up with the PR Stunt seasonal at Canyon Run if you can.
Finally chuck the truck about to earn a total of 100,000 Skill Score — it doesn't need to be all at once, but 20,000 with a 5.0x multiplier will do it — and complete the challenge.
You'll earn five points and 80FP, with the Forzathon Points doubled if you own the La Casa Solariega player house near Teotihuacan.
Weekly Challenge: Lobo
Car: Ford F-150 Raptor 2017

Chapter 1: Own and drive the Ford F-150 Raptor 2017
Chapter 2: Win a Cross Country event in the Ford F-150 Raptor 2017
Chapter 3: Earn nine stars from Trailblazers in the Ford F-150 Raptor 2017
Chapter 4: Earn 100,000 Skill Score in the Ford F-150 Raptor 2017

Reward: 5 points, 80FP
The seven Daily Challenges drop at the usual one a day, with seven days to complete (crossing season changes too), for one point and 10FP per challenge completed.
If you've done the Lobo event above, stay in the Raptor for the Desert Rally challenge. Just win a Dirt Race in the F-150 to complete.
Can't Catch Me on Friday requires XBox Live Gold or to play on PC. You'll need to enter The Eliminator and earn five Speed Skills — which you can do by simply driving above 100mph in a straight line on the highway. If you can also finish 30th or better, you'll complete another challenge simultaneously.
You'll be going Fast Fordward next. Just keep a speed of 200mph or more for at least ten seconds in any Ford car for your point.
Get a Power Launch and win a Drag Race in any Retro Muscle Car on Sunday. Just head to any of the three drag strips — the short Teotihuacan strip, the medium Horizon Festival strip, or the long Aerodromo strip — and beat your opponents.
It'll be time to Jump Around after that. Just leap a total distance of 305m (1000ft) while in the Copper Canyon. The best way to complete this quickly is the Base Jump Danger Sign within the Horizon Rush outpost site.
Hit the Speed of Light next. Just hit speeds equivalent to a total of nine stars at any Speed Traps in any vehicle upgraded to the top X Class (999PI).
That just leaves a Shocking challenge. Smash up 20 solar panels in 30 seconds to complete, and the solar farm just off the highway to the north-east of Mulege is the only place you'll want to go to complete it.
Daily Challenges
January 19 – Desert Rally: Win a Dirt Race in the Ford F-150 Raptor 2017
January 20 – Can't Catch Me: Earn five Speed skills in The Eliminator
January 21 – Fast Fordward: Maintain a speed of 200mph for 10 seconds in any Ford
January 22 – Power Launch: Win a Drag Race in a Retro Muscle Car
January 23 – Jump Around: Jump 1,000ft/305m in Copper Canyon
January 24 – Speed of Light: Earn nine stars at Speed Traps in any vehicle upgraded to X Class (999PI)
January 25 – Shocking: Smash 20 solar panels in 30 seconds
Series 16 Winter Playlist: Season Events
You'll be aiming for three Seasonal Championships, two PR Stunts, and one EventLab this week, as the season events are shaken up a little.
As before, the PR Stunts stick to the Series theme as you'll need a Ford to complete them — rather than the recent open events. However you won't be able to use the same car to do both this week, as although both require a pre-2010 Ford, you'll need an S1 Class (801-900PI) car for the Hillside Drift Zone and a B Class car (601-700PI) for the Canyon Run Trailblazer.
The targets — 140,000pt and 20 seconds respectively — aren't too challenging, but you'll need to watch out for the terrain in both cases; stay to the right on the river section to avoid repeated crossings in the Trailblazer. As usual there's two points and a Super Wheelspin for hitting your goals in each.
As usual the three Seasonal Championships each consist of a three-race series against Highly Skilled AI. In each case you'll need to top the final points table to win five points to your season total.
There's two offroad events this week, with both Dirt and Cross Country featured.
The first is the No Wheel Left Behind event, for any AWD Ford in the A Class (701-800PI) performance bracket. A 1993 Ford Mustang is available as a reward.
For the Cross Country event, By The Numbers, you can use any Unlimited Offroad Ford — the Rockstar Trophy Truck or Brocky Bronco — tuned to A Class (701-800PI), with a Ford Supervan 3 as a prize.
Finally there's the Street Racing event Van Life. This requires the Supervan 3 you can win above, tuned to S1 Class (801-900PI). There's a 1977 Ford Escort for victory.
Your EventLab challenge this week, One-Eighty Hangar Run, is an interesting circuit laid out on the runway at the Aerodromo. You'll need an A Class (701-800PI) Hoonigan Escort v2 to take part.
If you can nail an Ultimate One Eighty skill in the final hairpin, you'll get a speed boost down the final stretch but without any AI to race it's just about beating the clock over the two laps. A Green Pinata Head clothing item is the reward, along with three points.
Drift Zone: Hillside
Car: S1 Class, Ford, Pre-2010
Location: Costa Rocosa, Hillside Drift Zone
Challenge: 140,000pt
Reward: 2 points, Super Wheelspin
Trailblazer: Canyon Run
Car: B Class, Ford, Pre-2010
Location: Copper Canyon, Canyon Run Trailblazer
Challenge: 20s
Reward: 2 points, Super Wheelspin
EventLab: One-Eighty Hangar Run
Car: A Class, Hoonigan Cossie
Location: Aerodromo en la Selva, Airfield Cross-Country Circuit
Challenge: Finish the race
Reward: 3 points, Green Pinata Head
Seasonal Championship: By the Numbers
Car: A Class, Ford, Unlimited Offroad
Location: Horizon Festival, Festival Cross Country
Challenge: Win the Championship
Reward: 5 points, Ford Supervan 3
Seasonal Championship: No Wheel Left Behind
Car: A Class, Ford, AWD
Location: La Gran Caldera, Caldera Scramble
Challenge: Win the Championship
Reward: 5 points, Ford Mustang '93
Seasonal Championship: Van Life
Car: S1 Class, Ford Supervan 3
Location: Gran Pantano, Bosque del Sur
Challenge: Win the Championship
Reward: 5 points, Ford Escort '77
Hot Wheels DLC owners have two bonus events as usual, which aren't required for 100% completion of the Playlist, but give an extra option for seven more points.
The PR Stunt this week is the Turbo Knot Drift Zone. You'll need to rack up 200,000pt — just over three stars — in an S1 Class (801-900PI), pre-2010 Ford, so you may as well use the same car as the Hillside Drift Zone regular PR Stunt. There's the usual prize of two points and a Super Wheelspin.
It's a speed test for the Seasonal Championship, Gotta Go Fast. This three-race event against Highly Skilled AI is open to any S1 Class (801-900PI) Fords, but you will need something with plenty of top end to deal with the speed sprint tracks. There's five points and the F-150 Raptor for victory.
Hot Wheels Drift Zone: Turbo Knot
Car: S1 Class, Ford, Pre-2010
Location: Hot Wheels Giants Canyon, Turbo Knot Drift Zone
Challenge: 200,000pt
Reward: 2 points, Super Wheelspin
Hot Wheels Seasonal Championship: Gotta Go Fast
Car: S1 Class, Ford
Location: Hot Wheels Giants Canyon, Canyon Loop Speed Sprint
Challenge: Win the Championship
Reward: 5 points, Ford F-150 Raptor 2017
There's only one multiplayer event on this week's playlist, with Xbox Live Gold required — unless you play on PC — to access each.
That is, of course, The Trial, which remains Ford-themed. You'll need a B Class (601-700PI) Ford Sierra RS500 to take part in the event.
The Trial is a team event, pitting you and up to five fellow humans against a squad of six "Unbeatable" level AI Drivatars. Each player on each team earns 100 points for each opponent they beat, but there's no reward for beating team-mates.
Of course that means you should aim to help out your team-mates and hinder your rivals, rather than battering your way to the front through everyone without a care, but some haven't quite got that message yet after a year.
Thankfully it's a Road Racing Series event this week, so everyone should be able to retain control of their cars — particularly with the relatively low performance bracket. It'll be a simple task to win inside two races, earning ten points and a Shelby GT350R for you and your team-mates.
The Trial: Sierra Challenge
Car: B Class, Ford Sierra Cosworth RS500
Location: Horizon Festival, Reservorio Sprint
Challenge: Win the Championship
Reward: 10 points, Ford Shelby GT350R
Series 16 Winter Playlist: Challenges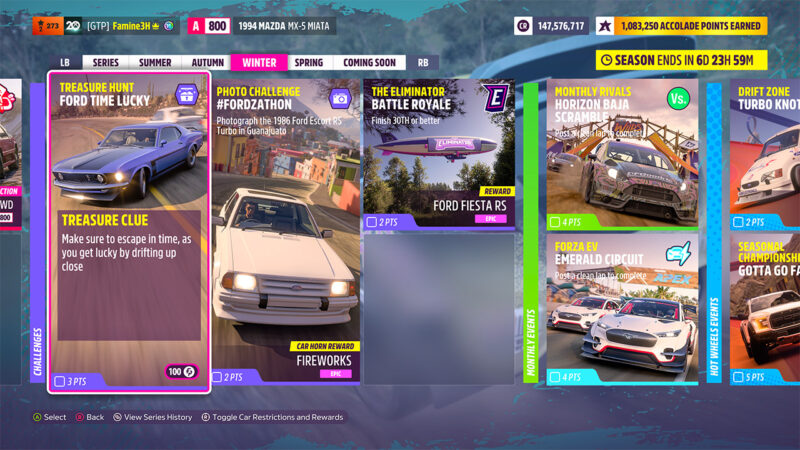 There's three challenges this week, with the ever-present Photo Challenge joined by a Treasure Hunt and The Eliminator.
You will of course need Xbox Live Gold, or to play on PC, to access the multiplayer Eliminator. However the challenge is simply to place 30th or better as usual, often a matter of surviving a couple of minutes, to win two points and an M-Sport Fiesta RS. It's worth holding fire until at least Friday to earn a Daily Challenge at the same time.
For the Treasure Hunt, Ford Time Lucky, the clue is "make sure to escape in time, as you get lucky by drifting up close". You'll need to earn a Lucky Escape Skill by combining Drift or E-Drift and Near Miss Skills — overtaking an NPC car on the highway closely while drifting will do it.
That will earn you the hint, which is a red map marker showing the approximate area of the treasure chest. It's on the west side of Guanajuato this week, next to an obelisk by the side of the road; travel a little way south of the Tunnel Run Street Race start point to find it. Smash the chest to earn three points and 100FP.
Finally there's the #Fordazthon Photo Challenge. This week the subject is the 1986 Ford Escort RS Turbo; photograph the car anywhere in Guanajuato to earn two points and a Fireworks Horn.
Photo Challenge: #Fordzathon
Cars: Ford Escort RS Turbo 1986
Location: Guanajuato
Challenge: Photograph the 1986 Ford Escort RS Turbo in Guanajuato
Reward: 2 points, Fireworks Horn
Treasure Hunt: Ford Time Lucky
Cars: Any Ford
Location: Any; Guanajuato
Challenge: Earn a Lucky Escape skill, find and smash the treasure chest
Reward: 3 points, 100FP
The Eliminator: Battle Royale
Cars: Any (provided)
Location: Valle de las Ranas, The Eliminator
Challenge: Finish 30th or better in The Eliminator
Reward: 2 points, Ford Fiesta RS '17
The Rivals challenges remain as they were, with two weeks left to complete them; you'll earn four points — one to each of the four seasons, including completed weeks where necessary.
Each event requires a clean laptime at the tracks indicated, using the vehicle provided to you — both Fords this month, of course. They're marked as Rivals events, but there's no need to beat laptimes set by people on your friends list. Just keep it clean by avoiding any contact with solid objects.
That won't necessarily be easy, as Monthly Rivals takes place on the dirt of the compact Baja Circuit using the Ford Fiesta #14 Rahal-Letterman car, while Forza EV uses the overpowered Mustang Mach-E 1400 at the Emerald Circuit.
Forza EV: Emerald Circuit
Cars: Ford Mustang Mach-E 1400 (provided)
Location: Palacio Azul, Emerald Circuit
Challenge: Post a Clean Lap
Reward: 4 points (1 added to each season)
Monthly Rivals: Horizon Baja Scramble
Cars: Ford Fiesta #14 (Provided)
Location: Horizon Baja, Baja Circuit
Challenge: Post a Clean Lap
Reward: 4 points (1 added to each season)
Series 16 Winter Forzathon Shop
There's a pair of not-entirely Fords on offer in the Forzathon Shop, with another Vaughn Gittin Jr creation headlining affairs.
Built for an off-road, rockcrawling event rather curiously called King of the Hammers, the Brocky Bronco is very, very loosely based on a Bronco truck.
In reality a spaceframe chassis with a fiberglass, Bronco-esque shell, the Ultra4 car sports a seven-liter V8 good for 600hp, pushing power to all four wheels through a three-speed gearbox.
It's intended to have huge power for climbing slowly over stuff, but it also happens to have a good turn of speed across open ground — as anyone regularly racing in the Eliminator will attest.
While definitely a must-have for your garage, it's available in the Autoshow at 500,000cr, so the 400FP price is a little steep.
That also goes for the Formula Drift #13 Mustang, which is probably better value at 300,000cr than the 300FP price here — unless the points are burning a hole in your pocket.
The only Ford in the Formula Drift collection, the Mustang comes with a wild, supercharged, five-liter V8 that produces as much power as a Bugatti Veyron. Certainly it'll be good for sliding about, but it's sadly not eligible for the Drift Zone PR Stunts on the playlist.
Store items this week are the White Bird Leather Boots and Wheelspin Win Horn, at 75FP each. The Wheelspin (60FP) and Super Wheelspin (150FP) remain in their usual spots.
See more articles on Forza Horizon 5 Season Change.