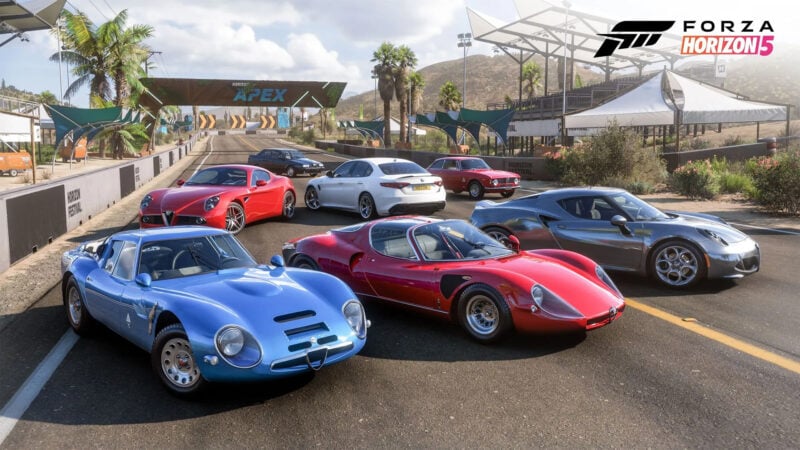 The latest Forza Monthly stream has revealed that the upcoming Forza Horizon 5: Italian Automotive update will be one of the biggest global content drops so far, with 16 new Italian cars coming to the game for all players.
As teased last month, this is courtesy of what seems to be a relaxation of the licensing position of the recently created Stellantis corporation which has impacted much of the gaming industry. This saw a significant number of vehicles from the brands under its umbrella fail to transition from FH4 to FH5, but now Abarth, Alfa Romeo, FIAT, and Lancia are back.
Unusually, and perhaps due to the sheer deluge of cars, half of the new fleet will be available to all players as direct purchases from the Autoshow for in-game credits. The other half pack out the Seasonal Playlist rewards for the Series.
There's also a second add-on DLC car pack which adds seven "Italian Exotics" — including a vehicle originally named in the Hot Wheels expansion but subsequently replaced — at a cost of $/€9.99 (£7.99).
Although Series 24 is almost entirely about the Italian cars, there are some changes under the hood, including one that a lot of regular players will find very useful indeed.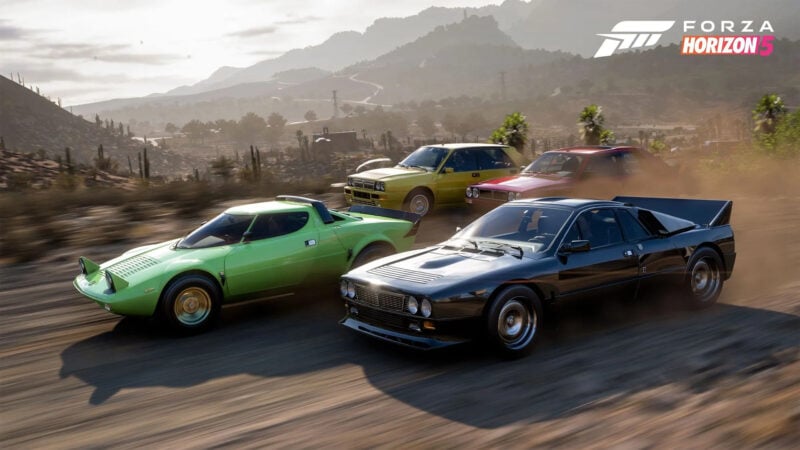 Forza Horizon 5 Series 24: New Cars
There's a truly exhausting number of vehicles coming in the update, so we're going to rattle through them in short order.
Firstly, you'll find eight new vehicles added to the Autoshow. There's no hoops to jump through for these, other than having enough credits to pay for them, and all eight are from the four brands noted above:
Abarth 595 SS 1968
Alfa Romeo 33 Stradale 1968
Alfa Romeo Giulia Quadrifoglio 2017
Alfa Romeo Giulia Sprint GTA Stradale 1965
Alfa Romeo Giulia TZ2 1965
Fiat 124 Sport Spider 1980
Lancia Delta HF Integrale Evo 1992
Lancia Stratos HF Stradale 1974
Prices are yet to be published for the eight vehicles, but we'll likely find out when the update itself arrives on Tuesday August 15.
The other eight new cars are available as Seasonal Playlist rewards, with one in each of the 20pt and 40pt slots for each of the four seasons. They will be as follows:
Series 24 Summer: Alfa Romeo 155 Q4 1992, Lancia Delta S4 1986
Series 24 Autumn: Abarth 695 Biposto 2016, Alfa Romeo 4C 2014
Series 24 Winter: Abarth FIAT 131 1980, Alfa Romeo 8C 2007
Series 24 Spring: Abarth 124 Spider 2017, Lancia 037 Stradale 1982
Unsurprisingly the Italian Exotics Car Pack is… well, packed with Italian exotic cars. There's seven of them in total, mostly from the Ferrari and Lamborghini stables as you'd expect:
Ferrari 296 GTB 2022
Ferrari Roma 2020
Italdesign DaVinci Concept 2019
Lamborghini Essenza SCV12 2020
Lamborghini Huracan Tecnica 2023
Lamborghini Huracan Super Trofeo Evo #63 Squadra Corse 2018
Lamborghini SC20 2020
Forza Horizon 5 Series 24: Other Changes
Perhaps the biggest single change is the expansion of the player garage, with the limit lifted from 1000 cars to 2000 cars. That may be more noteworthy than the cars to regular players who have to gift and auction cars like crazy each month to make room for incoming vehicles — especially when there's 23 of them…
That's accompanied by a change in the number of liveries and tunes that you can store, rising to 1000 from the previous limit of 600 — which was less than the number of cars in the game!
In the game world itself there'll be some new items in general play, with Italian Automotive billboards and a new Yacht Pinata collectible that will feature in the Autumn playlist. There's also new props available in EventLab.
Forza Horizon 5 Series 25 Preview
That last item leads us into a preview of Series 25, dubbed "Horizon Creatives". Playground Games has teased "EventLab 2.0" which suggests a major evolution of the already wildly potential-packed — if hopelessly under-explained — EventLab tool.
Quite what that might entail is a mystery for now, although design director Torben Ellert — who loves to tease fans — suggestively commented that he was looking forward to "grabbing things and talking about that"…
The Series 24 update will arrive on Tuesday August 15, ahead of the new Playlist which makes its debut at 1430UTC on Thursday August 17.
See more articles on Forza Horizon 5 Game Updates.