Playground Games has taken the covers off the upcoming Forza Horizon 5 Series 27, titled "American Automotive", ahead of this week's corresponding update to bring the new content to the game.
As you might expect from the name, the update is heavy on the American cars with a total of eight new vehicles available to all players depending on Playlist progression, and a further four you'll need to splash the cash for. They range from the old to the very new, and cruisers to track day toys, so there ought to be a little something for everyone.
Forza Horizon 5 Series 27 New Free Cars
Arguably the star car (among the stars and stripes) is the new Lucid Air Sapphire. The first car from new brand Lucid, the Air is an all-electric "Luxury Super-Sports" sedan. In Sapphire form it gains a tri-motor setup — two on the rear, one on the front — for 1,234hp all in and a claim to be the world's fastest and quickest EV sedan.
Joining it on the modern side of things is the Z06 version of the Chevrolet Corvette C8. This swaps the cross-plane crank 6.2-liter V8 of the regular car for a more powerful flat-plane 5.5-liter unit, kicking the 0-60mph time down below three seconds.
Returning from previous games is the distinctly non-American name of Rossion, with the Q1. This is in essence a British Noble M400, built under license in Florida with a heavily redesigned body (and left-hand drive). It retains the important part though: it's a lightweight, mid-engined, 500hp toy!
Five classic muscle and pony cars — a mixture of all-new, new-to-Horizon, and returning — will also make their FH5 debuts. That starts with the monster Plymouth Belvedere (actually the shortest car to bear the name), making its first ever Forza appearance, while the even larger 1962 Lincoln Continental returns from Forza Motorsport 4.
That leaves the Chevrolet Nova Super Sport (with Microsoft filter-friendly name), Pontiac Firedbird, and Pontiac GTO The Judge to all return from Horizons past.
Forza Horizon 5 Series 27 New DLC Car Pack
Appropriately dubbed the "American Automotive" Car Pack, a new paid add-on — available from November 7 at $/€4.99 (£3.99) — brings four new cars to the Festival.
Occupying the headline slot is the Czinger 21C, a 3D-printed hypercar with a bizarre tandem seating arrangement. Yes, the passenger sits behind the driver, like Goose to Maverick. It's also a 1250hp hybrid, boasting a 950hp, 2.9-liter V8 and two front electric motors, along with an MGU motor unit.
That's joined by another track specialist with a more old-school approach with the Saleen S7 LM. Developed from the brand's endurance racers, the LM packs 1,300hp from a simple seven-liter V8 twin-turbo arrangement.
The Ford Econoline van, while looking cool in this slammed 60s body, might not sound too interesting, but that was before DeBerti got its hands on it. Now it sports an 850hp V8, and yet somehow doesn't wrap itself around its own driveshaft.
Finally there's a more useful car for the go-anywhere nature of Horizon, with the Chevrolet Silverado LT Trail Boss 2020. This too packs a V8, but it's more for getting over stuff than to stuff, with a two-inch lift making it perfect for the terrain.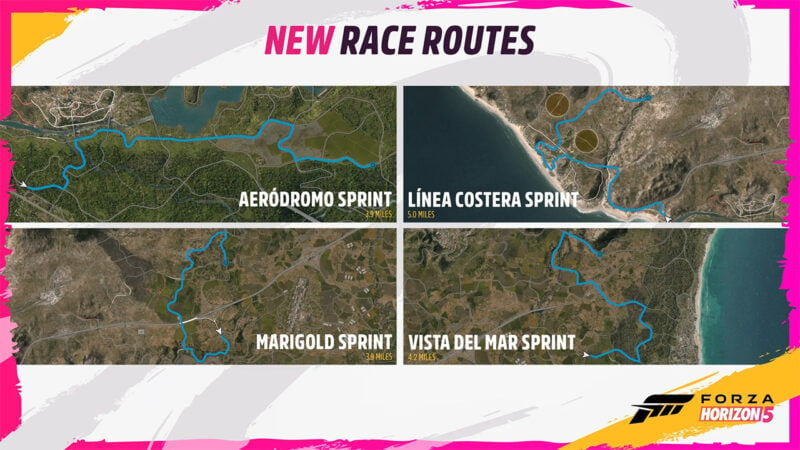 Forza Horizon 5 Series 27 Other Changes
After recent weeks of some mad decor, things settle back in FH5 this month, although there's still some important changes going on.
Firstly, the Horizon Oval Circuit will return in free roam. The course, set inside the stadium, is always available as a race location and EventLab build stub, but it will be there across the four-week American Automotive period as you wander about the map too.
Four new build stubs will also appear, as four brand-new Horizon Apex point-to-point Sprint events appear. These will be permanent additions to the map, and all four courses will be added to Rivals, Horizon Open, and Horizon Tour too, as well as the Playlist.
They'll also be the subject of new Evolving World Accolades, with one for completing each event, one for winning each event, and one for setting a Rivals time at each course for a total of 12. A 13th Accolade requires a Rivals time at the Horizon Oval.
27 new wheel rims from HRE will also be added this Series, along with widebody kits for the Chevrolet Camaro ZL1 '17, Ford Shelby GT350R '16, and Pontiac Firebird Trans AM GTA '87.
Forza continues its excellence in accessibility too, adding American and British Sign Language interpretation to the Donut Media and Icons of Speed Horizon Story chapters, meaning that there's now ASL/BSL coverage on all Horizon Story events.
Forza Horizon 5 Autoshow Vouchers
A new permanent addition coming as part of the update is the Autoshow Voucher, which allows players to buy a limited number of tickets from the Microsoft Store or Steam for real money in order to pick up any vehicle they like from the Autoshow without spending in-game credits.
In essence this appears to operate exactly like the Backstage Pass from previous titles, except you spend your own money on it. The vouchers are priced at $4.99 for 4, $9.99 for 10, and $19.99 for 24 vouchers, and can be used to buy any Autoshow car of any value.
Of course November 9, the start date of the event, also marks two years since Forza Horizon 5 launched in 2021, and you can see all of the changes to the game made since in the graphic above.
That will continue into Series 28, beginning December 7, which sees the return of the Winter Wonderland. Players will once again get to enjoy Secret Santa and the likely return of the Stadium Ice Rink and grotto in Mulege.
In the meantime, the S27 update will arrive Tuesday November 7, with the Playlist beginning two days later.
See more articles on Forza Horizon 5 Game Updates.