Do you ever wish you could just pick up and go where ever you want? Maybe you want to explore the wilds of Alaska or the jungles of South America? If this sounds right up your alley, then this edition of the Wednesday Want is for you with a pair of overland ready Toyota trucks.
So what exactly is overlanding? If you follow any off-road community you've probably heard the term overland at some point. For the rest of us, it's more or less taking a four-wheel drive vehicle and going on an adventure. Along the way, you live out of your truck or SUV and venture to remote destinations.
It's a concept that dates back to the early 1900s in Australia and the cattle drives. However, its motorized equivalent started in the 1950s with the introduction of vehicles like the Land Rover Defender and Toyota Land Cruiser.
Since then, its popularity has exploded. People all across the globe now are taking four-wheel drive vehicles and going exploring. Due to this, several TV and web series dedicated to overlanding have sprung up along with other forms of media too.
One of the biggest series is Expedition Overland, a Montana-based show that follows a group of friends exploring the world. Since its launch in 2011, the crew has completed the Pan American Highway, tackled the Mackenzie Trail in Canada, and ventured across the US.
Due to the extreme nature of the terrain the XOverland team encounters, it uses vehicles with some pretty stout equipment. Now two of those vehicles are up for sale.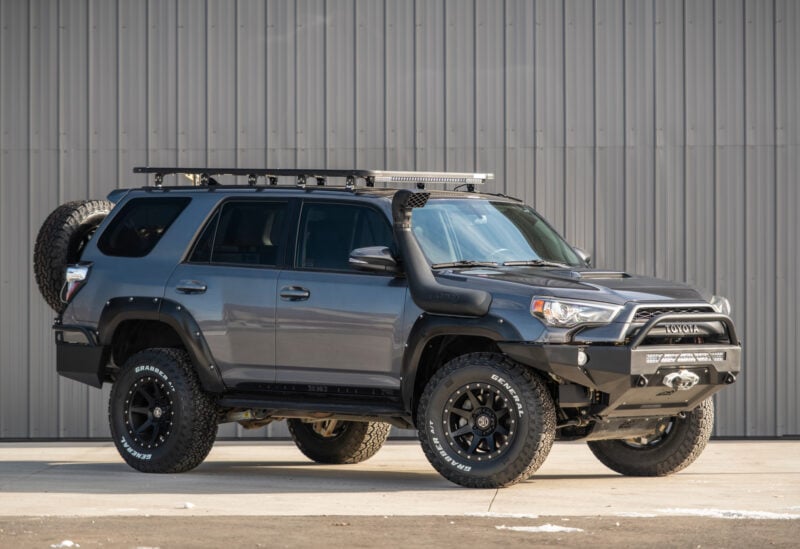 The first is a 2015 Toyota 4Runner Trail that ventured through Central America and into South America. As a result, it's about as robust of a rig as you can get.
Sporting full armor, it can bounce off rocks, trees and anything else that gets in its way without issue. It also uses a 2-inch lift system from Icon capable of handling all the extra weight that comes with overlanding. Finally, it rides on a set of beefy all-terrain tires to pull you through anything.
As far as overlanding equipment goes, it has that in spades as well. On the outside, it makes use of a Safari snorkel, Eezi-Awn roof rack, and a heavy duty Warn winch to get you out of any trouble.
Venture inside and the 4Runner features a fridge, extensive drawer system, and even a sleeping platform. It's everything you need to live out on the road for an extended period of time.
The best part of the whole rig though is on the headliner. It's here you'll find an autograph from off-road legend Ivan "Ironman" Stewart.
Unfortunately, something like this does not come cheap. Per the listing on Expedition Portal, the XOverland team is asking $65,000 for the 4Runner that it nicknames Rufio. It's a huge chunk of change but it's a complete turn-key adventure-ready rig.
The second truck is a 2013 Toyota Tacoma, which is one of the oldest in the XOverland fleet. Racking up over 90,000 miles, it's seen a fair bit of adventure in Alaska and Canada. All things considered, it's in remarkable shape.
Like the 4Runner, it too sports extensive armor, a bevy of LED light bars, and a quality roof rack system. It also runs a full Icon suspension system with a set of Grabber AT2 tires making it capable at roaming all over Mother Earth.
The real party piece with this Tacoma though is under the hood. The 4.0-liter V6 wears a TRD supercharger boosting its output to 300 ponies. It also sends all the power through a six-speed manual, something that's a bit of a rarity with a Tacoma.
To help handle the power and make it even more of a monster off road, the Tacoma also uses upgraded axles. To go along with that, it has locking differentials and a 4:56 gear set.
Along the same vein as the 4Runner, the Tacoma also comes with a hefty price tag of $42,500. However, it too is also ready to essentially jump in and travel wherever you want. Plus, given that the Tacoma comes from HiLux DNA, you know 90,000 miles means it's just getting warmed up.
If you're interested in seeing either of the rigs in action, you can check out XOverland's YouTube page. Even if you're not interested in plunking down a stack of money on either truck, the videos are still incredibly well done. Just be warned, watching them will make you want to take an adventure of your own.
See more articles on Overlanding, Toyota, and Wednesday Want.