Note: This post discusses everything revealed immediately after Gran Turismo 7's reveal in June 2020. For a continuously-updated article, check out our primary resource: Gran Turismo 7 — The Ultimate Guide.
It's confirmed: Gran Turismo fans can finally get excited for the next generation of PlayStation console. After years of rumors, speculation, and tech demos, Sony has shown us Gran Turismo 7 on PlayStation 5 for the first time.
The video, shown during the special live PS5 games event, had a lot to unpack. A further clip, separately featured on the PlayStation YouTube channel added a few more things to the mix too. Now we've had a little time to digest both, here's everything we know about the next Gran Turismo game.
Career Mode is Back
Ahead of the original clip, Kazunori Yamauchi appears on-screen to introduce GT7. The founder of the Gran Turismo series states
"Today I would like to share with everyone some information about the new Gran Turismo that we are very excited about. I think this new Gran Turismo should make fans very happy, especially with the campaign mode. It should be something fun to look forward to."
The clip itself doesn't reveal all that much regarding the campaign mode, but it's a feature GT players have been calling for throughout the life of GT Sport. Areas of the new, GT4-style home screen show Missions, School, Special Events, and Championships, the latter of which suggests a return of championship-style events.
Within the longer video, the player heads to the GT World icon, which brings up a map of all the tracks in the game. That allows them to pick a track and jump into a series like the Sunday Cup, staged at the track in question.
And so is Vehicle Tuning
One feature that sat beneath all main Gran Turismo games until Sport was vehicle tuning. This was the ability to use your earned credits to buy parts for your car and modify them to suit, allowing players to bump a 280hp Japanese sports car into a 920hp monster.
After the absence from Sport, the feature returns for GT7 and it appears to be almost exactly the system we've grown to love over the decades. Tuning parts shown in the video include ECU, intake filter, sports catalytic convertor, exhaust, close-ratio gearbox, suspension, brakes, flywheel, and tires.
However this is just the "Entry" level parts, with further categories of tuning components under other menu tabs. The "Extreme" tab hints at massive power modifications like large turbochargers and intercoolers, along with racing slick tires. Although we don't get to see the tuning in action, the menus show the effects of each part on the car's statistics.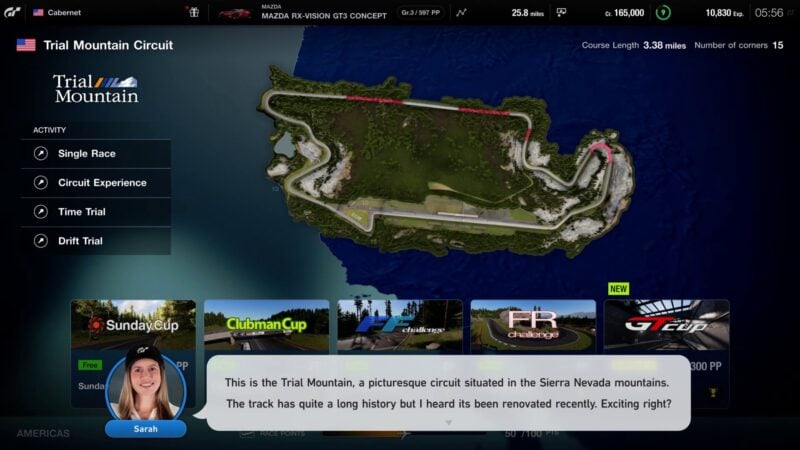 GT Sport-based track list, but Trial Mountain returns!
All of the driving action in the video clip takes place on a new version of Trial Mountain — with one sneaky clip of the track run in the reverse direction. It's a very welcome return after an absence in GT Sport, and could hint at the return of other favorite fictional circuits like Deep Forest and Grand Valley.
Long-term GT fans will notice a significant reprofiling of the track though. While much of it will seem familiar, the back straight is notably longer and — though it isn't used in the video — the final chicane appears very different. Whereas the previous version was a fast left-right you could negotiate with a little lift and a heavy cut, this version appears to have a much tighter left with barriers close to the track.
There is a sneak preview of a handful of other circuits in the longer clip too. After heading into GT World, the menu clearly shows Northern Isle Speedway, Blue Moon Bay Speedway, and Willow Springs all returning from GT Sport. In addition, there's Daytona, which has yet to appear in Sport but will return from GT6.
Look closely at the map and you'll see a number of red dots, corresponding to circuits. Those that we can clearly identify include Laguna Seca, Interlagos, Goodwood, Brands Hatch, Sardegna, Circuit Sainte-Croix, Le Mans, Nurburgring, Spa, Red Bull Ring, Catalunya, Dragon Trail, Lago Maggiore, and Monza — all coming back from GT Sport. There are still a couple of mystery dots however, and a track you can only spot in a race event thumbnail has us scratching our heads.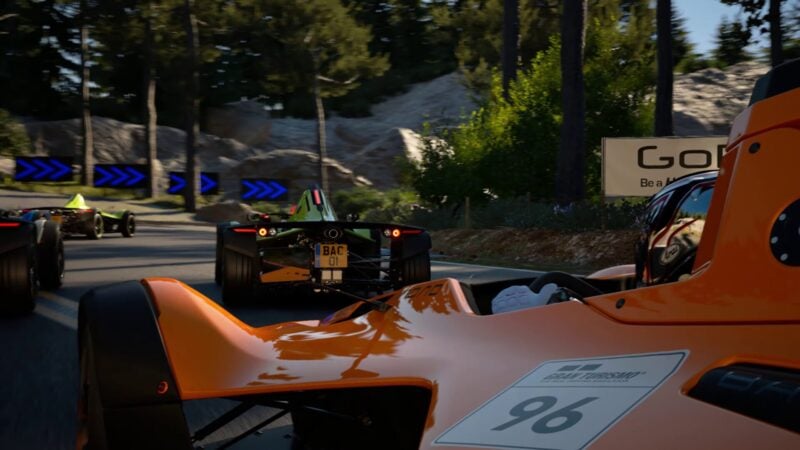 More new cars
Most of the trailer features cars we know from GT Sport — most obvious of which is the new Mazda RX-Vision, along with a selection of Gr.3 siblings. However there's a selection of other cars that are all brand new to the series, some more prominent than others.
It's probably pretty easy to spot the BAC Mono as above. This single-seat British car has never appeared in a Gran Turismo game before, but it's quite clear in the clip in what appears to be a one-make race. Another vehicle that gets significant air time is the Porsche 917K, which appears in classic Gulf colors, on what appears to be the #2 car that won the Daytona 24 Hours in 1970.
One you may not spot is the Porsche Carrera GT. GT fans have been clamoring for this V10 for several years, and it joins a rapidly growing list of Porsche models in Gran Turismo. Even harder to spot is one of the rarest Porsches ever made, the 911 GT1 Strassenversion. We'll have to wait a while to find out more about the car list.
Performance Points make a comeback
GT Sport has, at times, had issues balancing cars properly. Road cars in particular slot into power-based classes (N300 is roughly equivalent to 250-349PS, or 247-344hp) and that can lead to some unusual vehicles dominating racing in these classes.
Perhaps in order to counter this GT7 has brought back the Performance Point (or PP) rating, previously seen in GT5 and GT6. This gives a car a rating of its on-track performance, based on a number of factors which includes power and weight, modifying an underlying value for the chassis — older cars have a lower PP than equivalent newer ones.
Players of these previous games will recall that this wasn't necessarily an ideal system either, however it would appear to work alongside the N-class from GT Sport, with cars in the clip — the Aston Martin DB11 and Toyota 86 GT — having both a class and a PP value.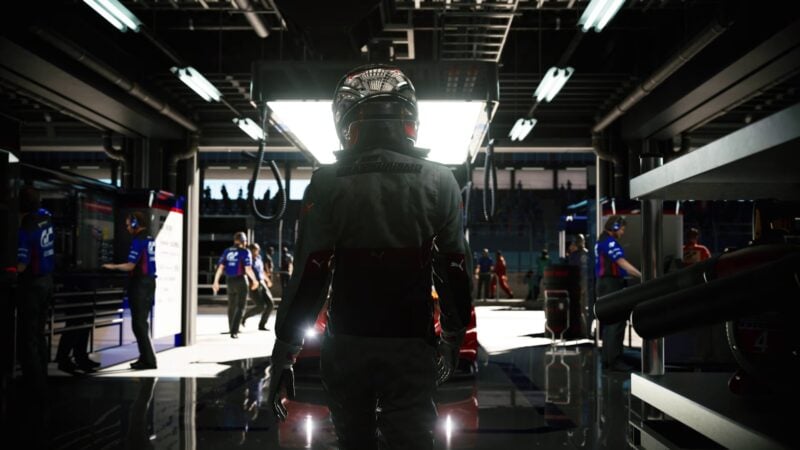 Other features
Scapes will make a return from GT Sport, giving car photographers their fix. Naturally there's a multiplayer mode, which we anticipate will include Sport Mode, as a GT Sport Live section indicate live events may stream via the game.
Another older feature heading back is GT Auto. This was a section in previous games where players could wash their cars and change the oil, evolving into a paint shop and body modifications section in GT6. We've not seen any evidence of that yet, however the official YouTube video description mentions a livery editor. That could well find a home in GT Auto.
Fans will also be pleased to see the return of the Used Car dealer. How this will fit into GT7 is unknown at this time, however it suggests that either a few more cars are coming along or that those over a certain age may simply be available here instead of in Brand Central.
There is one further mystery on the map though: GT Cafe. It's not clear what function this will serve, though it's unlikely to be a coffee shop like the real GT Cafe at Twin Ring Motegi.
We'll of course bring you more on GT7 as we know about it, including that all-important missing fact: when it will launch!
Official Trailer
Screenshots