The PlayStation VR2 is finally here, but for the cost, you may be wondering if it's something you are going to use a few times and then set to the side, or is it actually a revolutionary device that will change the way you play Gran Turismo forever?
There is a lot to know about the PSVR 2 and how it works with Gran Turismo 7, so we have put together this extensive review where we attempt to answer that question, and help give you more insight into whether or not this would be a good investment for you.
Table of Contents
PlayStation VR 2 Hardware
The headset is simple to set up and comfortable to wear.
However, the longer I used it, it started to get hot and itchy as it pressed my hair into my forehead. If I moved the headband higher, it would pull on my hair, and if I moved it down, the eye piece was too low. Of course, this is going to be different for everyone, but this is my experience and I think it's worth noting as it could make longer sessions uncomfortable.
Driving Rig Compatibility
The dial on the back of the headband is simple to adjust, but it protrudes. If you have a driving rig with a seat and a bulky headrest, the dial might bump into it and push your head forward. Also, because the PSVR 2 is a wired headset, be sure there is some room for the wire to hang freely in front of you.
Keep in mind it is only compatible with the PlayStation 5, and you will need to have the PS5 version of Gran Turismo 7 in order to use it with PSVR 2.
Glasses
I am able to wear glasses comfortably with the PSVR 2, but of course, everyone's faces, eyes, and glasses are completely different. Your mileage may vary, but I don't expect it to be an issue for most people.
Image Quality
The picture quality from the PSVR 2 is great, but keep your expectations in line.
If you're not familiar with VR display technology, remember just because the PSVR 2 has "4K" HDR OLED screens for each eye, that does not mean the picture quality you see will be equivalent to the 4K TV in your living room. VR gameplay videos you see show exactly what the console is putting out, but the lenses in VR glasses refract the image produced by the screens to cover your field of view and this softens the image more than you might expect. And, if you're coming from a $5,000 gaming PC with a $1,000, high-end VR headset, you probably won't be blown away.
But, if you know what you're getting with the PSVR 2, I think you're going to be happy with the image quality.
Also — and I can't stress this enough — make sure you are wearing the headset correctly. Even if you have gone through the calibration process, shifting the headset around can make a big difference in the clarity. There is a small sweet-spot in terms of how the light is reflected into your eye, so be sure you're in it.
Audio Quality
Headphones are included with the PSVR 2 and attach at the back of the headband. The design and attachment mechanism is neat, but I was disappointed by the sound quality they produce.
The good news is you can use any headphones you want which are compatible with a standard headphone jack, or use wireless bluetooth headphones connected directly to the PS5.
Gran Turismo 7 VR Gameplay
There has never been anything more transformative to the experience of playing a Gran Turismo title than the way PSVR 2 impacts GT7.
One reason this is so monumental is, with the exception of two-player split-screen mode, Gran Turismo 7 can be played in its entirety with PSVR 2, including all of the single player content and online multiplayer.
Cars
What I find most surprising is how much it changes your relationship with the cars themselves. On a flat screen, you are driving cars with different performance characteristics. In VR, you are in the middle of a car full of character and personality.
You see the no-nonsense practicality of a 90s Japanese sports car, you see the textures and details inside a German luxury car, and you can appreciate the utilitarian, stripped interiors of GT3 race cars. And classic cars, with all their unique quirks and oddball features, finally start to make sense.
The way you "feel" a car and drive it also changes when you put the headset on.
For example, I have always enjoyed the Honda Integra Type R, but in VR, it's just… different. It feels like I can work the car, and make it dance from corner to corner.
On the other hand, I have always struggled with big, heavy American cars. They are fast, but they don't want to slow down, and if you miss a braking point you're in trouble. In VR, it is easier to be more consistent with your braking points thanks to the added depth perception, which makes big, heavy cars more drivable. VR allows each car to showcase its character, and it makes me want to revisit and rediscover my garage.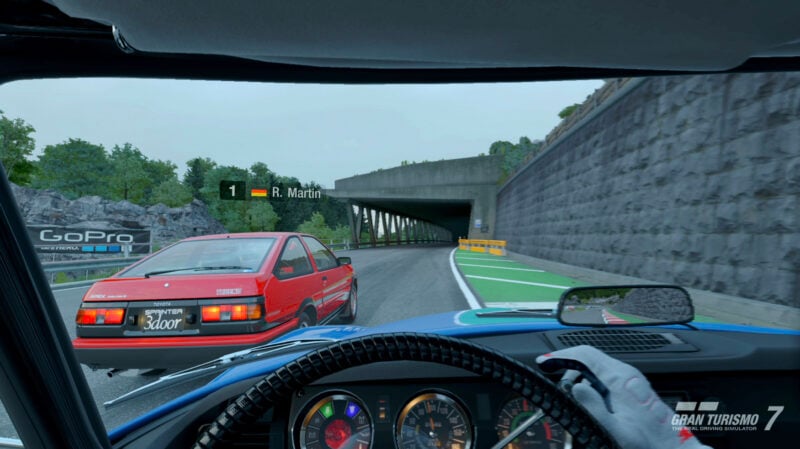 Tracks and Environments
Like the cars, tracks come alive in VR. They feel like real places.
This sensation is probably best illustrated with some of the famous original tracks in Gran Turismo 7 like Trial Mountain and Deep Forest. These fictional circuits have been around since the Gran Turismo series first started more than 25 years ago, but they only existed inside of a TV screen.
VR changes your understanding of tracks like these because it convinces your brain these are actual locations. The environments have scale and depth. It's similar to what I felt the first time I visited real-world circuits like Laguna Seca or the Nurburgring. It's the feeling of realizing something you thought existed only in your imagination also exists in "reality".
Speaking of Laguna Seca and the Nurburgring: the famous "Corkscrew" at Laguna Seca feels like you're driving over a cliff, and the wild Ex-Mülhe corner on the Nordschleife looks like you're about to drive into a wall. I have driven both of those corners in real life and I can tell you VR is the only way to get an idea of what they are actually like.
You also gain a new appreciation for the tracks with dynamic weather and time-of-day changes. Variable weather and changing lighting conditions have always added texture to Gran Turismo 7's tracks, but in VR, it makes them all the more convincing.
Rally Racing
I know, rally racing is one mode everybody loves to hate in GT7 — but hear me out.
Because your head is free to keep looking ahead as the car rotates, this mode is way more fun and a lot more drivable. No matter what you think about the dirt driving physics, if you get a PSVR 2, please try this mode out at least once. You might be surprised.
Driving Experience
Views and Camera Angles
Only the interior view is available while driving in VR, and for the concept cars which do not have interiors, your view will be from somewhere around the roof or windshield.
If you don't like the interior view when playing on a "flat screen" TV and prefer using one of the other camera angles, don't let this concern you. The interior view is a completely different experience when playing in VR, and it's the only view which makes sense.
Also, your view in VR appears "horizon locked", which means the view of the horizon or skyline remains fixed in a particular orientation as the car moves around you. This helps keep you from becoming disoriented or motion sick, but can introduce some odd side-effects at tracks with particularly steep camber like Daytona Speedway. It does ruin the immersion in these types of situations, but fortunately there are only a few tracks and corners where it is especially obvious.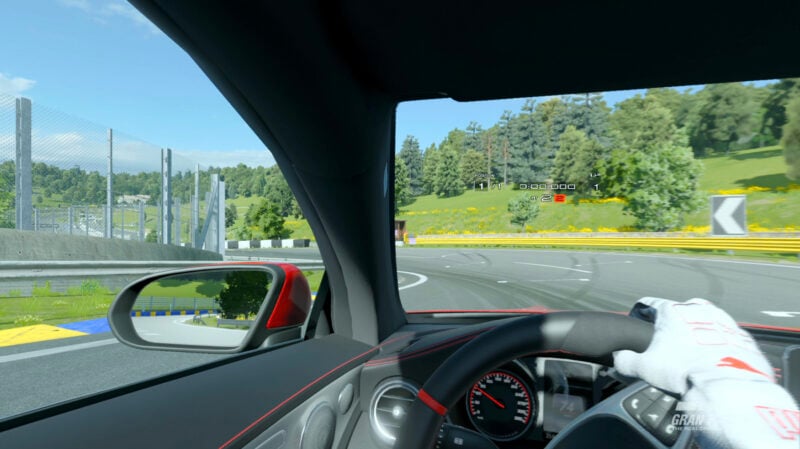 Mirrors
There is a surprising amount of detail visible in the mirrors in VR, and they seem to jump out at you in the cockpits. Being able to look at what's happening on each side of the car, and to use the natural muscle memory you have from regular driving, is useful.
It's worth noting while driving, the mirrors are not truly "reflecting": their view does not change as you move your head. Presumably, this is done to reduce the processing demands on the console, because in the VR Showroom mode — which we will discuss later — the mirrors do "reflect" as expected.
Sense of Speed
The sense of speed is somewhat reduced in VR. On a flat screen, a wider field-of-view is required so you can see the environment around you, and this makes it feel like you are going faster. In VR, such a wide field of view would be disorienting, so it is more narrow.
As a result, you won't feel like you're going quite as fast, but because the experience is more immersive, you also won't feel like you're missing out on anything.
Does It Make You Faster?
This is a hot topic of debate.
If you are not used to VR, it might take some time to adjust before you can get up speed and start matching your lap times from flat-screen mode. However, you are getting a lot more visual information which should, in theory, make it easier to drive. I believe, over time, we will start to see some of the fastest players using VR by default. It's simply a better tool to play the game.
Menus
When navigating Gran Turismo 7's menus, they appear as a large two-dimensional screen floating in front of you. As you jump into a race, the countdown begins before you are transported into the car in virtual reality.
The whole process is fast and seamless, but if your view needs to be recentered or recalibrated, you won't have a chance to make these adjustments before the race begins. This could be a real problem, especially for people who want to take part in competitive online play.
Graphics
Gran Turismo 7's graphics do look impressive on the PSVR 2's display.
Using the game's replay system, we can see VR side-by-side with the game running in "flat-screen" mode.
There are a few differences if you look at things like shadows and reflections, but there are no significant compromises and the game runs at a reprojected 120 frames per second in the PSVR 2 headset. If a TV is connected to the PS5 while you are playing in VR, the VR image is also shown on the TV, so anyone around you can see what you're doing.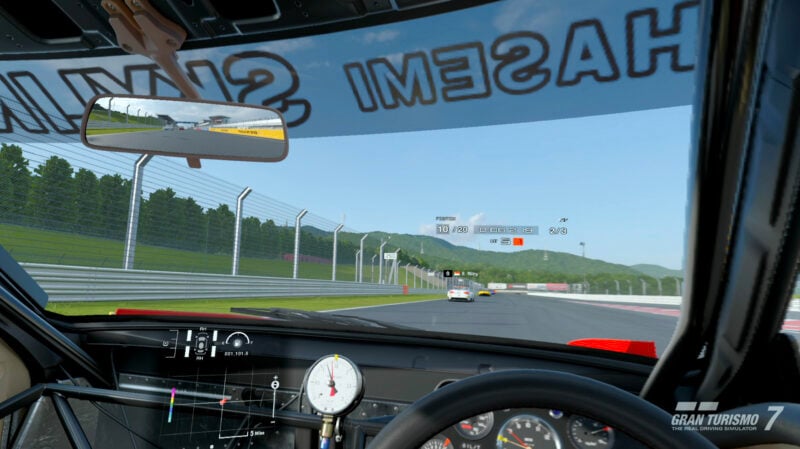 Heads-Up-Display (HUD)
Almost all of the standard heads-up-display options about your car and your race are displayed as floating gray boxes placed at various locations around the interior. You can view your fuel levels, lap time, gear selection, and you can cycle through GT7's multi-function display.
However, there is one glaring omission: the race leaderboard — which shows the order and activity of other drivers — is missing in VR. It's an important element when playing online or running longer races when you might want to see when your competitors are going into the pits. GT7 does not have a spotter, so you're flying blind in this regard in VR. It's an odd thing to leave out in a game which otherwise has so much parity between its VR and flat-screen modes.
Of course, the existing HUD elements do have limited configurability. You can turn off car information, timing information, or both, so if you want a completely immersive visual experience with just you and the car, it can be done.
Controllers
You can use any controller compatible with Gran Turismo 7 and the PlayStation 5 with PSVR 2, including racing wheels and the PS5's own DualSense controllers.
Needless to say, using a wheel is going to give you the most immersive experience when playing in VR. But, it's not required, and I found the regular DualSense controller works surprisingly well. Although I would recommend a wheel, don't fret too much if you don't have one yet — you can still enjoy the VR experience.
One important thing to note is Gran Turismo 7 is not compatible with the PSVR 2's motion controllers, and they won't be needed after you complete the initial setup of the hardware.
VR Showroom
VR Showroom is one of the most pleasant surprises of Gran Turismo 7's PSVR 2 experience, and one of my favorite new features in the game. It allows you to virtually walk around and get into almost any car in the game and turn on the headlights and turn signals.
The car appears in front of you as if you were standing in front of it in real life. You can use the controller's joysticks to move around, and you can sit in the driver's seat to look at the interior details. For a car enthusiast, this is a pretty great feature.
You can explore any car in GT7 with VR Showroom, but if you own it, you can take it from your garage to any one of 12 different VR Showroom locations.
At each location, you can change the time of day, which brings an entirely different ambiance. From the cars, to the environments, to the lighting: there are so many details to take in, you could spend hours gawking at everything. You can even walk around the environments and see what the mechanics in the GT Auto shop are reading on their computer screens!
The soundscape also changes as you move through the space. The mechanics, for example, are playing music on a stereo in the corner. You can pinpoint where it's located from the sound alone, and the sound moves as you turn your head.
The background sounds also change between the different times of day. Early in the afternoon you might hear voices chatting in the background, and late at night, you hear crickets chirping in the distance.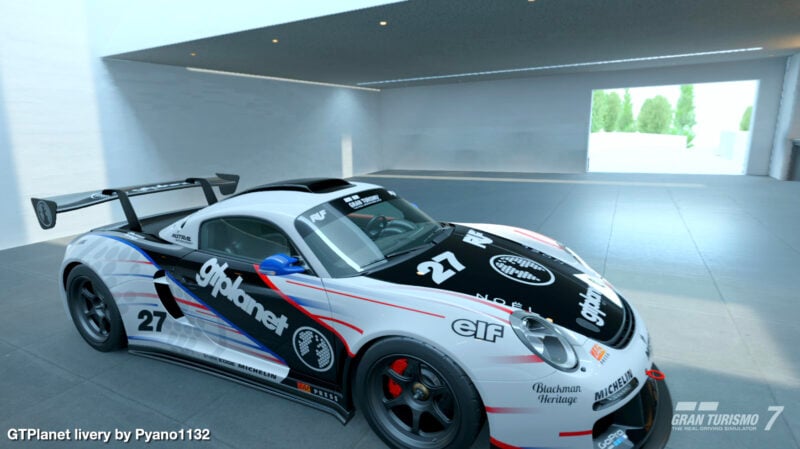 Liveries
GT7 has a powerful livery editor, and I was not expecting how fun it is to look at liveries in VR Showroom. If you enjoy creating liveries or admiring others' creations, this will definitely enhance your appreciation of the craft.
Unfortunately you can't create or preview liveries in VR mode — the Livery Editor still runs in flat-screen 2D mode in the headset — but that would be a popular feature if it does arrive one day.
VR Replay
In addition to the regular race replays in 2D mode, you have the option of viewing "VR Replays". These work by teleporting you to different viewing locations around the track as the cars drive by.
It works well enough, but I was underwhelmed by the feature and after looking at it a few times I'm not sure it's something I will come back to. The cinematic camera movements of the normal replays give you a much better look at what's happening in the races, and once you get over the novelty, VR Replays can start to look dull by comparison.
VR Replay also brings to light what appears to be a technical limitation of the PSVR 2's displays. The headset's frame reprojection feature seemingly struggles with quick horizontal motion, so as the cars drive by, you see a ghosting effect. It's impossible to capture the effect on the video to share with you, but it's noticeable and ruins the immersion in this mode for me.
Motion Sickness
As VR technology gets better with higher resolution screens and faster refresh rates, it is much less likely to make you sick. However, no matter what type of headset you have, your eyes are ultimately seeing things your body is not feeling, and that disconnect has the potential to make anyone uncomfortable. It seems most people are not affected, while others can feel nauseous after a few minutes.
In my experience, I could play some cars and tracks for hours and feel fine, but other combinations started to make me feel uncomfortable. Looking up and around to the sides also seemed to be a frequent trigger, so be careful with it.
The good news is if you are willing to give it time and take a few basic steps to mitigate it, you can overcome it. I have put together a separate article and video dedicated to VR motion sickness tips and suggestions you can take to ensure you never feel sick; be sure to check it out.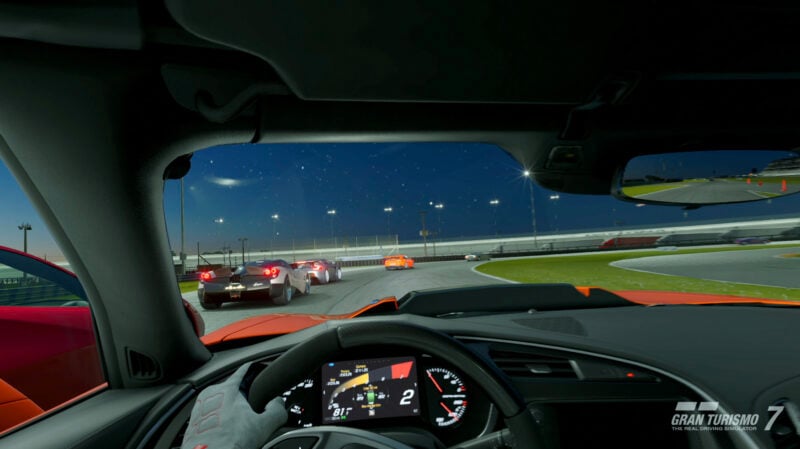 It's Great, But…
I am obviously impressed with the PSVR 2, but it's not for everyone.
Even if it does not make you feel sick or nauseous, I find using VR for extended periods of time to be a taxing experience. I have seen several people in our GTPlanet Forums claim they are selling their TVs and will only be playing with VR in the future, and I completely understand why. It's so fun and I love it, too, but I'm not ready to give up my TV just yet.
Playing in VR still feels like an "occasion", which I need to "prepare" for and "recover" from. It's like having your favorite theme park ride in the middle of your living room; you love it, sure, but do you really want to ride it every day?
I suppose this is more of a critique of VR in general rather than a specific complaint about PSVR 2 or Gran Turismo 7. It's highly immersive, but it can be a draining, intense experience. Not to mention, you can't see who just texted you on your phone, and you can't simply jump up to go to the bathroom, or grab a drink from the fridge, without going through the hassle of dealing with the headset.
If you are looking for that intense experience and you are willing to put up with some possible discomfort and inconvenience, this is definitely for you. Just be sure you know what you're signing up for.
Gimmick or Game-Changer?
Gran Turismo 7 on the PSVR 2 is not perfect, but it's pretty darn good, and it's definitely not a gimmick.
What complaints I do have are completely overshadowed by all the positives it brings. PSVR 2 really does change the way you play GT7, and I would even go so far as to say it makes it feel like an entirely different experience. I never actually considered myself much of a car collector in GT7, but now I want to drive as many as I can get my hands on just to see what they are like.
Sure, you can get higher resolutions and more sophisticated driving physics with a high-end gaming PC and a top-of-the-line PC VR headset. But, we're talking about thousands and thousands of dollars, and many more hours of configuring and tweaking everything to get it right. Is it worth it when you can spend just over a thousand for a PS5 and a PSVR 2 and get a plug-and-play experience, with hundreds of quality cars and tracks in Gran Turismo 7?
Looking at the bigger picture, it feels like Gran Turismo 7's full VR support completes not just the game, but larger objectives Polyphony Digital has been pursuing for years. It is easy to criticize some of the oddball cars they put into the games and the obsession with detail the company is known for, but when those details matter so much in VR, suddenly it makes a lot more sense. I have followed the Gran Turismo series since the beginning, but even I did not anticipate full VR support would help the game feel more "complete".
No, VR does not fix GT7's woeful lack of single-player events, nor does it fix GT7's frustrating economy, or the myriad other valid complaints players have about it. But it does change the game, and it represents a significant milestone in the history of this franchise and the racing game genre at large.
See more articles on PlayStation VR.