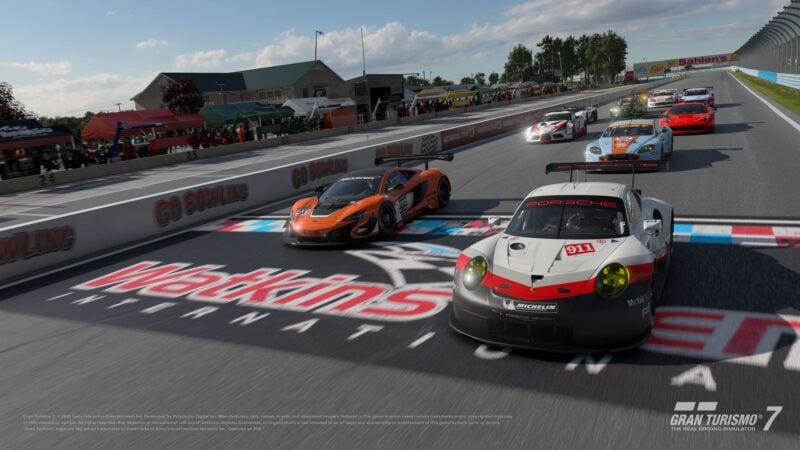 The latest update for Gran Turismo 7 is now available, bringing new content, new single-player activities, and a raft of other fixes and changes.
Headlining the 2.2GB update is, naturally, a new circuit for the game. It's actually the first entirely new track for GT7, and not only that it's a brand new location and a circuit that's making its series debut: Watkins Glen.
Located in New York State, the Glen is an undulating, fast course that hosts IMSA's Sportscar Championship for a six-hour race each summer — one that's in fact coming up this weekend. It's a popular circuit in other titles, although you'll need to watch out in turn one during online events…
You'll be able to access Watkins Glen, in both the Long Course and Short Course layouts, once you reach Collector Level 17. There's three new races set at the track too, with the American FR Challenge 550, American Clubman Cup 700, and World Touring Car 800 all now open.
A new Circuit Experience is also available, as are a selection of Scapes image locations at the circuit.
Three new cars also appear in the update. That starts with a Gr.3 version of the Suzuki Vision Gran Turismo, allowing Suzuki to enter the Manufacturer Cup in the Gran Turismo World Series from Season 2 onwards. You'll be able to buy this from Brand Central, or get one for free for the duration of the online championship by signing for Suzuki.
Joining the Vision GT is the Suzuki Escudo Pikes Peak Special. This bewinged monster has been a fan favorite since Gran Turismo 2, and returns to the series for the first time since Gran Turismo 6. It features enormous power from a turbocharged 2.5-liter V6 along with colossal aero devices, both to deal with thin mountain air on the climb up Pikes Peak.
Finally there's a 1932 Ford Roadster, better known as a Deuce. A popular car among hot rodders, this particular Deuce appears to be the car located at the Henry Ford Museum in Dearborn, Michigan, which sports a Chrysler V8 engine — with part of the rocker cover protruding outside the engine. It's officially listed as a 1963 car, as that's the year Dick Smith completed the build.
These last two cars will only be available through the Legends Cars Hagerty Collection, with both entering the showroom on Friday June 24.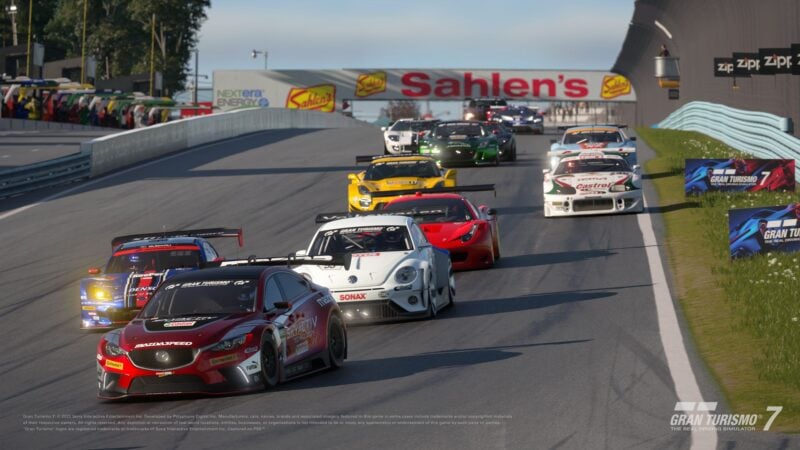 The update has also expanded the single player campaign, adding three "Extra Menu" books to GT Cafe. These are accessible in a new section of the Cafe, and consist of three car collection tasks: Honda Type R, Toyota 86, and "Rotary Engine".
In each you'll need to collect three vehicles of a certain type to unlock a reward, so you may have already completed one or more of them. Notably one reward is a six-star ticket which only contains new engines, so get collecting those Mazdas!
These Extra Menus will only appear after you have cleared Menu Book 39 and watched the Finale movie, and you'll need a Collector Level of 20 or higher for the Honda/Toyota Books and 32 or higher for the Rotary book.
There's an extensive list of other changes in the patch notes, but one that will come as welcome news to those who host their own online events comes in the lobby mode: settings can now be changed without having to close the lobby down.
Another interesting online change is the addition of Gold, Silver, and Bronze times and rewards to the Online Time Trial, starting with a new event today for the Escudo Pikes Peak at Alsace Village.
These are actually moving targets, and require you to be within a certain percentage of the top time overall: 3% for Gold, 5% for Silver, and 10% for Bronze. The prizes are significant too, with 2m credits available for hitting Gold once the Time Trial has ended.
Other major changes include the return, from Gran Turismo 6, of vehicle horns. You'll need to map the function to a button, and not all vehicles will have them — race cars do not, for example. It's not yet clear if this will be a single horn sound for all cars or if it's customizable as in GT6.
There's a new Options menu item for Steering Controller Settings. This will allow you to check the inputs of connection wheel peripherals, along with a pedal calibration function.
You'll be able to find a complete list of patch notes in the forums, along with any undocumented changes not listed in the notes. However one thing not yet included in the game is the ability to sell your cars; that's still planned for a future update, although we have no specific information on when that might be.
See more articles on Gran Turismo 7 Game Update.