A new update for Gran Turismo 7 is now available, adding three new cars and the largest single-player expansion for the title we've seen to date. The update, v1.15, comes in just under the 1GB mark on both PS4 and PS5 consoles.
Headlining the contents are three new vehicles, bringing the game's total car count to 430 and solving the riddle that's been causing GT fans to scratch their heads since Kazunori Yamauchi teased the cars at the weekend.
The car we were all expecting is the Toyota GR010 Le Mans Hypercar. As this has been part of the 2022 Toyota Gazoo Racing GT Cup schedule since the fourth season of the competition was announced — to be used in a race on June 5 — it comes as no surprise, but it's still a pretty special car.
It succeeds Toyota's Le Mans-winning TS050 prototype, as the FIA and ACO ended the vastly expensive LMP1 category in favor of a new, more affordable LMH class.
While largely based on the TS050's technology and the understanding gained from three successful runs at the 24-hour race, the GR010 is an entirely new machine. Unsurprisingly it did exactly what it was designed to do, and won Le Mans — and the World Endurance Championship — on its first attempt.
Another identifiable car from the teaser image was the Roadster Shop Rampage Camaro. This car won the Gran Turismo Award at the 2014 Specialty Equipment Market Association (SEMA) show, gaining it entry in digital form to the GT series.
It's based on a second-gen Camaro, and features an LS7 V8 in the nose and carbon fiber throughout its body. That makes for a 748hp machine that weighs in at around 1.4 tons, so it should be pretty entertaining to drive.
That leaves our final mystery car which, it turns out, is a new Vision GT entry from Japanese brand Suzuki.
While some VGT cars can be a little outlandish, this compact roadster looks like it could pop up on a motor show stand any day now. It borrows from Suzuki's current designs — particularly the Swift — to make a car not that far removed from the 1990s Cappuccino Kei car, although it is a little larger.
There's also another Suzuki hallmark, with the car featuring a motorbike-derived engine. This front-mid-mounted four-pot comes from the Hayabusa sports bike, and it makes for a high-revving machine in much the same manner as the GSX-R/4 from previous GT games.
Naturally that combines with an electric drive system, with two motors each driving a front wheel and a third on the rear axle. Total system output is 426hp at an eye-watering 9,900rpm — and a Gr.3 model is planned for a future update too. That will mean Suzuki will be eligible for the GT World Series Manufacturer Cup.
You'll need to buy each of the three cars to add them to your garage, with the Camaro at 350,000cr, the Suzuki at 1,000,000cr, and the GR010 the priciest at 3,000,000cr.
Alongside the new cars there's also a raft of changes to the single-player experience of Gran Turismo 7. This starts with the addition of three new Menu Books to the GT Cafe, for Kei Cars, Vision GTs, and Gr.1 vehicles.
Unlike the Menu Books before them, these don't need to be completed in order, and are all available now so long as you have cleared Menu Book 39, watched the "Finale" movie, and are at Car Collector level 20 or above (30 or above for Book 42).
The three books, "Lightweight K Cup" (#40), "Vision Gran Turismo Trophy" (#41) and "Gr.1 Prototype Series" (#42) don't require car collection, only podium finishes in three new races for each event. There's a six-star Roulette Ticket as a prize for Books 41 and 42, and a Radical SR3 SL for Book 40.
You'll need to pick up a suitable car for each event, the nine races — at Lago Maggiore, Tokyo Expressway, and Willow Springs (Kei Car); Deep Forest, Interlagos, and Kyoto (VGT); and Daytona, Sainte-Croix, and Suzuka (Gr.1) — will be available for repeat use once each menu books is completed.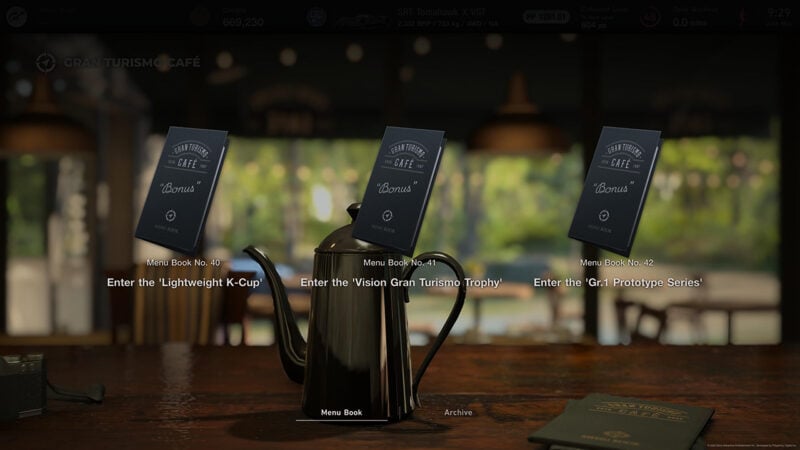 One new feature that will please the photographers among us is the ability to export images from the game. It's a little more round-the-houses than in GT Sport, but you're now able to directly send your shots from the Showcase section to your console's own media/capture gallery.
That allows for full resolution — 1920×1080 on PS4, 4K on PS4 Pro and PS5 — image export, and you can transfer those images from there to an external drive such as a USB flash drive using the console functions.
There's also a new Scapes location, with 18 venues around the colorful city of New Orleans for photographing your vehicles.
The update also sees the first Online Time Trial for GT7. This was a popular mode in GT Sport, consisting of a global time attack challenge for certain car/track combos which would cycle through on a preset schedule. It looks like it'll be a two-week rotation, with the first event — a Gr.3 time trial around Suzuka — now available in the Sport Mode menu.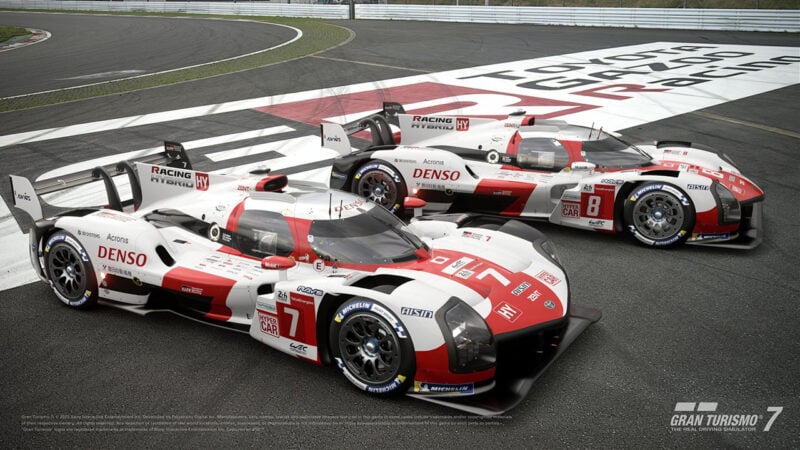 In addition there's a a number of under-the-hood changes too. There's a new scale slider for the weather radar, and a new notification of event unlocks upon increasing your Car Collector level.
You'll now be able to see your progress towards the next Driver Rating ranking in your in-game My Page, with a progress bar next to your ranking. An issue with PSN Trophies not synching if you switch between PS4 and PS5 consoles has been fixed.
Pricings for vehicles in the Hagerty Collection have also been adjusted in the update. Although it's not clear right now which cars have changed in value, how much, and in which direction, with the first effects occurring at the next dealer stock change, the update notes do state that the next such adjustment will be in August 2022.
The update also appears to have fixed a Performance Point exploit which could lead to overpowered cars being entered in events through extreme vehicle settings. That will have the knock-on effect that the most effective way to earn money, using a glitched Dodge Tomahawk, will no longer work — although we're sure players will find a workaround in due course.
One thing not yet available is the ability to sell cars from your garage. This is something Polyphony Digital has previously stated it is working on for a "near-term" update, so it's not likely to be far off.
You'll be able to find a full breakdown of all the various changes in v1.15 in the comments thread, and the GTPlanet community is already on the hunt for any unannounced changes too!
See more articles on Gran Turismo 7 Game Update.