Designer Phil Frank, creator of the Nike One concept car, is revealing some new renders for the car as well as telling a little about the story of its creation, marking not only the One's fictional production year but also the 25th anniversary year of Gran Turismo.
The Nike One was the first ever concept vehicle created specifically for Gran Turismo by an external brand, and in many ways could be considered the genesis of the entire Vision Gran Turismo program.
Frank was working for Nike at the time, designing items from sunglasses and watches to backpacks. However in his spare time he was also designing the body and interior of the all-American Saleen S7 supercar — one of several Saleen products in Frank's portfolio.
A chance encounter with Kazunori Yamauchi in 2003, when the Polyphony Digital studio head visited Nike, sparked off the idea of a Nike concept car.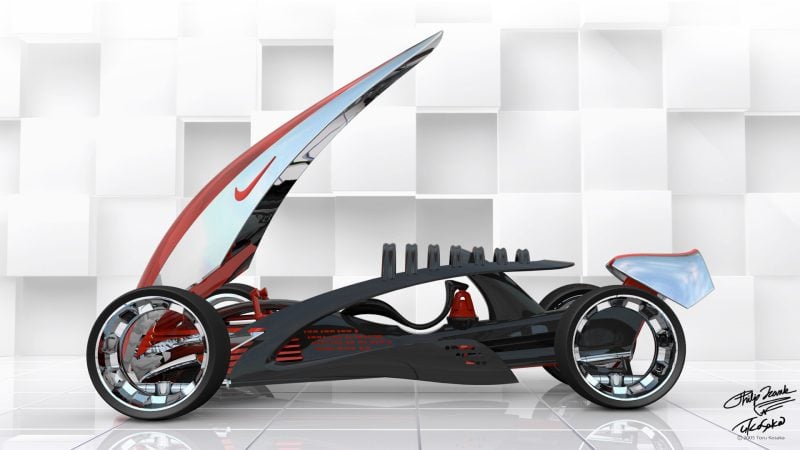 When we say "sparked" we mean it quite literally, as Frank envisioned an electric car powered by the human body via the "Spark Suit". This fictional item of clothing was a wearable generator, using nanotechnology to convert body movements — even breathing — into electricity to power the car.
The driver would then clamber into the One and, in a prone position, provide up to 200kW of electrical energy to power the four in-wheel motors. Controls are ahead of the driver, with everything adjusted by hand.
One particularly interesting note in this futuristic concept car was a design item on what little body the One possessed. What looked like random flashes of red was actually International Morse Code, spelling out "www.phil-frank.com", a website hosting Frank's portfolio of work!
The car made its sole appearance in Gran Turismo 4, where you could not only win it in a one-make championship event for Frank's Saleen S7, but also unlock it in a wholly peculiar manner.
A limited and very expensive edition of GT4 featured a pair of Nike trainers and a copy of the game in a special, numbered case. It also contained a t-shirt with a special design which, when scanned using the PlayStation 2 "EyeToy" camera, would gift the player the Nike One 2022 in the game.
Starting earlier this week, Frank began to post on Instagram about the Nike One 2022, with one brand new image of the car. Fans, who've been asking where their Nike One is given that it is now 2022, were quick to pick up on it and speculated immediately whether this meant the car would come to Gran Turismo 7.
We reached out to Frank, who also happens to be a GTPlanet member, and he told us that this wasn't the case. "I went back and refined the original 3D CAD data on my own for the anniversary," said Frank "and have made a bunch of high-res renderings of all the refinements."
As well as sharing the new images on his Instagram channel, Frank will post them all to his own site once he has revealed everything in his story of the car's development over the coming days.
"Maybe after [the] GT team sees [it] they will bring it into the game again," added Frank. That's a sentiment we can all get behind.
Images via @PhilFrankDesign/Instagram.
See more articles on Nike and Phil Frank.