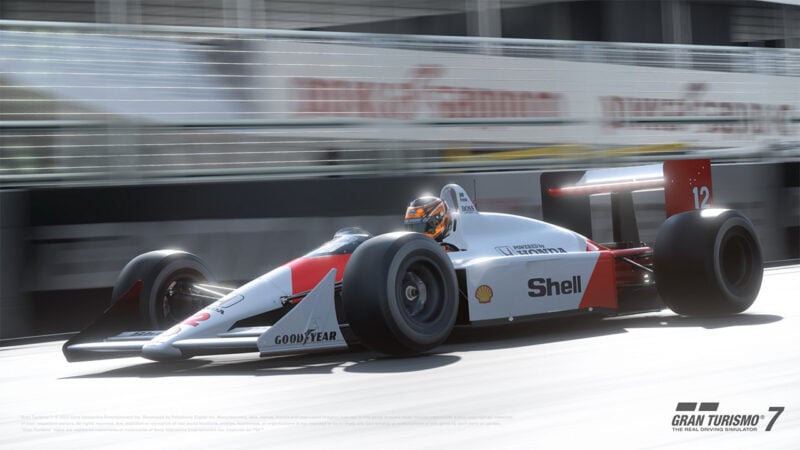 The latest update for Gran Turismo 7, v1.20, is now available for PlayStation 4 and PlayStation 5. Weighing in at around 2GB depending on which console you own, the update brings new cars and track layouts along with other changes.
First and foremost is the new game content, which consists of the regular three monthly cars but with a little additional bonus vehicle. You will have to wait 24 hours to be able to pick up half of the list though, as they won't appear in the Legends Cars dealer until August 26.
Update 1.20 New Cars
De Tomaso Mangusta (Christian Dior)
McLaren MP4/4 1988
Pontiac GTO The Judge 1969
Porsche Cayman GT4 2016
That comes by way of a special "Christian Dior" edition of the De Tomaso Mangusta, which you can find in the Legends Car dealer from today. This sports a custom livery designed by Dior Couture's artistic director Kim Jones.
While it's treated as a separate vehicle to the original car (also currently available in the Legends Car dealer, at half the price) and has no model year, the Dior Tomaso doesn't have a collector's book icon and does not appear in your garage "Car Collection" page.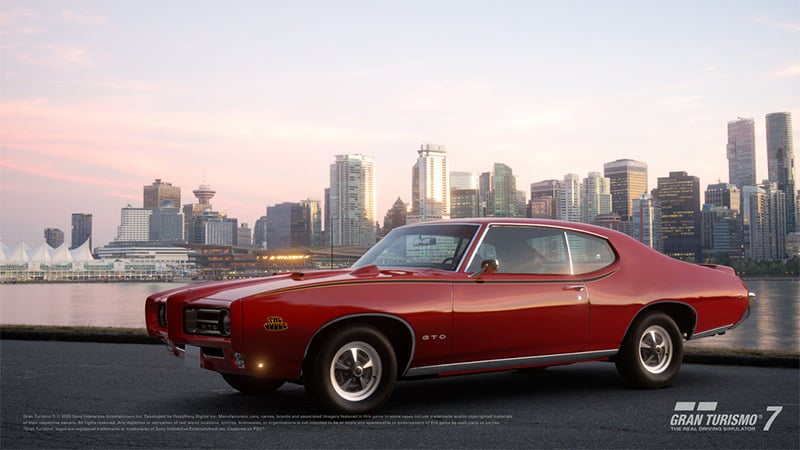 The other two more Legends Cars added today won't actually become available to purchase until tomorrow, Friday August 26, when the store page is updated at 0000 UTC.
It depends on your personal preference which is the most significant, but we'll start with the 1988 McLaren MP4/4, in #12 Ayrton Senna livery. This is the most successful F1 car ever made, winning 94% of the races it entered courtesy of Senna and team-mate Alain Prost.
Prost actually scored more points than Senna in the car, but Senna won the world championship courtesy of the rule where only the best 11 races counted. Prost never finished outside the top two — aside from retirement at Monza — so dropped 18 points, meaning Senna's eight wins to Prost's seven earned him the title.
Muscle car fans will be more excited by the Pontiac GTO The Judge. This special variant of the GTO was exclusively fitted with the 370hp, 6.6-liter V8 Ram Air engine, and stripped back with some racing-oriented features as Pontiac sought to take on the Dodge Superbird.
One of the new cars is available to drive today. That's the Porsche Cayman GT4, the roadgoing version of the ClubSport Gr.4 race car which made its debut in Gran Turismo Sport.
This first generation of Cayman GT4, on the 981 platform, borrowed the 3.8-liter flat-six from the Porsche 991 911 Carrera 2, developing nearly 380hp and attached to a six-speed manual gearbox. Along with a number of chassis tweaks and model-specific aero, the GT4 was a much lauded drivers' car.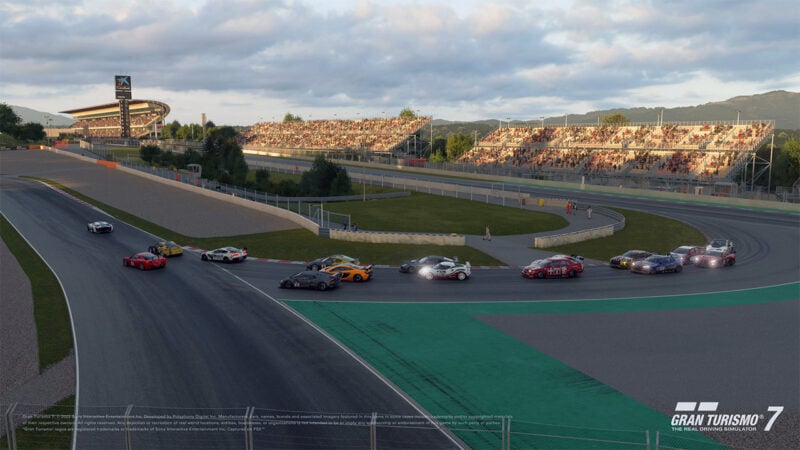 Update 1.20 Tracks
While there's not an entirely new track, the offerings at an existing circuit have been expanded to provide some new and different challenges.
Circuit de Barcelona-Catalunya GP (No Chicane) – 2.939mi/4.370km
Circuit de Barcelona-Catalunya National – 1.850mi/2.977km
Circuit de Barcelona-Catalunya Rallycross – 0.704mi/1.133km
Circuit de Barcelona-Catalunya now has four layouts. The full "GP" layout, as used in F1 and F1 testing, remains, but it's been joined by a version that fans have been asking for since it was revealed for Gran Turismo Sport in 2018.
That's a layout used in Moto GP, which omits the final RACC chicane and changes turn 13 from a tight right to a longer curve into the final turn, making for a much faster final section.
In addition there's a new National Circuit. This puts in a right-handed turn one, pretty much at the braking point for the GP circuit's first turn, cutting through to between turns six and seven. The second and third sectors (including the RACC chicane) remain in standard configuration.
Finally there's a new mixed-surface course, which we've not seen since Gran Turismo 6. This uses part of the final sector of the track, starting in the middle of turn 10, but then cuts through the infield, runs backwards through turn 13, and then off to the outfield.
There's four additional single-player races at these new circuit layouts, but there is no new Circuit Experience available.
Update 1.20 New Cafe Menu Books
New Cafe Menu Books are limited to the "Extra" book type, each consisting of a vehicle collection task rather than additional races.
Extra Menu 6 — Collection: Abarth (Collector Level 27)
Extra Menu 7 — Collection: Gr.2 Racing Cars (Collector Level 38)
You'll need to pick up three Abarth models — the 595 1970, the 500 2009, and the Autobianchi A112 Abarth — to complete the first, which awards a Special Parts-only six-star ticket. The Gr.2 book requires only that you collect the three 2016 Super GT cars (fortunately, given the rarity and price of some other Gr.2 cars), for an engine-only six-star ticket.
Update 1.20 Other Changes
There's a short list of other changes, and we'll get the bad news out of the way first: selling cars is not a feature added in this update. Fans will have to keep hold of surplus cars (likely a lot of NSX Gr.Bs for a lot of people) for a while yet as this feature is still in the "near-term" plans.
Polyphony Digital has cited some changes for the physics, with new suspension geometry and a change to how the limited slip differential is simulated. That's resulted in a change to the Performance Points. Additionally the tire wear graphic is now slightly different than before, which PD says makes it easier to see remaining tread.
A bug that many players noted affecting the weather radar in certain races with variable time has also been addressed.
There's a new set of Scapes based around the Canadian Rockies now available, and features as a curated collection. Cars which won the GT Award at SEMA, earning them their places in the game, now have a special logo in Brand Central and the player garage to mark this facet.
Players have already discovered a number of new engines for swaps and new recipient vehicles, which you'll find in our dedicated engine swap thread. Other unlisted changes are also being logged by GTPlanet members in the undocumented changes thread.
See more articles on Gran Turismo 7 Game Update.