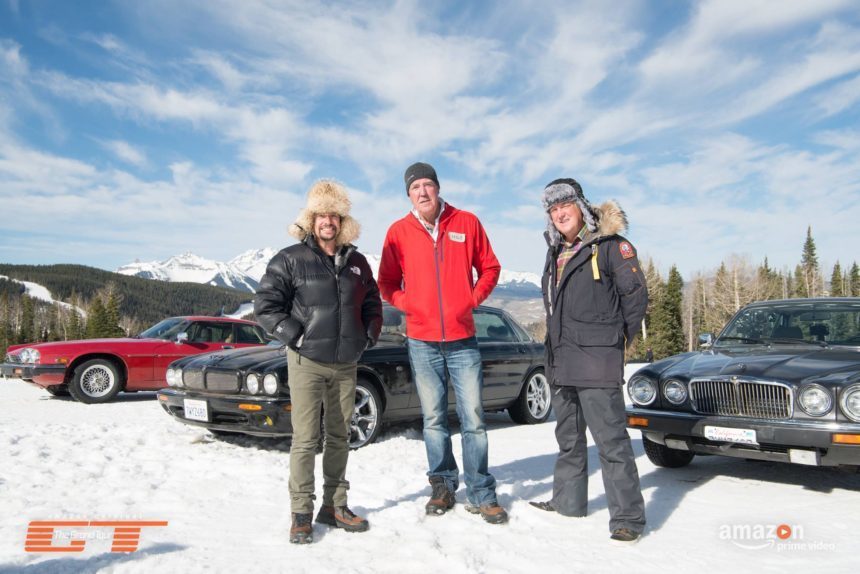 Despite repeated attempts to throw the schedule off through death, The Grand Tour will be back on our screens early next month.
The show has released a teaser trailer for the second season to whet the appetite and make the next five weeks unbearable.
An experimental first season had highs and lows. The beach buggies, though contrived, provided some of the biggest belly laughs. Some of the regular features — The American and celebrity brain crash — served only to baffle. The hypercar holy trinity test was a long-awaited piece of television, while the Edge Of Tomorrow sequence in the Jordanian desert was something that may have looked great on a storyboard but stumbled in execution.
We don't know what has survived through to the second attempt, but there is at least one major change: The Grand Tour studio no longer tours. Instead of carrying the marquee around the world, the Chump and Sons production company now films the studio segments in the Cotswolds, conveniently close to Clarkson's home in Chipping Norton. Assuming he's rebuilt it — the team blew it up in season one.
Of course a fixed base might not be such a bad idea given the stars' summer troubles. Clarkson ended up in hospital with pneumonia in Mallorca. Hammond's own medical emergency though was far more self-inflicted.
Filming a sequence for a supercar test in Switzerland, Hammond's electric Rimac left the road at speed and fell 300 feet down a hillside. He escaped the burning wreckage with just a broken knee.
Little wonder then that the chosen music for the season two trailer is Wings' "Live and Let Die"…
The preview gives away a few of the teams' activities over the summer. That supercar test with the Rimac also includes Honda's NSX hybrid and a conventional petrol Lamborghini Aventador. There's also a used-car adventure that appears to be in Africa, with May's W123 Mercedes, Clarkson's Nissan pickup and Hammond's… motorbike?
You'll spot a few other gems in there like the Bugatti Chiron and McLaren 720S, and a Jaguar-based trip around what seems to be California's canyons and high Sierra.
The Grand Tour returns for a second season on December 8, on Amazon Prime.
More Posts On...